WASHINGTON -- The good news: most people with military service never consider suicide. Contrary to popular perception, there is no "epidemic" of military-related suicides -- even though President Barack Obama used the word in a speech this summer at the Disabled American Veterans Convention. Among those few whose lives do spiral down toward darkness and despair, the vast majority never take that irrevocable step.
The bad news: the number of military and veteran suicides is rising, and experts fear it will continue to rise despite aggressive suicide prevention campaigns by the government and private organizations.
The Pentagon and Department of Veterans Affairs (VA), already struggling to meet an increasing demand from troops and veterans for mental health services, are watching the suicide rates, and the growing number of those considered "at risk" of suicide, with apprehension.
"It really is extremely concerning," said Caitlin Thompson, a VA psychologist and clinical care coordinator at the national crisis line for the military and veterans.
The warning signs of an approaching wave of suicides are unmistakable.
-- While the rate of suicides has traditionally been lower for the military ranks than for civilians, that trend has begun to reverse.
-- The number of suicides among active-duty troops of all services remains relatively low, at 350 last year, Pentagon data show. But that number has more than doubled since 2001, while in the Army's active-duty ranks, suicides have tripled during the same period, from 52 soldiers in 2001 to 185 last year.
-- Roughly half of active-duty troops who die by suicide never served in Iraq or Afghanistan. But there is growing evidence that war trauma weighs heavily on those who did. In one indication of deep emotional stress, the suicide rate among U.S. troops deployed to Iraq between 2004 and 2007, a period of intensified fighting, jumped from 13.5 to 24.8 per 100,000, according to a report issued in 2009 by the Army surgeon general.
-- Some 8,000 veterans are thought to die by suicide each year, a toll of about 22 per day, according to a 2012 VA study. The VA acknowledged the numbers might be significantly underestimated because they're based on incomplete data from 21 states, not including Texas or California. Even so, the data documents an increase of nearly 11 percent between 2007 and 2010, the most recent year of data in the study.
-- The population of veterans over 50 -- more than two-thirds of all veterans -- is swelling with aging baby boomers. Mostly men, they are considered more at-risk of suicide because they tend to be socially isolated, struggle with physical or mental deterioration, and possess easy familiarity with firearms.
The suicide numbers are rising despite a determined push by the Pentagon and the VA to connect troops to a proliferation of resources. These range from immediate crisis intervention, to specific therapy for post-traumatic stress disorder and other forms of trauma, to broader mental health services, peer mentoring, resiliency training, and financial and relationship counseling. VA specialists scour hundreds of places, from NASCAR events to American Indian reservations, for veterans in need. There is such a drive to provide resources that even the Pentagon can't say how many programs it has or what they cost.
Suicide numbers aside, there are many reasons to anticipate trouble. Vietnam veterans have gone largely untreated for post-traumatic stress disorder, and many have buried those emotional wounds by drinking or overworking, said Tom Berger, executive director of the Veterans Health Council of Vietnam Veterans of America. As these veterans age into retirement, symptoms of anxiety and depression often emerge.
Mental stress within the military is already high. A new study by the Armed Forces Health Surveillance Center found that mental disorders are the leading cause of hospitalizations for active-duty forces. The rate at which troops are being hospitalized for mental health illness, it says, has risen 87 percent since 2000. Those who have been hospitalized have a "greatly elevated" suicide risk, the study found.
Experts such as David Litts of the National Action Alliance for Suicide Prevention believe the stress on the force will continue to rise -- even with the pace of combat deployments declining. One of many reasons for this, Litts said, is that the military is shrinking because of budget reductions, cutting short anticipated careers and disrupting family plans. "A lot of people will be pushed to leave active duty who weren't planning on it," said Litts, noting that separation from friends and isolation are key risk factors for suicidal behavior.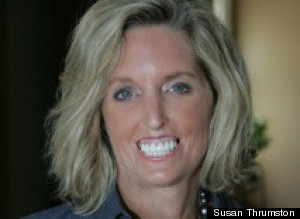 Kim Ruocco
The raw numbers of suicides are relatively small: the 350 active-duty suicides last year occurred in a total active-duty force of 1.4 million. Even the estimated 8,000 veteran suicides a year is a small percent of the 22.3 million American veterans.
But any suicide is a tragic loss, crushing to those left behind.
"You are burnt to the ground," said Kim Ruocco, whose husband, Maj. John Ruocco, a Marine Cobra gunship pilot with 75 combat missions in Iraq, died by suicide in 2005.
'I TURNED MY LIFE AROUND'
Recruits are screened for psychological problems and are trained to endure stress. Active-duty troops tend to be more physically fit and more purpose-driven, with far lower rates than civilians of drug and alcohol abuse. They have access to virtually unlimited medical and mental health care. They are all under close supervision, hard-wired into a buddy system and command structure.
For decades, these troops seemed to be sheltered from much of the stress, loneliness and emotional storms of civilian life -- reflected in a lower incidence of suicide in the ranks.
But the rising military suicide rate today indicates something fundamental has changed.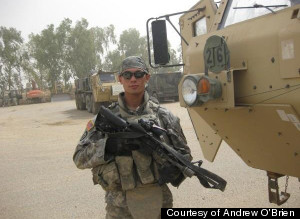 Andrew O'Brien, who served in Iraq from 2008 to 2009.
Combat trauma certainly is one driving factor. For 25-year-old Andrew O'Brien, an Army grunt who fought in Iraq, it was the sight of the remains of American bodies, after a convoy struck an IED, that burned into his memory and caused nightmares that eventually drove him to attempt suicide. With the help of family and a fellow veteran, he said, "I turned my life around."
A detailed study of troops' mental health in Iraq by the Army surgeon general, published in 2008, found that three-quarters of young male troops, privates, specialists and sergeants saw someone seriously injured or killed; more than half were attacked or ambushed; 70 percent experienced an IED explode nearby; and 88 percent received incoming fire. One in five reported being "bothered by thoughts that you'd be better off dead" during the previous four weeks.
Some experts believe that constant exposure to weapons and carnage of war can make the idea of suicide less unthinkable. "We know what death looks like and we're comfortable with it," explained a former Special Forces officer who served multiple combat tours in Iraq and Afghanistan.
Even those troops who never experienced direct combat, researchers are realizing, are nonetheless experiencing the consequences of the damage war can inflict.
The study by the Armed Forces Health Surveillance Center found that for all the military personnel medically evacuated from Iraq and Afghanistan between 2001 and 2012, the most frequent diagnosis was not physical battle wounds but "adjustment reaction," a category that includes grief, anxiety, depression, post-traumatic stress and other mental disorders.
"We start off with a very healthy population," said Army Col. William Corr, a physician with the center. "Stress does cause people to become ill."
In considering the mental toll of war, "we usually think about infantrymen, guys shooting other people, but we are also seeing some problems among non-combatants," said Craig Bryan, a clinical psychiatrist and suicide expert at the University of Utah, where he is associate director of the National Center for Veterans Studies. Bryan has led numerous research projects on military suicide and has served on active duty, deploying to Iraq in 2009 to treat troops for traumatic brain injury and combat stress.
He cited the experiences of Air Force personnel who receive and process the war dead at Dover Air Force Base in Delaware. War trauma, he said, does affect "all those other career fields who see the consequences of war even if they are not directly involved."
"We are realizing now that a lot of service members and vets see things and experience events that are not necessarily life-threatening situations but that disrupt their sense of security, what is right and wrong -- and that creates tremendous inner conflict," Bryan said.
A gradual change in the military culture has also raised stress within the ranks, experts believe. Frequent deployments have increased the isolation of those left behind. At the Army's Fort Drum in New York, for instance, it was not uncommon after 9/11 for two of the 10th Mountain Division's three infantry brigades to be gone at the same time, leaving the post a virtual ghost town.
At military posts across the country, many families have chosen to move into nearby civilian communities. More spouses find work outside the military and many send their kids to civilian schools. Under congressional mandate, underused bases have been shuttered and their military families sent elsewhere. Social media has made it easy to connect to the world beyond the military.
All of this disrupted what in the 1980s and 1990s was a comfortable, insular existence. Life in places like Camp Lejeune, the Marine base in North Carolina, and the Army's Fort Benning in Georgia often resembled small towns of the 1950s, with children walking to Defense Department schools, housewives gathering for coffee, families maintaining manicured lawns, and crime and drugs staying mostly outside the main gates.
"Service people used to live in their own world, and I don't mean that negatively," said Jacqueline Garrick, a retired Army officer who directs the Pentagon's suicide prevention programs. "There was a protective factor to being in the military, very strong social support, a closed network."
Now, military communities are vulnerable to the same social ills that afflict civilians. The divorce rate inside the military has risen steadily -- for enlisted troops, from 2.9 percent a year in 2000 to 4.1 percent in 2011. Drug and alcohol abuse rose as well through the decade; in 2011 alone, the Army sent 24,000 soldiers to substance abuse programs. The number of those in the active-duty force who tested positive for heroin jumped from 45 in 2005 to 194 in 2011.
"We are not insulated from those things," Garrick said. "There is not a bubble around our military people, so that the issues of everyday life of America are the issues of everyday life in the armed forces. We are less immune than we used to be."
Whether the military's suicide rate has now passed the civilian rate is a matter of dispute among researchers. The numbers are inconclusive, said Gregory K. Brown, a clinical psychologist and suicide researcher at the University of Pennsylvania. "Let's just say it's a lot."
This shift inside the military community is causing defense officials to broaden their suicide-prevention campaigns to include servicemen and women who may be struggling with mental health issues, substance abuse, family dysfunction, financial problems and other issues that can be difficult to manage, but do not necessarily lead to suicide.
Many of the suicide prevention measures undertaken in the past few years, such as the highly successful national crisis line for the military and veterans, have saved lives in cases where a soldier or veteran literally has a gun to his or her head. Counselors at the crisis line are adept at talking down callers and getting them help.
Experts now acknowledge that intervention also is needed well before that point. The Pentagon's Garrick explains this using an analogy of a mountain in winter. "Life is a slippery slope, and at the top are snowflakes," she said. "Coming down the mountain are snowballs, and at the bottom is the avalanche zone where you can be buried alive. The question is, how do we deal with the snowflakes so they don't become snowballs and avalanches?"
Shifting suicide prevention resources to this larger at-risk group "ultimately will save many more lives," said Yeates Conwell, a psychiatry professor at the University of Rochester who has done seminal research on suicide prevention and is also co-director of the school's Center for the Study and Prevention of Suicide.
Intervening early with the at-risk population, he said, might mean early identification and treatment of mental health issues, ensuring that injured troops get the best rehabilitation so they can manage independently. The efforts can help to secure firearms at home and connect struggling soldiers and veterans with peer counselors who have had similar issues.
"What we know about suicide in older adults is that it is a complicated act" that may include many factors, but "is always associated with diagnosable psychiatric illness," Conwell said. "And by far the most common illness associated with completed suicides is clinical depression."
The problem, of course, is connecting the copious resources of the Pentagon and the VA with the troops, veterans and families who need them.
FIGHTING THE STIGMA
For a variety of reasons -- some say they just don't trust the VA -- many veterans under stress don't get help. Fewer than half of all the nation's 22.3 million veterans are enrolled with the VA, officials said.
Those who do try to get help often find that the nationwide shortage of mental health care professionals translates into long lines and long waits for appointments.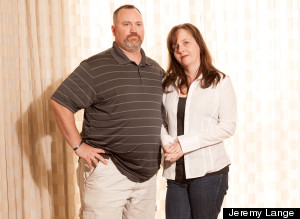 Jackie McMichael and her husband, Mike.
"We're still having trouble getting in to the VA," said Jackie McMichael, whose husband, Mike, has struggled with traumatic brain injury and suicidal thoughts since his return from Iraq in 2005. "Everybody has trouble getting appointments for mental health counseling." In a crisis, she takes Mike to the emergency room. But for routine counseling, "you get them for months down the road."
Even as demand is rising, there are not enough therapists trained in both military culture and suicide prevention to meet the demand, said Litts, a former Air Force colonel who designed the military's initial suicide prevention programs and now manages the National Action Alliance for Suicide Prevention.
"It's a safe bet that in most communities, there is a shortage of [mental health care] providers that have been trained as well as they should be to assess and manage suicide risk," he said.
The Department of Veterans Affairs recently hired 1,600 additional mental health care providers. But, Litts said, "there are only so many mental health professionals who are good and who are ready to leave their jobs and go to work for the VA. And if they pull 1,600 qualified professionals out of civilian communities, you've just taken 1,600 people who might have treated veterans in the community, where most veterans get their care. It's a zero-sum game."
As Rep. Jeff Miller (R-Fla.), House Veterans' Affairs Committee chairman, put it recently, "[L]ack of access to VA mental health care services remains a deathly serious problem for the department – one that past staffing and budget increases as well as numerous mental health summits have failed to solve."
Providing mental health care is "a huge challenge not only for the VA, but health care systems across the country -- we are not always there when people need us," Jan Kemp, director of suicide prevention for the VA, said in a recent VA webinar. "Sometimes we are difficult to get to and there are long waiting lines and delays in getting services."
Once veterans do get mental health care from the VA, "we do a pretty good job," Kemp said in an interview. "What happens to people we don't provide care to, we are trying to figure it out," she said, adding that "they are at higher risk."
Within the military as well, long waits for mental health care are legendary. An Army task force on suicide prevention in 2010 warned of a shortage of therapists to meet the growing demand for behavioral health care. "Although there has been some expansion in the number of behavioral health providers in all of the Services, timely access to quality behavioral health care for ServiceMembers continues to be a challenge," the report said.
And despite efforts to erase the stigma of seeking mental health care, many say the military culture is resistant to change. Soldiers wounded physically or psychologically tend to be cut from the herd. "If a soldier has a mental health issue and fellow soldiers learn about it, then confidence is broken and military careers unquestionably are harmed," said Dan Williams, an Iraq war veteran who said his unit ridiculed him when he sought help for what was eventually diagnosed as a traumatic brain injury from an IED blast.
In a new survey by the advocacy group Iraq and Afghanistan Veterans of America, 43 percent of Iraq and Afghanistan war veterans who responded said they did not seek mental health care because of a perceived negative impact on their careers.
"We have had massive education campaigns" against the problem of stigma, said Charles W. Hoge, a staff psychiatrist at the Walter Reed National Military Medical Center in Bethesda, Md. "Has stigma changed since the start of the war? The answer appears to be no," he said at a 2012 conference on traumatic stress. "We have not seen much of a dent in stigma over time."
Others say attitudes within the ranks about mental health care have changed. "The overwhelming number of patients I've seen for suicide risk have gotten help and gone on with their careers," Navy Cmdr. Andrew Martin, a clinical psychologist, said in an interview. But, he acknowledged, "some of the people we most want to get help sometimes don't."
National Guard, reservists and veterans face the additional barrier of isolation: they often live far from military health care facilities, are cut off from peers and mentors, and are less likely to know about available resources. It's also more difficult to keep track of them.
Vietnam-era veterans, in particular, are often distrustful of the VA -- a legacy of that generation's suspicion and anger at the government -- and many have never sought VA health care. Tragically, about 90 percent of military service members and veterans who die by suicide had some undiagnosed or poorly diagnosed mental health problem, according to Caitlin Thompson, the VA psychologist and clinical care coordinator at the crisis line for the military and veterans. The VA cannot compel veterans to come in for help -- even if counselors know where to find them.
Finding veterans and identifying struggling troops in time, and matching them with the right resources, is a major concern of suicide prevention officials at the Pentagon and the VA. The rising suicide numbers, they acknowledge, are evidence that a greater effort is needed.
That's why the Pentagon's Office of Suicide Prevention is engaged in a massive effort to determine exactly what programs exist, how much is being spent on them and how they can be more efficiently coordinated. Garrick, the office director, said she has asked each of the military services this summer to report how many suicide prevention programs they have, what they do and what they cost. Answers aren't in yet, she said.
Many are convinced that the answer lies in part outside the Pentagon and VA, out in the communities where people live. Across the country, there are fledgling efforts to tackle this idea in two ways: train veteran volunteers to act as peer counselors to troops and other veterans in need, and more closely coordinate with community-based health care providers, including nonprofits.
'SOMEONE THAT CARES'
At the Philadelphia VA Medical Center, the concept of reaching those at risk of suicide -- before they are in crisis -- is driving the suicide prevention effort beyond the traditional counseling and therapy for specific mental conditions.
"To us, this is a very small piece of the puzzle of getting better," said Dr. David W. Oslin, a psychiatrist and chief of mental health at the Philadelphia VA. "We can provide the greatest clinical care, but if the veteran is unemployed and living on the street, he or she is probably not going to get better."
The Philadelphia VA's work on suicide prevention, although not labeled as such, now includes programs for housing the homeless, pain management, employment, and outreach to veterans in legal jeopardy.
Under prodding from the White House, the VA this summer organized dozens of meetings with community mental health organizations, in order to figure out better ways to serve its communities. At a gathering at the Philadelphia VA in mid-August, local activists and mental health workers brainstormed about new ways to find and connect veterans to their resources.
"It's not just what we can do in this hospital, it's what we can do in the community to help veterans get better," said Dr. David W. Oslin, director of mental health services at the center.
But the fact is that community programs are often fragmented, underfunded and disconnected. At the Philadelphia meeting, two officials of the city's Department of Behavioral Health, which has an impressive array of suicide prevention programs and outreach, said they had no veteran-specific programs, did not routinely look for veterans to connect with the VA, and really had no idea where to send veterans in need.
"There are so many resources and different organizations, and one person calling one organization isn't going to get a fraction of all the help that's out there," said Valerie Glauser, a family therapist in suburban Philadelphia. "There is no community clearinghouse for all types of veteran support for those of us who work in behavioral health."
After hours of discussion, the group came up with two solid plans: spread the word about VA programs in new ways -- such as posters on buses and job fairs -- and train volunteer veterans for peer counseling.
With all these campaigns and programs, the most effective suicide prevention tool often seems to be an individual -- a family member or a friend -- who makes the effort to be available.
Army Sgt. Maj. Joseph Sanders, now 48, twice attempted suicide when depression, illness and anxiety sent him into what seemed like a bottomless pit with no other way out.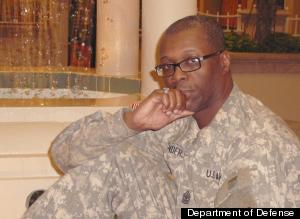 Army Sgt. Maj. Joseph Sanders, who nearly took his life before getting help from a friend.
One time he put a bullet in his revolver, and when he pulled the trigger it clicked on an empty chamber -- a shock that brought him to his senses. The second time he ran his car engine in a closed garage before suddenly realizing how much he had to live for.
At 1 a.m. he banged on a friend's door to ask for help.
"All it takes," he said. "You always have someone to turn to, someone that cares."
His friend took him that night to a military chaplain and then to a suicide prevention officer. "We worked up a safety plan, and they said, 'You go on home now and we'll call in the morning to make sure you're okay, and we'll call you in the evening and continue checking on you until everything is okay and you're not feeling as stressed.'''
"Well," Sgt. Maj. Sanders said. "That was quite effective."
This article is part of a special Huffington Post series, "Invisible Casualties," in which we shine a spotlight on suicide-prevention efforts within the military. To see all the articles, blog posts, audio and video, click here.
For a review of warning signs someone may be at risk of suicide, click here. For a list of resources to get free and confidential help, click here. If you or someone you know needs help, call the national crisis line for the military and veterans at 1-800-273-8255, or send a text to 838255.
This story appears in a special Labor Day issue of our weekly iPad magazine, Huffington, available Friday, Aug. 30 in the iTunes App store.