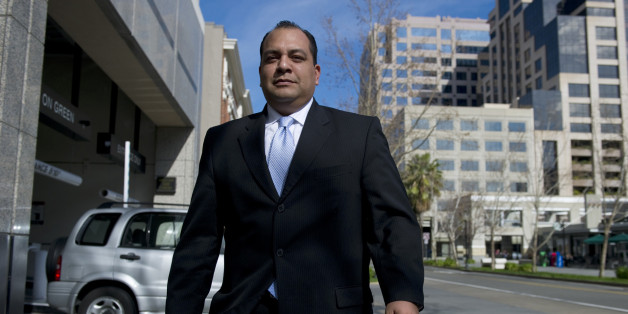 The National Assocation of Hispanic Journalists endured a spate of criticism in recent days for allowing a California Democratic Assemblyman to push a Republican strategist off a panel on the Latino vote.
GOP strategist Hector Barajas said he was slated to speak at a discussion about the Latino Vote at the NAHJ's national conference on Sunday, but California State Assembly Speaker John Perez objected and convinced the organizers to give him the boot. As Barajas said in a tweet:
@SpeakerPerez throws temper tantrum-demands @nahj take me off Latino Voter panel. ELA Latino need not apply @CAgov @UniNoticias @Telemundo

— Hector Barajas (@HectorMBarajas) August 25, 2013
The episode prompted strong criticism from some voices in the Latino community who blasted the organization for excluding a prominent conservative voice from a panel dominated by progressives. Democratic activist Eva Longoria moderated the panel, U.S. Representative Lorretta Sanchez (D-Calif.) and activist Teresa Kumar of Voto Latino. California Assemblyman Rocky Chavez, a Republican, replaced Barajas.
"Perhaps the worst thing the organization has ever done is forget what journalism is all about," Navarrette wrote. "We take politicians to task. We don't take orders from them."
Latino Rebels founder Julio Ricardo Varela echoed the sentiment in a piece for NBC Latino:
As a Latino professional, I am done with the whole small-minded mentality we continue to promote when Latinos with different political beliefs come together and share their views. If Pérez, an elected official, didn't like that his political enemy was on the panel, tough. Are we at a point now where we can't even have discussions from different perspectives because we don't like each other? What message does that send out to the community?
NAHJ bounced back, however. In Facebook message, the organization's President Hugo Balta, a producer at ESPN, apologized for the mishap and invited Barajas to work with NAHJ again in the future.
I recognize that despite NAHJ organizers' best intentions, an uncomfortable situation was created that affected panel guests. For that I am sincerely sorry and pledge that NAHJ will do better in organizing similar sessions moving forward.
Barajas responded to the statement, writing: "Thank you for the comments. We share the same value of empowering Latino families, students, and professionals. I look forward to working with NAHJ."
H/T: Latino Rebels.
BEFORE YOU GO
PHOTO GALLERY
Latino Winners And Losers In Congressional Elections