The National Zoo had sad news on Thursday morning.
This morning, we're mourning the death of our 23-year-old male Przewalski's horse Rolles. http://t.co/Xa98Jt3raA pic.twitter.com/JN50IbNJVd

— National Zoo (@NationalZoo) August 29, 2013
Rolles was 23 years old and had a tumor on his nose. Zookeepers first noticed a problem in July when the horse had nasal discharge, which developed into a visible mass. Because of where the tumor was located and the horse's discomfort, veterinarians and zoo staff believed there was a "poor long-term prognosis," according to a press release, and "elected to humanely euthanize Rolles."
Considered to be the last truly wild horses, Przewalski's horses have never been tamed. Rock engravings of these animals were found some 20,000 years ago; their habitat once stretched across Central Asia and parts of Europe, but wild populations were killed off through hunting, habitat loss, interbreeding with domestic horses and other population pressures.
In 1996, the horses were listed as "extinct" on the International Union for Conservation of Nature's Red List of Threatened Species. After some zoo-bred horses were reintroduced to China and Mongolia, where they successfully bred, that status was changed to "critically endangered" in 2008.
Now there are about 1,500 Przewalski's horses in zoos and breeding facilities, with several hundred more in the wild. That population went up by one at the end of August, when a filly named Anne gave birth to the first-ever Przewalski's horse foal born via artificial insemination, at the zoo's Smithsonian Conservation Biology Institute in Virginia. (In 2008, the National Zoo was also said to be responsible for the first-ever reverse-vasectomy on a Przewalski's horse.)
CUTE: Przewalski's horse foal born at Smithsonian Conservation Biology Inst. -- 1st ever via artificial insemination pic.twitter.com/n2QvtHKhVr

— Erin Ruberry (@erinruberry) August 1, 2013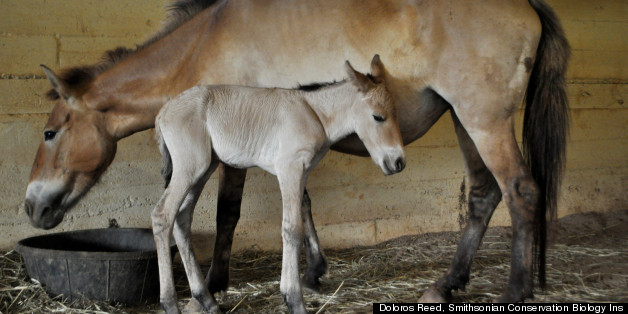 Another Przewalski's horse foal was born on August 15, this one by natural breeding.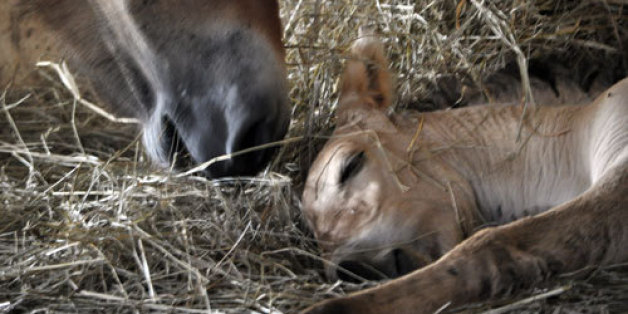 The National Zoo said on Thursday morning that more information would be known about Rolles' tumor from a final pathology report. Rolles -- who "acted as an educational ambassador for his species, illustrating the social nature and behavior of Przewalski's horses to scientists, keepers and Zoo visitors," the zoo said in its press release -- leaves behind a non-breeding companion, Rose Marie, a 27-year-old female Przewalski's horse. (It's a small community; Rose Marie's former companion was Montana, the Przewalski's horse whose vasectomy was reversed. Rolles was brought in after Montana was dispatched to breed.)
You can read more about this pair's sweet history here. We've asked the zoo how Rose Marie is handling the loss of her companion, and will update this piece when we have more information.
Update, Sept. 3, 3:05 p.m.: National Zoo spokesperson Jennifer Zoon gave us an update on Rose Marie.
"Our curator received an update from one of the keepers that Rose Marie is doing well," Zoon said in an email. "Late last week, keepers observed her vocalizing in a way that could be interpreted as a contact call. This week, her behavior is akin to what it was prior to Rolles' passing—i.e. back to her old self."
BEFORE YOU GO
PHOTO GALLERY
100 Most Threatened Species