 The all-important NYC comptroller's race narrows. Americans oppose air strikes in Syria. And if you have a cheap, fast, 'scalable' method to contact cell-phone-only households, PPP has an RFP for you. This is HuffPollster for Thursday, August 29, 2013.
SPITZER'S BIG NYC COMPTROLLER LEAD VANISHES - HuffPost: "With less than two weeks till New York City's primary elections, Manhattan Borough President Scott Stringer has gained significant ground in the Democratic primary for city comptroller, two new polls have found. In a Quinnipiac poll released Wednesday, Stringer was tied with former Gov. Eliot Spitzer at 46 percent among likely Democratic voters -- a dramatic shift from Aug. 12, when he trailed by 19 points. An amNewYork-News 12 poll conducted by Penn Schoen Berland, also released Wednesday, gave Spitzer a slight edge, with 46 percent to Stringer's 43 percent...The narrowing in the race follows the launch of Stringer's first ad campaigns, in which he sought to introduce himself to voters as a champion of the middle class. He was also endorsed by the editorial boards of the Daily News, The New York Post and The New York Times." [HuffPost, Quinnipiac, am New York]
Big Racial Gap - The comptroller race continues to show a wide racial gap. In the Quinnipiac poll, Spitzer leads by 12 points among black voters, while Stringer has a 23-point lead among whites. On the Penn Schoen Berland poll, Spitzer leads by 34 percentage points among blacks while Stringer leads by 36 among whites.
Racial Composition Varies - A small contributing factor in Spitzer's decline -- as least as measured by Quinnipiac -- is that the African-American composition of their likely voter samples declined from 35 percent in early August to 27 percent on the most recent poll. That said, the variation in racial composition across the recent public polls has also been consistent with their respective margins of error and the change in composition accounted for very little of the 10 percentage point decline in Spitzer's overall support (we estimate that a more consistent sampling would have altered the overall numbers by no more than a percentage point).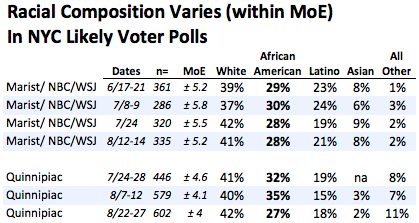 WHITE LIBERALS LEAD DE BLASIO'S RISE - The New Republic's Marc Tracy, quoting New York City mayoral candidate Bill de Blasio: "'We are convinced—we've been convinced for awhile—that we're on a pathway to victory...And we have numbers,' he continued. 'I feel sometimes like I'm in a spy movie—like, we have the numbers no one else has.' De Blasio's pollster, Anna Greenberg, looked up bashfully and then stared straight ahead, as though suppressing a smile…A close look at public polls as well as conversations with de Blasio staffers with access to those spy-movie numbers reveal that an outsize share of de Blasio's support, and particularly his recent gains, come from what pollsters call "white liberals." These voters really started to tune in to the race several weeks ago thanks to things like de Blasio's high-profile arrest while protesting the closing of Long Island College Hospital, the increased prominence of stop-and-frisk thanks to a court decision, and a buzzy TV spot featuring his son Dante." [New Republic]
FEW AMERICANS SUPPORT AIR STRIKES IN SYRIA - Emily Swanson: "Americans largely oppose any U.S. intervention in Syria's civil war, according to a new HuffPost/YouGov poll, with only a quarter saying they support air strikes there. The new poll, conducted after U.S. officials claimed Syria's government killed thousands of civilians with chemical weapons, shows 25 percent of Americans now support air strikes to aid rebels in Syria, while 41 percent said they are opposed. Another 34 percent said that they're not sure. Support for air strikes has risen since two previous HuffPost/YouGov polls. A poll conducted in April found found that 16 percent of Americans supported air strikes. A poll in June found 19 percent supported air strikes." [HuffPost]
PPP EXPLORING WAYS TO REACH CELL PHONE USERS - Steve Shepard: "The Democratic robopolling firm Public Policy Polling is exploring a significant change to its methodology to include the tens of millions of voters who do not have landline telephones. PPP next Tuesday will issue a request for proposals for including respondents who only have cell phones, said Tom Jensen, the firm's director, who oversees PPP's day-to-day operations. These proposals may include live-operator phone calls to cell-phone respondents and text- and Internet-based responses….According to their request, they are looking for pitches that would allow them to provide the same, quick turn-around time for their surveys, in addition to what they call 'scalability' -- the ability to conduct a poll in a small geographic area for a local or municipal candidate." [National Journal]
HUFFPOLLSTER VIA EMAIL! - You can receive this daily update every weekday via email! Just enter your email address in the box on the upper right corner of this page, and click "sign up." That's all there is to it (and you can unsubscribe anytime).
THURSDAY'S 'OUTLIERS' - Links to more news at the intersection of polling, politics and political data:
-Booker and Christie are still popular and still leading by a mile in New Jersey. [FDU Public Mind]
-Pennsylvania Governor Tom Corbett is neither. [Franklin & Marshall]
-Two automated polls (one sponsored by the LCV) find Terry McAuliffe leading in Virginia. [PPP/LCV, Emerson]
-Doug Schwartz reviews Chris Christie's uniquely positive job approval rating. [Quinnipiac]
-Andy Barkett, the RNC's new chief technology officer, answers questions on what he's up to. [Ace of Spades via @victorylab]
-Sinan Aral shows how the NY Times uses visualization to track the correlation between tweets and article traffic. [HBR via @BrandsEye]
-The Washington Post charts the nation's "black budget." [WaPost]
-Harris Interactive asks Americans to rate the summer scandals. [Harris]
-An annual insiders' poll of English nerds tells the American Heritage Dictionary what language should be considered correct. [Time]