As beneficial as the right playlist can be to boosting your workout, the wrong pair of headphones can be equally detrimental. Maybe the sound is too tinny or the earbuds won't stay put. Maybe after a few sweat sessions they start to fall apart or, worse, smell bad. Every runner is different, but every runner who runs with music appreciates the beauty of the right pair of headphones.
While I'm no tech writer, I am a runner who listens to music -- and I most certainly sweat. Which is why I jumped at the chance to take some of the biggest names in the active headphone game out for a spin.
Before we get into my favorites, a few notes about how I conducted this oh-so-scientific test:
The Test Drive
I wore each pair of headphones during a 20- to 30-minute jog along the same stretch of the path along the Hudson River in New York City, at a moderate pace, while listening to the same 10 or so songs.
Two Types Of Quality
I rated sound quality on a scale of one to five, one being "meh", three being average and five being sensational. Durability also got a one to five score, with one being "handle with care" and five being "feel free to toss 'em in your gym bag."
Sound Isolation Isn't Always A Good Thing
When you're listening to music on, say, a long airplane flight, you're probably looking for something that blocks out all other sound. When you're listening to music on a run through a busy city, you need to be able to hear some of the important auditory cues around you. Experts call this "situational awareness." I prefer to drown out my own heavy breathing, but I have to be able to hear the bicyclists and drivers around me. I rated each set of headphones on a one to five scale here as well, but a three was the ideal. A one meant I could hear every surrounding sound, while a five meant I heard no surrounding sound, technically no good for a city runner.
Every Ear Is Different
Just like with running sneakers and sports bras, your experience with the headphones below will likely be somewhat different than mine. This review should be used merely as a guide, not the end-all-be-all.
These Are Not Your Average Headphones
You'll note that just about one of these headphones is affordable. But you get what you pay for, and, because many of the pricier models come with serious warrantees, they could be a worthwhile investment if you're willing to take good care of them.
Phone Calls
You can make or receive calls with most of these models. I didn't test out this feature -- mainly because most of my test runs occurred around 7 a.m., and I don't know many people who would really want to hear from me at that hour. For a review of making phone calls with a number of these models, as well as some really impressive testing methods that would have gotten me in big trouble, head over to The Wire Cutter's review from earlier this year.
Here's What I Found:
BOSE SIE2i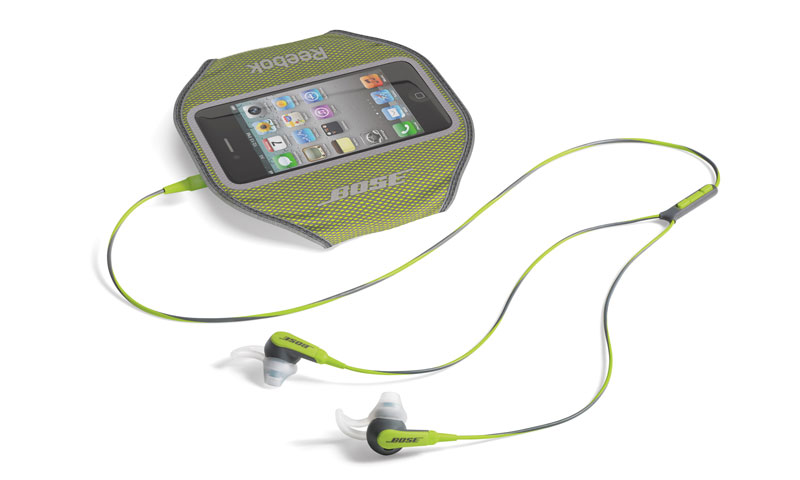 Sound Quality: 5. I put these babies in and did an auditory double-take. So this is what I've been missing!
Noise Isolation: 3. I couldn't hear my panting, but I did hear a particularly loud air conditioner that I mistook for an approaching person!
Fit & Comfort: The StayHear tips fit snuggly under the ridge of your ear, just above the ear canal. A set includes three interchangeable StayHear pieces to accommodate a range of ear sizes. I expected to feel some pressure from the piece that slid under the ridge of my ear, but instead I felt... nothing! These are so light, at times I thought they were slipping out simply because I no longer felt them at all.
Cord Length: Shorter than usual, but the kit includes a cord extender if you prefer a little more length. There's also a clip about halfway down the cord that allows you to fasten extra length to your clothes and prevent bouncing. The SIE2i model is designed to operate with Apple devices, so I could adjust the volume and song order with the buttons on the headphones, as well as operate my phone via voice commands. There's also an SIE2 model that works with most other devices.
Durability: 4
The Sweating Situation: There was zero budge as my ears got slicker. The packaging calls these sweat- and weather-resistant, so you won't want to submerge them in water but you can certainly wipe 'em down.
Bells & Whistles: The headphones also come with a nifty Reebok armband, complete with a small pocket for a key.
Cost: $149.95 on the Bose website. If you just want the SIE2 model, those will set you back $119.95.
Philips ActionFit Sports Headband Headphones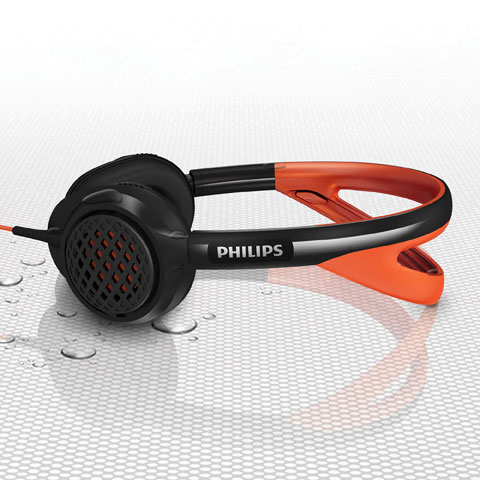 Sound Quality: 4.5. The bass was rich and heart-pounding, even at higher volumes.
Noise Isolation: 3. I expected to have to really crank up the volume, since on-ear models typically allow in more ambient noise, but these struck a good balance. I could hear the middle-aged couple running behind me approaching, which definitely pushed me to go faster.
Fit & Comfort: The ear cushions are plump and sumptuous, although I always wonder how makes like these will hold up over many, many sweaty hours, since I basically eroded a pair a few years back. They're incredibly lightweight and not too tight. The non-slip headband helped keep everything in place without squeezing, although I did get a little jiggle on one side.
Cord Length: A little long, but the included cord clip helps keep bounce to a minimum.
Durability:3. The cable is outfitted with a Kevlar coating to withstand any potential tears. The silicone headband doesn't seem easily breakable, although I do always worry slightly about snapping something that doesn't fold. The set comes with a pouch to carry them in, but it's just cloth.
The Sweating Situation: The ear cushions are detachable and washable, and the whole shebang is sweat-resistant and rainproof. Sweating didn't move these babies a millimeter.
Bells & Whistles: The on-ear design is the big perk here, since there aren't many non-earbud active options. Note that there's no remote on the cable, so you'll have to manage volume and track order from your device.
Cost: $99.99, according to the Philips website
Polk UltraFit 3000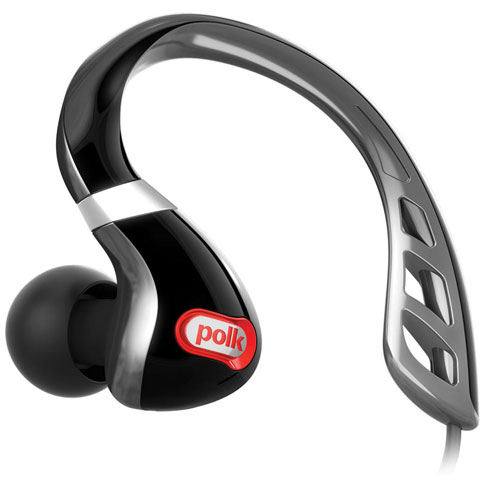 Sound Quality: 3.5. I wasn't completely blown away here, but I was definitely pleased.
Noise Isolation: 3. These were a happy medium of isolation and safety.
Fit & Comfort: With three sizes of silicone ear tips, two pairs of three-tiered silicone ear tips that I found were the best shape for my ears and two pairs of memory foam tips for additional sound isolation (save those for the treadmill), you'd be hard-pressed to not find some combination that works for you. Once I found the right option, I could hardly feel 'em. The over-the-ear section is flexible and bendable, but secures nicely in place and doesn't bounce while running.
Cord Length: Also customizable! The set comes with a 14-inch cable and a 41-inch cable, although only the latter has a remote control. The remote was kind of a dud, though: The volume controls worked fine, but it was nearly impossible to use the central button to change the song. I found myself fumbling and frustrated more than once.
Durability: 5. These also has a Kevlar-enhanced cord for serious lasting power. They also come with a compact carrying case, and the bendable design eliminates fear of snapping.
The Sweating Situation: The Polk website explains that these are protected by "moisture shield technology" that "deflects and resists moisture". They also didn't budge when I got sweaty.
Bells & Whistles: The customization is the big perk here. These are designed to operate with Apple products, but the very similar UltraFit 3000a offer an option for Android users, too.
Cost: $79.95 according to the Polk website
AfterShokz Sportz M2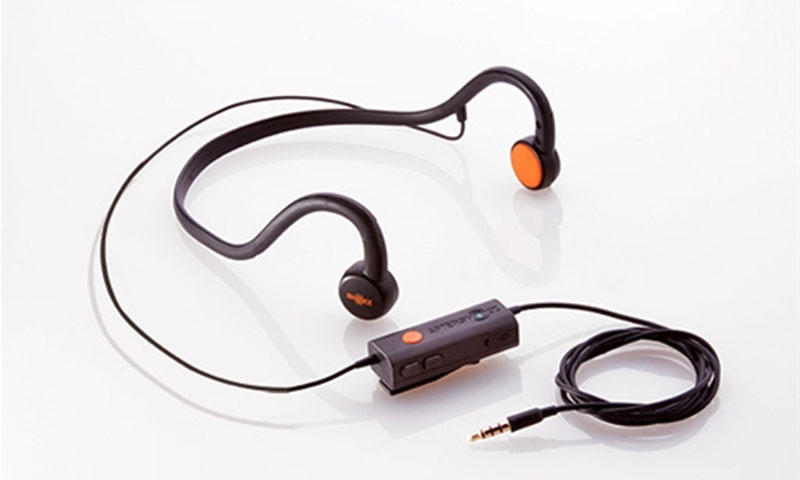 Sound Quality: 2. The unique design of these headphones, which sit on the jawbone right in front of your ear, is meant to send "stereophonic sound" to the inner ear via the cheekbones. Really. That means that a lot of the sound is projected outward, rather than into the ear, to allow for situational awareness (more on that below), but to me it sounded thin.
Noise Isolation: 2. Situational awareness is top priority for the Sportz 2. They err on the side of delivering on their message, while compromising sound quality to do so.
Fit & Comfort: Despite the snug fit against my jawbone and the wraparound band, I hardly felt them after I got going, and they didn't move an inch.
Cord Length: The cord length is about average, but in place of the typical remote control, the AfterShokz have an "in-line controller" that's significantly bulkier and heavier. It's meant to be clipped to your shirt, but even so it bounced and pulled.
Durability: 5. The wraparound band is a light but firm plastic, and the kit comes complete with a sturdy carrying case, which makes tossing it in your gym bag pretty fail-proof.
The Sweating Situation: The box calls these sweat-proof and water-resistant, so I felt good about running with them in the drizzle. When my face got sweaty, they didn't slip or slide.
Bells & Whistles: The in-line controller allows you to make calls and adjust the volume, but there's no feature that allows you to skip songs. These headphones need to be charged via USB, but you're good to go for 12 hours after a full charge.
Cost: $69.95 on the AfterShokz website
Monster iSport Freedom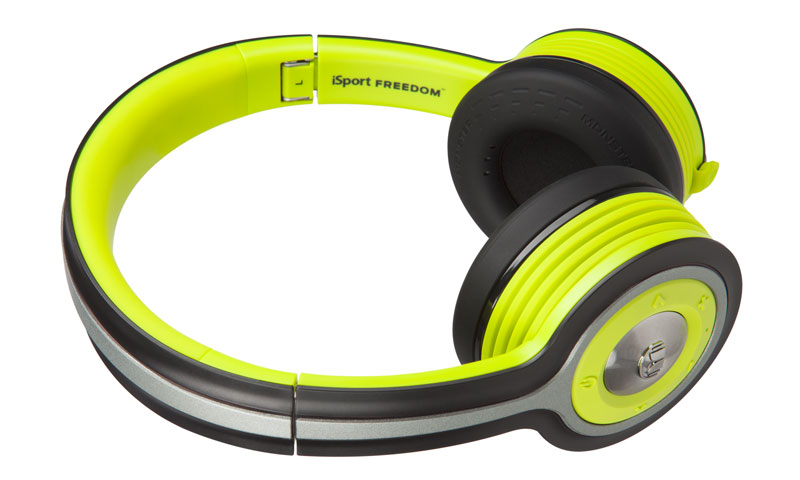 Sound Quality: 3.5. And apparently they only get better: The user's manual says to break them in (really!) and that they'll sound best after about 20 hours of playback.
Noise Isolation: 5. They are not kidding about the noise isolation touted on the packaging. Save these for your treadmill runs -- I was actually startled a couple of times when cyclists zoomed past me.
Fit & Comfort: The ear cushions are luxurious, but even after repositioning the headband a couple of times, I kept hearing the bounce of my own footsteps, thanks to what's known as the occlusion effect. You know that annoying amplification of internal sounds, like chewing, when you're wearing headphones? Yeah, not good.
Cord Length: Wireless -- hence the "Freedom" name! Charge them for about an hour and a half before you hook 'em up to your phone via Bluetooth, and you're good for about 10 hours of sound.
Durability: 3. These headphones are collapsible, so you can essentially fold them in half to prevent snapping in your gym bag. But they're still bulkier and a little stiffer than other models I tried, so I'd handle with a little extra TLC. They do come with a convenient carrying pouch, but it's nothing protective.
The Sweating Situation: Since they're water-resistant and sweat-proof, I felt safe getting sweaty in these, and reassured by the fact that I could wipe down the ear cushions after. Sweat didn't seem to change how they bounced.
Bells & Whistles: This is Monster's first iSport model that sits on top of the ear, a welcome addition to the (skimpy) pool of options for people who aren't big fans of in-ear headphones. The on-ear controls allow you to conveniently change the song and volume and take calls -- once you get used to them, that is, as you can't exactly see what you're pressing!
Cost: $279.95, available in the U.S. in October, according to Monster reps
Jaybird Bluebuds X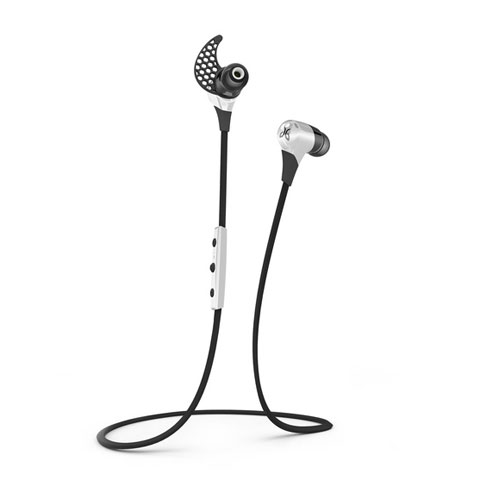 Sound Quality: 4. Really great, without having to crank up the volume.
Noise Isolation: 3.5. Still safe, but on the side of more isolating than you might be comfortable with. The plus side was that I didn't have to turn the volume up to get a good sound, so I felt safe running on the street.
Fit & Comfort: These earbuds are extremely customizable. The kit comes with three different sizes of ear tips, plus three different sizes of what's called Secure Fit Ear Cushions, which are tucked under the folds of your ears for maximum hold. The buds can be worn both over and under the ears, and the wraparound cable can be shortened with tiny cord clips around the back of your head. The over-the-ear style is a little more advanced and trickier to set up, so I stuck with the under-ear style. It took a few minutes to get used to the pressure of the ear cushions, but after the first five minutes of my run I was in love.
Cord Length: Wireless! They connect with your iPhone via Bluetooth, leaving you free to move as you please. The wraparound cord is not long at all, especially after adjusted to fit your head, and didn't bounce much as I ran.
Durability: 5. The Bluebuds come equipped with a solid carrying case, but even without them, the materials are pretty sturdy, and I would have no problem throwing them into a gym bag.
The Sweating Situation: The box boasts a "lifetime warranty against sweat" thanks to Liquipel Water Repellant Nano Technology. Don't dunk 'em in the tub, but feel free to get sweaty in these bad boys. Mine didn't slip whatsoever.
Bells & Whistles: Aside from the many, many ways in which to wear these, they also have a remote control on the cord so you don't have to fumble with your phone while you run. The Bluebuds are the official training headphones of the USA Triathlon, so you know they're legit. After a full charge, you should be good to go for eight hours of music.
Cost: $169.95 on the Jaybird website
Shure SE215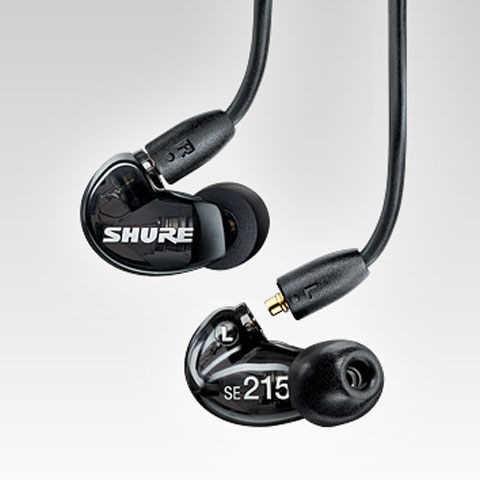 Sound Quality: 3.5. I wanted more bass, to be honest.
Noise Isolation: 5. These headphones are not technically designed for exercise, but judging by online reviews, a number of people swear by them. They deliver on their promise to be sound isolating, a feature indoor exercisers may love, but one that left me uncomfortable on the sidewalk.
Fit & Comfort: The earbuds come equipped with six different tips, three sizes in silicone and three sizes in foam. They're a little difficult to put in, but when inserted properly they fit snugly like an earplug. The over-the-ear cord is a nice touch that added to the comfort of this pair, but the buds started to slip out of my ear as I moved. Because they require a little more attention than normal to insert, it wasn't easy to correct them while running.
Cord Length: Too long and too heavy, with no clips and no remote control on the cord.
Durability: 4. The kit comes with a compact carrying case to keep them safe in a bag.
The Sweating Situation: Not great. The Shure rep insisted that these are sweat-proof, but there's no mention of it on the packaging or website, except to say to keep the headphones as dry and as a clean as possible... whoops.
Bells & Whistles: The sound isolation is really the big draw here, but I wouldn't recommend them for outdoor runners.
Cost: $99, according to the Shure website
Beats by Dre Powerbeats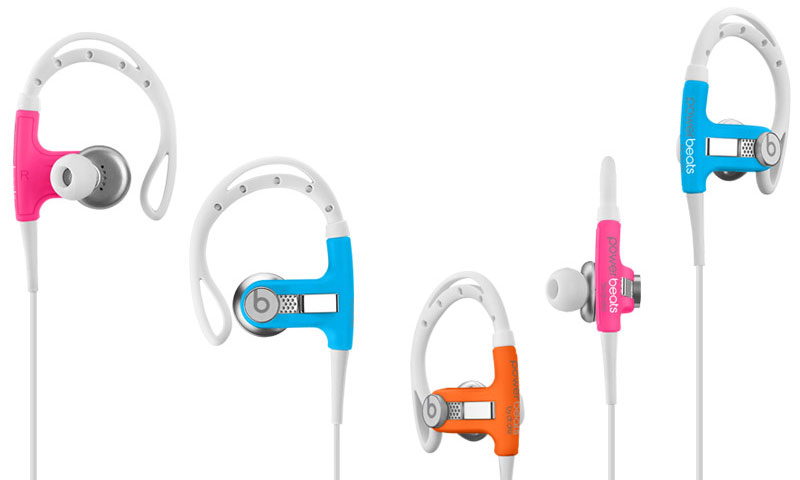 Sound Quality: I was so looking forward to trying these, given all the Beats by Dre hype, but they were only a 3.5 to me.
Noise Isolation: A solid 3. The Powerbeats website highlights road running safety and doesn't disappoint.
Fit & Comfort: There's a little too much going on here. While I appreciate the small, medium and large buds, once the small ones were in my ears, the rest of the headphones felt bulky and in the way. The over-the-ear loop is flexible so you can secure the headphones as loosely or tightly as you please, but I had to make them tighter than I'd prefer to truly eliminate bounce. I could tell that had I worn these for closer to an hour, my ears would be tired of them.
Cord Length: Perfect. And for bigger bodies -- like Lebron James, who teamed up with Dre to craft these -- there's also a cord extender included in the set. There's a handy clip to keep some of the excess out of the way, and the cord has volume and voice controls. The settings were on the left side, a departure from what I'm used to, which threw me off slightly.
Durability: 4. These were designed with durability in mind, according to the Powerbeats website. Since the over-the-ear loops are flexible, there's less worry about them snagging in your gym bag. The set also includes a slim but sturdy carrying case.
The Sweating Situation: Once securely fastened in place, these aren't going anywhere -- but they sacrifice comfort slightly to do so. They're also sweat- and water-resistant, and the ear tips can be removed for regular cleaning.
Cost: $134.95 on the Beats by Dre website
Yurbuds Inspire Talk for Women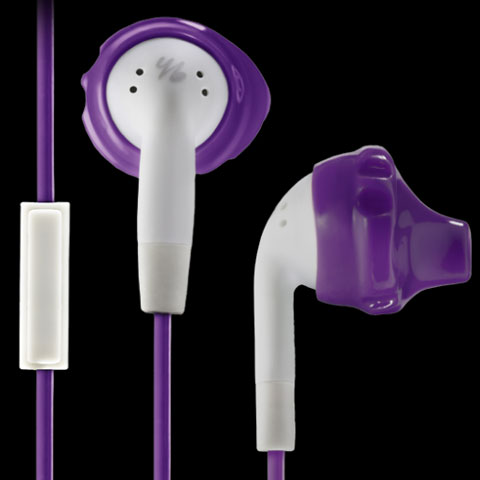 Sound Quality: 2.5. Without a doubt, the lower price point means lower-quality sound. There wasn't much bass and the sound overall wasn't as clear as some of the higher-end models. That said, they still do the job, and the other perks below make these a smart pick.
Noise Isolation: 3. The unique shape of these earbuds was designed specifically to allow ambient noise in so you stay aware during your workout.
Fit & Comfort: Thanks to patent-pending Twist Lock technology, the Yurbuds shouldn't budge. You insert the "sound tunnel" part of the bud, then twist the whole earpiece into place. They felt snug without feeling too tight. The set also includes a larger earbud, and the Inspire for Men is larger still, also with two different sizes.
Cord Length: Medium to long, but so lightweight I hardly noticed. The men's kit comes with a cord clip, but not the women's.
Durability: 5. The earbuds themselves are soft and squishy, so I wouldn't worry about tossing them around, and the cord has lots of give. If you're looking for a little extra on the durability front, the Yurbuds Duro have a cloth cord that purports to be tangle- and tear-resistant -- with a lifetime warranty.
The Sweating Situation: The buds are sweat-, water- and germ-resistant and don't budge when the going gets sweaty.
Bells & Whistles: This set has a one-button remote control on the cord that allows for making phone calls, stopping and starting the music and switching to the next song -- and they're compatible with iPhone, Android and Blakckberry devices. The Inspire Pro (available in both men's and women's sizes) has a three-button remote that also allows you to adjust the volume (it costs more). There's also a cheaper model sans remote. The men's package included a slim carrying case, but no such luck for the ladies.
Cost: $39.99, according to the Yurbuds website. The Pro model for both men and women is $59.99, and the original is $29.99.
Sennheiser adidas PMX 685i Sports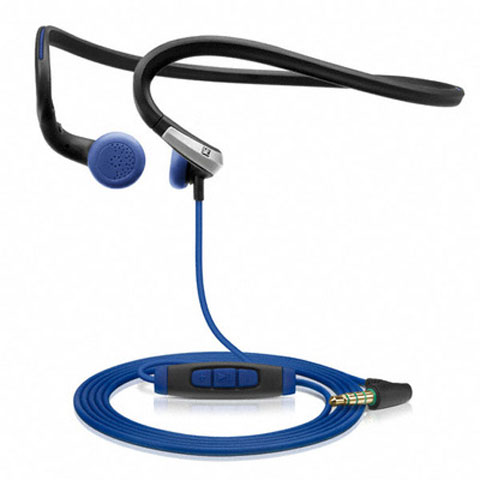 Sound Quality: A solid 4. But because of the fit, I had to keep turning the volume up, to a point where it got a little uncomfortable.
Noise Isolation: Situational awareness is highlighted on the website for this pair, which would be a solid 3, but since I had increased the volume quite a bit, they felt more like a less ideal 4.
Fit & Comfort: These headphones are so surprisingly lightweight. The wraparound style can often add weight and pull on the ears, but I hardly felt these. The actual ear buds felt too large for my ears, and sat lower and farther outside the ear than I'm used to. Still, they stayed put when I ran.
Cord Length: A little long and a little inflexible, but the movable cord clip helped keep some of that out of the way. The remote control was once again on the left.
Durability: By default, wraparound styles seem slightly more delicate thanks to that plastic band threatening to snap at any moment. Because this make is so delightfully lightweight, the band seems even more flimsy, so I'd give it a 2.
The Sweating Situation: I felt okay taking these out for a spin during a light drizzle, since they are sweat- and water-resistant. They didn't move because of my sweating or the weather.
Bells & Whistles: Designed to operate with Apple products, I could take calls via the control on the cord along with changing the song. The headset is also designed to fit comfortably beneath a bike helmet.
Cost: $79.95, according to the Sennheiser website
Klipsch Image A5i Sport In-Ear Headphones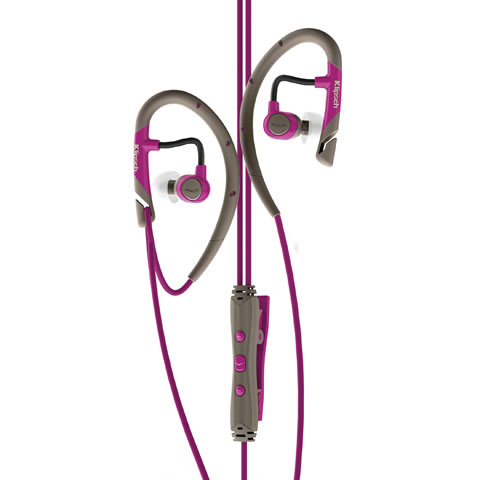 Sound Quality: 4. At a moderate volume, the sound is superb, easily a 5. But when I pumped up the volume to where I'd ideally keep it for maximum motivation, the sound got a little thin.
Noise Isolation: 5. Yikes. I didn't hear a bike coming up behind me until the front wheel was at my heels. I kept the volume significantly lower than I typically would so it didn't happen again. I'd recommend these strictly for treadmill runs.
Fit & Comfort: To die for. The patented oval ear tips -- which come in four sizes -- really make a difference when it comes to forming a tight and snug seal in your ear. The earbud is attached by a flexible wire that allows you to bend and shape it into the right angle for your ear, while the over-the-ear loop keeps the rest of the design snug. I couldn't feel them at all once they were in.
Cord Length: A little long, and slightly heavy thanks to the remote control. Luckily, the cord clip is attached to the remote, so you can fasten that heaviest part to your shirt to avoid excess pulling on your ears.
Durability: 5. The kit comes with a carrying case, but this was one of the few pairs I tried that I didn't even think needed it. And if the Kevlar cord doesn't convince you, the two-year warranty might!
The Sweating Situation: These earbuds are moisture- and sweat-resistant, so feel free to wipe 'em down after a tough workout. As I got sweatier, they thankfully stayed right in place.
Bells & Whistles: Designed to operate with Apple products, you can adjust volume, switch songs and take calls with the three-button remote. There's a neat little looping system on the front of the headphones that allows you to tuck excess cord around the bottom of your ears for a snugger, more bounce-free fit that I haven't seen on other models.
Cost: $129.99, according to the Klipsch website
What's your favorite pair of workout headphones? Let us know in the comments below. And while you're at it, let us know what else we should try -- we're your guinea pigs, after all!
BEFORE YOU GO
PHOTO GALLERY
Sports Bras We've Tried