 DETROIT -- Girls screamed and shouted his name, their foreheads pressed against the glass. Tears streamed down their faces, and some were too overwhelmed to speak. A few teens maneuvered past the rapper's handlers, wrapped their arms around him and smiled for photos. "You helped me through my breakup!" one told him.
It wasn't surprising that Kanye West protégé and rising star Big Sean inspired this much excitement in Detroit, his hometown. But the location was a bit out of the ordinary -- as he made press rounds for his new album, "Hall of Fame," he spent a good chunk of Thursday afternoon handing out backpacks to kids in a building normally used as a farmers market.
A couple thousand students crowded Detroit Public Schools' back-to-school fair in Eastern Market, where they could learn about careers, play educational games, do science experiments and receive supplies. Organized by the Ross School of Business at the University of Michigan, new MBA students had just three days after arriving for their first semester to plan the event.
"DPS needs this more than anybody," said Big Sean (real name: Sean Anderson), who recently launched the Sean Anderson Foundation to help young people in Detroit. "Hopefully this is just the first of many events we can do to … help give back."
"I wanted to make sure that when I looked back at my life I did something that I was proud of, that I left a legacy," he added. "Of course I make a lot of fun music, all sorts of songs, but I'm definitely going to make songs to inspire, to do my part for the community, especially for the kids in Detroit."
A former DPS student himself, the 25-year-old grew up on the city's west side and graduated from Cass Tech after spending his early years at the city's Waldorf School. Now, he's showing a younger generation of Detroiters that you can succeed in and beyond the city -- and not just by rapping.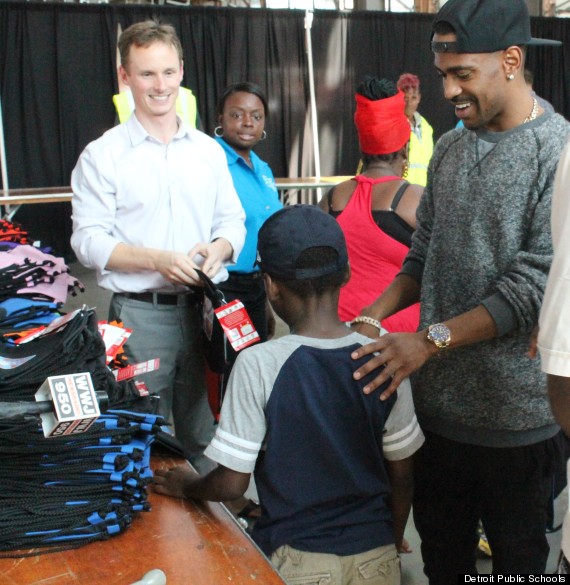 Rapper Big Sean and Scott DeRue, a professor of management at the University of Michigan's Ross School of Business, give school supplies to a young student. Photo courtesy Detroit Public Schools.
"My message [to kids] is just to stay focused on what your goals are and do as well as you can. And focus on what you're great at and harness that talent," he said. "There are so many opportunities out here … I hope these kids, these young minds, take advantage of that and make it happen. They can be way better than a rapper, they can be way more successful."
As a long line of kids filtered into one of the buildings Thursday, they each received a backpack filled with school supplies donated by Office Depot. Then, if they weren't too shy, they got a hug or a handshake from Sean, and a few encouraging words. Many of the accompanying parents also got hugs. Even if they weren't fans themselves, they could see the rapper meant something to their kids.
Plus, Sean had his own mother, Myra Anderson, with him. Having his parents support him, particularly his mom, has been "priceless," he said.
A former DPS student, U of M graduate and teacher from a nearby suburb, Myra Anderson is now president of the new foundation, which has the mission of "assisting in the education, health, safety, and well-being of Detroit-area, school-aged youth." The DPS back-to-school fair was the foundation's first official event.
"Support your kids for who they are, don't try to change them and mold them into what you want them to be … that would be my advice to parents," she said.
"Rap is not a career I would have chosen for him, but he wanted to do that so I supported that," she added. "I'm so proud."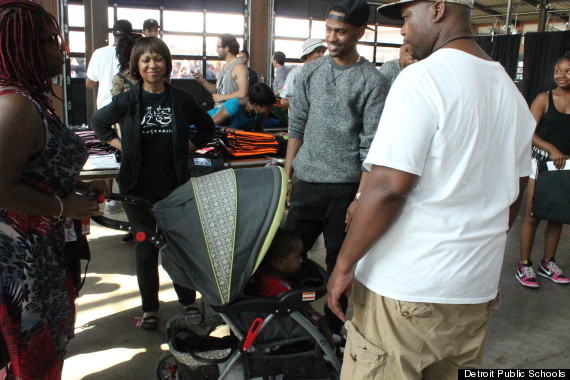 Big Sean and mother Myra Anderson talk to a parent. Photo courtesy Detroit Public Schools.
Big Sean held a free album release show in New York Tuesday and has a full weekend of Detroit events, including a Saturday concert. He'll be hosting his girlfriend, "Glee" star Naya Rivera, after she arrives Friday. He said he's eager to show her some of his favorite spots. His all-time favorite location in the city is his mom's house, but also wants to take her to Sweetwater Tavern and to a Coney Island.
Among the ubiquitous sex and drugs references on "Hall of Fame," Sean spits positive messages, directed at both struggling students and his struggling hometown.
"I just want to show a more positive side of the city, that's the whole meaning behind my music, behind the new album," he said. "It's for the dreamers, for the people who need inspiration and who are going through tough times. ... Even though we're a depressed city, bankrupt … even though we're a city that needs a lot, we also give a lot. And we also have a lot of soul."
BEFORE YOU GO
PHOTO GALLERY
Most Charitable Celebs