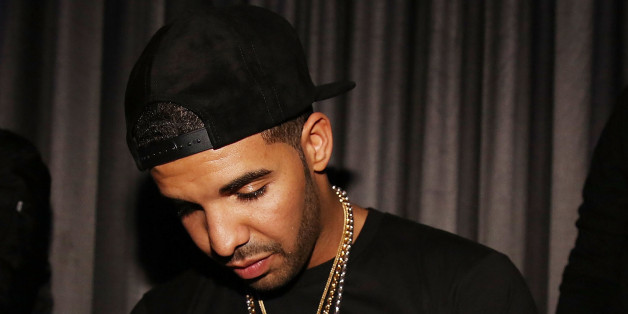 Drake's smiling mug graces the cover of Billboard this month, and it turns out the grin isn't just something he affected for the photo shoot. In fact, to hear Drake tell it, he's really just pretty damn happy.
"A lot of people get on and it's like they're just waiting to get more on," he tells the magazine. "They're always waiting for a bigger moment to come. But I've started to realize that this is it, this is the moment. And it reads, you know? People come up to me now and they're like, 'Man, you look good! You look like you're happy.'"
The new mood has affected his musical output as well. "There's a lot less sort of ambient ballad moments on this album where I'm searching or longing for something," the rapper says of his forthcoming album, "Nothing Was the Same." "That sentiment is gone. Now I'm just kind of like, 'You know, I'm 26, I don't know what the fuck else I could be doing better than this. I feel incredible about how I'm able to support my family and friends and how supportive my family and friends have been of me.'
Drake performed at the MTV Video Music Awards on Sunday, working his way through "Hold On, We're Going Home" and "Started From the Bottom." He began his performance by standing in front of an image of a blue sky, visually referencing his newly released album art.
The full teaser of Billboard's story is a must-read for Drake fans, but there's one other tidbit that's of particular importance. Drake offers his response to Kendrick Lamar's verse on "Control (HOF)," the Big Sean song on which Lamar delivered one of the year's most memorable performances. In the verse, the Compton rapper puts his competitors on notice, and Drake is among the performers mentioned by name.
But when he heard that Lamar was "trying to murder" him (figuratively), happy Drake says he just "went about my day, went and got dinner and kept it moving."
"I didn't really have anything to say about it," Drake said. "It just sounded like an ambitious thought to me. That's all it was. I know good and well that Kendrick's not murdering me, at all, in any platform. So when that day presents itself, I guess we can revisit the topic."
So there you have it: A portrait of the artist as a happy young man.
BEFORE YOU GO
PHOTO GALLERY
2013 MTV Video Music Awards Red Carpet Arrivals