 Britney Spears' forthcoming album is shrouded in mystery, but we now know to expect something fresh as soon as next week.
Spears unleashed a few tweets this week regarding the album, announcing she'd hired a vocal coach and was rehearsing for something "top secret."
Just finishing up with my vocal coach & now I'm off to dance rehearsals. How's everyone's Friday? Where you going for Labor Day weekend? :)

— Britney Spears (@britneyspears) August 30, 2013
Taking a quick break to say hi to all my tweeps :) Rehearsing for something top secret happening next week... #WERK

— Britney Spears (@britneyspears) August 28, 2013
Speaking to Digital Spy, a publicist for Spears noted that all of the singer's social media profiles have "adopted a blacked-out theme." "The mystery continues," the rep reportedly said.
What exactly that mystery will entail is yet to be seen, but we do know the new album will feature a slew of high-profile collaborators. Danja, will.i.am, William Orbit, Naughty Boy, Charli XCX and Sia have all been associated with the record.
The song is both beautiful and heartbreaking @Sia. Evokes SO much emotion every time I hear it.

— Britney Spears (@britneyspears) August 20, 2013
One of the most beautiful songs I have recorded in a LONG time :)

— Britney Spears (@britneyspears) August 20, 2013
The song @britneyspears did with #williamORBIT is fabulous and out of this world... #THEbritneyARMYwillBEproud

— will.i.am (@iamwill) August 13, 2013
In addition to the revelation that awaits us next week, we know to expect something big on Sept. 17 at 9:30 a.m. EST. A countdown on Spears' website, which is also accented in black, promises "All Eyes On Me" -- believed to be the title of her next single.
We're not yet sure whether "Ooh La La," the track Spears recorded for the "Smurfs 2" soundtrack, will play a role on the new album. The song peaked at No. 54 on the Billboard Hot 100.
The new project will mark Spears' eighth studio album and her first since 2011's "Femme Fatale." While details surrounding the new release remain mostly scarce, we do at least know Spears's so-called approach to the album, as detailed in a photo the singer posted to her Facebook page on Aug. 3.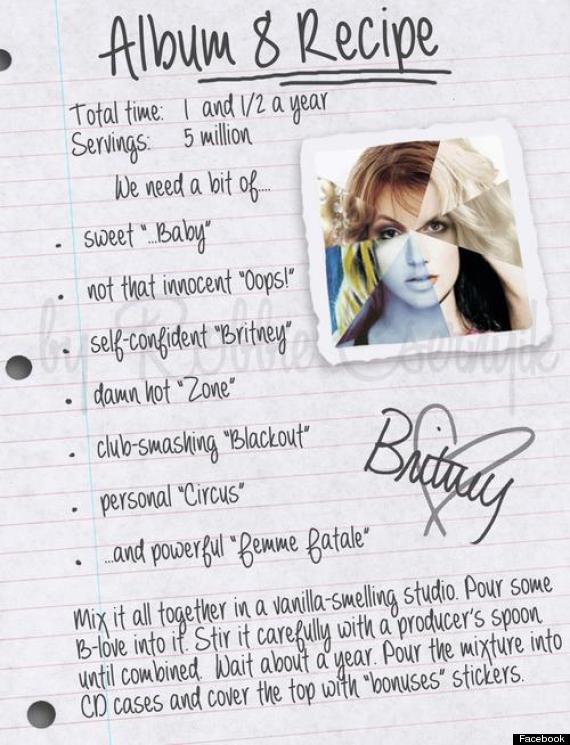 While awaiting the opportunity to quench your Britney-related thirst, take a look back at one of the singer's most famous career moments: her MTV Video Music Awards kiss with Madonna, which celebrated its 10th anniversary this week.
BEFORE YOU GO
PHOTO GALLERY
2013 Music Preview