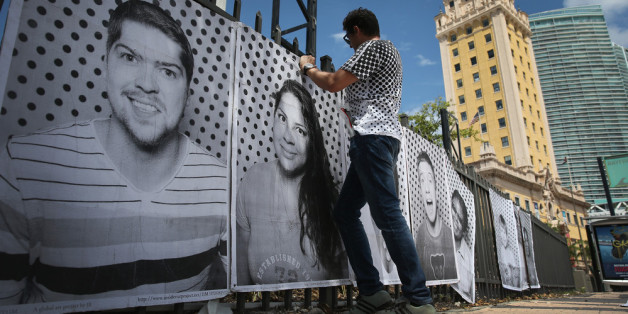 Originally the home of The Miami News, downtown's historic Freedom Tower later became the first stop in processing for many immigrants fleeing the Castro regime in Cuba and eventually a monument to refugees.
It was again the symbolic face of immigration over the weekend, as Miamians temporarily pasted their portraits over the building as part of a public art initiative advocating for immigration reform by revealing the faces behind the statistics.
Named for the number of undocumented immigrants believed to be in the United States, "Inside Out 11M" aims to "pay tribute to the power and dignity of individuals by displaying their portraits in public spaces," according to the project's website. Started by French artist JR, the global movement includes images of both immigrants and their relatives and has grown to include a 19-city nationwide tour this summer with its own branded mobile photobooth.
Over 120,000 people from more than 108 countries have participated in the Inside Out project, according Miami-Dade College, who program Freedom Tower. And though the photobooth was only in Miami for several days, the faces of friends and neighbors may resonate even longer. Check it out:
PHOTO GALLERY
Inside Out 11M: Miami Faces Of Immigration