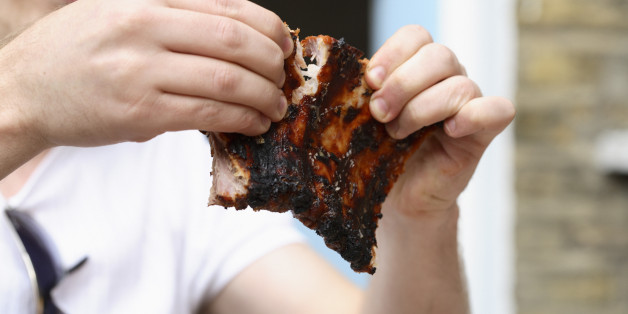 LOS ANGELES -- For the past two months, BBQ chef Adam Perry Lang has been on a mission to bring serious BBQ to Los Angeles. At his "Back Lot BBQ" experience, an astroturf oasis in the middle of LA's bustling Hollywood neighborhood, Lang's been serving up some of the best BBQ Southern California has ever seen: hulking beef ribs and tender pork butt, perfectly roasted and dripping with juice. And he's been doing it all on "country" time.
Since Lang kicked off the project in July, he's served his mind-blowing (and dead simple) take on BBQ from Tuesdays through Thursdays during the incredibly inconvenient hours of 11 a.m. - 3 p.m. (and 4-5 p.m. for takeout). If you work a typical workweek schedule, visiting him requires dedication: requesting time off for an extra-long lunch, braving the Hollywood traffic vortex and preparing yourself to wait in line at the parking lot of the Jimmy Kimmel Live show. And that's the way Lang designed it. He wanted to bring a little bit of "country" to LA in the hopes that Angelenos can slow down and smell the beef ribs.
"One of the biggest challenges with BBQ, particularly in the urban environment, is slowing down," Lang told HuffPost during a recent visit to the lot.
"When you're in the countryside, it takes an hour or two to get there," he said. "You get there, and you feel like nobody else is around. It makes it a little bit special."
Of course, now that Lang has asked Angelenos to slow down for an entire summer, they're going to have to hurry up if they want to watch him carve hunks of pork and beef with his custom "meat-chete." The Back Lot "experience" is in its last week: Tuesday, Sept. 3 through Thursday, Sept. 5 will be the final days in Kimmel's parking lot.
After that, Lang is going to take his sweet time finding the perfect spot in LA to set up a brick-and-mortar rendition of his craft BBQ. He relocated his family from England to Southern California about six months ago in anticipation of his next restaurant. Now, having spent the past two months getting to know LA's supposedly prickly customers, the next thing he has to figure out is the region's sprawling geography.
"I've been told -- look, I don't want to go completely against the convention of it, but -- if you set up in Santa Monica, no one from Hollywood will come," Lang said. "And maybe it's the truth to a certain extent. But I like to give LA a little bit more credit."
Besides neighborhood self-segregation, Lang was also warned that Angelenos were possibly too "finicky" for his signature beef ribs -- caveman-sized bones with about 16 ounces of meat attached. To his relief, Lang said, the Back Lot experience taught him that Angelenos were just like everybody else: "They just love good food."
While the experience ends Thursday, Lang is still reserving Friday, as he has all summer, for bringing his crew on a volunteer basis to serve BBQ at a homeless shelter (Lang also donates 25 percent of the food cooked during the week to local charity organizations). Check out the details below on how to catch him (and perhaps get a signed copy of his book, Serious BBQ!) before he closes up the pit.
WHO: BBQ lovers
WHAT: Adam Perry Lang's "Back Lot BBQ"
WHEN: Tuesday, Sept. 3 - Thursday, Sept. 5 from 11 a.m. - 3 p.m.
WHERE: The Jimmy Kimmel Show Parking Lot, 6834 Hollywood Blvd., Los Angeles, Calif., 90028
WHY: Because who knows how long you'll have to wait until Lang brings the beef ribs back?
Just The Greatest: Lang is an enthusiast about fire, meat, knives and whiskey. He's also an enthusiast about life in general. Here are 5 things Lang said were the "greatest" things during our interview.
PHOTO GALLERY
The 'Greatest' Things, According To Adam Perry Lang