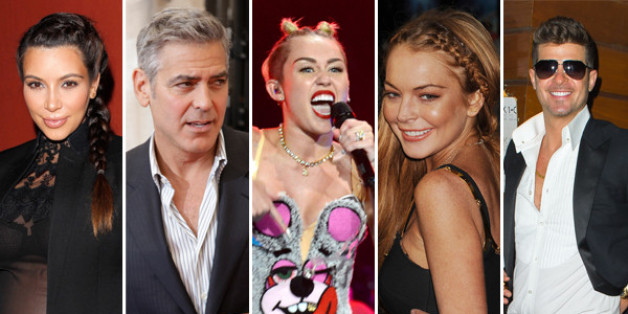 As summer inches to a close, we look back at some of the most memorable events that shaped the celebrity world from June through August 2013. They are, in no particular order:
Kim Kardashian Gave Birth & North West's Photo Was Finally Revealed
The reality star's pregnancy was one of the most followed, photographed and talked-about, maybe ever. Every bumpin' look was carefully analyzed, her weight viciously dissected in tabloids, baby name speculations ran rampant. Then, on June 15, Kim gave birth to a healthy baby girl, whom Kanye and she named North (Nori for short). It wasn't until over two months later that North West was revealed to the world via photo on grandmother Kris Jenner's talk show.
The Royal Baby, Prince George Alexander Louis of Cambridge, Was Born
Another highly anticipated baby was the royal heir to the throne. Many comparisons were unnecessarily made between Kate Middleton and Kim Kardashian's pregnancies, but on July 22 baby George entered the world and became its own separate, most-watched baby. A month later, the first official family portraits of the prince, the duchess and their firstborn were released.
James Gandolfini, Cory Monteith, Gia Allemand, Lee Thompson Young Tragically Passed
Every Hollywood death is a tragedy, but some took us completely by shock this summer and left us feeling great sadness. "The Sopranos" actor James Gandolfini died June 19 of a heart attack while in Italy, at 51 years old. "Glee" star Cory Monteith died of a lethal mix of heroin and alcohol in his Vancouver hotel room on July 13, at 31 years old. "Bachelor" breakout star and model Gia Allemand tragically took her own life August 14, at 29 years old. "Rizzoli & Isles" actor Lee Thompson Young, who also played "The Famous Jett Jackson" when he was younger, was found dead five days later, Aug. 19, at 29 years old. He also took his own life.
Lindsay Lohan's Rehab And Fresh Start
LiLo spent 90 days in court-mandated rehab this summer and emerged a stronger, healthier woman. The "Mean Girls" star began her 90-day stay at the Betty Ford Center in Rancho Mirage, Calif., before moving to Cliffside Malibu a month later. As for her post-rehab plans, Lohan has inked a deal with Oprah Winfrey's OWN network to star in an eight-part documentary series in 2014.
Chris Brown Got In Trouble, Again
Brown's probation was reinstated and he was sentenced to 1,000 additional hours of community service on Aug. 16, following a May hit-and-run incident as well as a dispute over the community service he performed after his 2009 assault case involving ex-girlfriend Rihanna. Brown was less than pleased with the sentencing and aired his grievance out on Twitter, where he blamed the DA involved for being racist. A week earlier, the singer suffered a seizure allegedly brought on by "intense fatigue and extreme emotional stress, both due to the continued onslaught of unfounded legal matters and the nonstop negativity."
Miley Cyrus Caused Continuous Outrage
Miley Cyrus made habitual headlines this summer for trying her hardest to break out of the "child star" mold. Her attempts included wearing as little as possible at all times (here, here and here), sticking her tongue out at all hours of the day and night, releasing a disturbing music video which may or may not refer to the use of hard drugs, bringing a controversial racial and cultural discussion to the table, twerking nonstop, and capping it all off with a mind-boggling VMA performance that made everyone (but her dad) blush. And the girl isn't even 21 yet.
Amanda Bynes Spiraled Out Of Control
The former Nickelodeon star took over Twitter this summer with her unabashed, sometimes cringe-worthy, stream-of-consciousness tweets. Debate erupted over her state of mind: Is she putting on an act, is this elaborate performance art, why is she trying to turn herself into stripper Blac Chyna, what's with all the strange twitpics? Then, in July, Bynes was apprehended on a 5150 after setting a small gasoline-fueled fire in a residential driveway. She is to this day held up in a psychiatric institution getting the help she needs, which finally put an end to a myriad of questions (she's not faking it, she might be suffering from schizophrenia).
Raven-Symone Came Out On Twitter
After years of dodging the bullet regarding her sexual orientation, Raven-Symone unexpectedly tweeted on August 2, "I can finally get married! Yay government! So proud of you." It was widely assumed that she's referring to the Supreme Court's decision to overturn The Defense of Marriage Act, which will allow same same-sex marriages to be recognized by the Federal government. After garnering much support for making her private life public, the 27-year-old stated "I am very happy that gay marriage is opening up around the country and is being accepted. I was excited to hear today that more states legalized gay marriage. I, however am not currently getting married, but it is great to know I can now, should I wish to."
Kris Jenner, Kanye West, Lamar Odom, Kristen Stewart, Miley Cyrus And Alec Baldwin All Lost It On The Paparazzi
It was a bad summer for the paparazzi, as a slew of celebrities lost their patience and lashed out at the persistent shutterbugs. In June, Miley called out a photographer who asked her if she was pregnant after she was seen leaving a doctor's office, calling her a b*tch and dropping the f-word. In July, Kanye West allegedly attacked a photographer at LAX for speaking to him when told not to; Lamar Odom flipped on a paparazzo and tossed his equipment in the street after being harassed with questions of infidelity; Kim Kardashian posted a Keek of Kris Jenner chasing a paparazzo who allegedly tried to break into the family fortress; Kristen Stewart verbally attacked a paparazzo, telling him "[y]ou're a piece of s*it. You don't deserve to breathe the same air I do." In August, Alec Baldwin -- never a fan of the media -- pinned a paparazzo against a parked car after he followed Alec's wife, Hilaria, into a store in an attempt to snap a photo of her after she had given birth.
Halle Berry and Jennifer Garner have also been active and vocal this summer about paparazzi laws, lobbying for a bill that will prevent cameramen from snapping photos of celebrity children.
George Clooney And Stacy Keibler Broke Up
Like clockwork, after two years of dating, George Clooney decided he had enough and called it quits with the beautiful Stacy Keibler. Conflicting "work schedules" were the official reason for the split, but for women worldwide it just meant another (albeit nearly impossible) chance of snagging one of the world's most eligible bachelors.
Michael Douglas And Catherine Zeta-Jones Broke Up
In much more shocking breakup news, Hollywood's glam couple Michael Douglas and Catherine Zeta-Jones are taking time off. Reportedly, neither star has filed for divorce or tried to legally separate, but "they're taking a break." The two have been married since 2000 and have two children, Dylan, 13, and Carys, 10, together.
Leah Remini Left Scientology
On July 11, news broke that longtime Scientology member Leah Remini had quit the church. The "King of Queens" actress was reportedly subjected to "years of 'interrogations' and 'thought modifications'" after she questioned Scientology leader David Miscavige. The next day, Remini confirmed she had indeed left the church and expressed concern over Miscavige's wife, Shelly (the rumored matchmaker behind Tom Cruise and Katie Holmes' marriage). Shelly was reportedly not seen in public since 2006, except for when she attended her father's funeral in 2007. A month later, Remini actually filed a missing person report with the LAPD for Shelly. Curiously enough, the department closed the case the same day it opened "because officers had a face-to-face meeting with [Shelly]."
Lady Gaga Returned To The Spotlight
Mother Monster underwent hip surgery last February which made her cancel all of her tour dates and drop out of the limelight for a few months. But in June, Gaga was already paving her path back into the metaphorical main stage. An announcement of a new album followed, as well as the release of her song "Applause." From a fairly plain Jane-looking Gaga, the hit maker transformed into the "What is she wearing?!" celebrity we know and love -- with nude pics, an inexplicable Marina Abramovic video, and a much-talked about VMA performance to boot.
Simon Cowell Impregnated His Friend's Wife, Lauren Silverman
Sh*t hit the fan in July when, seemingly out of nowhere, news broke of Cowell's love-child with married socialite Lauren Silverman. Her husband, Andrew, was reportedly a good friend of Cowell's. It was only about a month later, after avoiding the topic and trying to remain out of the spotlight (Cowell was reportedly named in the Silvermans divorce papers), that the "X Factor" judge confirmed his pending parenthood. At the London premiere of "One Direction: This Is Us," the British media mogul stated, "I'm proud to be a dad [...] It's something I hadn't thought of before, but now I know I feel good about it." Days later, he proudly flaunted his love by walking hand in hand with Lauren in Saint-Tropez, France.
Robin Thicke's Song "Blurred Lines" Became The Unofficial Song Of The Summer
True, there were many great songs this summer (Daft Punk's "Get Lucky" comes to mind) and Robin Thicke didn't even win Video of the Year at the recent VMAs, but few songs were as ferociously loathed and fiercely adored as "Blurred Lines" these past few months. It was dubbed "rapey" and a blow to the feminist movement due to the questionable lyrics and gorgeous nude girls in the video. And yet, the catchy tunes conquered charts and reigned supreme for weeks on end, and spun numerous parodies that went viral. In its latest installment, the song made headlines after Thicke sued Marvin Gaye's family to ensure that his song's likeness to Gaye's song "Got to Give It Up" doesn't cost him any future money.
See the best celebrity photos of the summer below:
BEFORE YOU GO
PHOTO GALLERY
Celebrity Photos Of The Summer