Hawaii is a place like no other, so if you come to visit, why not stay in a home like no other. Picture yourself in a yurt, micro-house, tree house, or even a yacht on a mountain. That's right, a yacht on top of a mountain. Here are eight of the smallest, tallest, weirdest and, in their own way, Hawaii-est homes to rent on AirBnB.
1. Chic Eco Yurt Home Pahoa, Big Island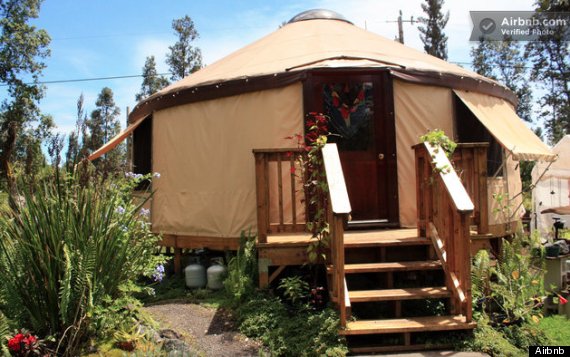 First used by nomads in Central Asia, yurts are rotund, portable homes. This particular yurt boasts a "food island" of passion fruit, mango, avocado and sweet potato growing outside its door. Yurting is sort of like luxury camping (which apparently is called glamping these days) but you still have to have your survival hat on. For instance, the yurt is BYOPT -- bring your own propane tank -- if you want to cook or use hot water.
2. Kailua Coconut Micro-House Kailua, Oahu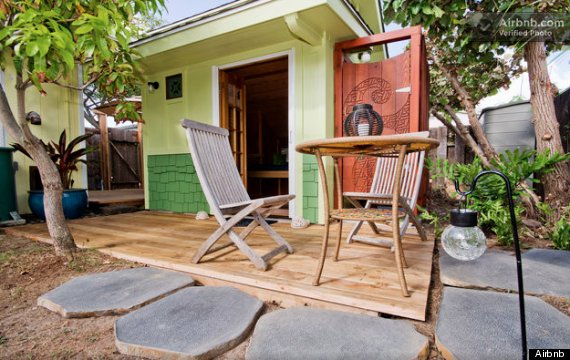 Personally designed and built by its loving owners, the Kailua Coconut micro-house spans a proud 80 square feet. The charm of this lovely nest is in the details -- the outdoor shower has a Japanese geta shoe sculpture as its door handle, tiki face carvings pop out of the walls, and the windows above the bed have intricate fish etched into the glass. Due to its itty bitty size, you are not allowed to cook inside the house, but who needs to cook when you can pick a mango tree from your lanai (outdoor porch)?
3. Kealakekua Bay Bali Cottage Captain Cook, Big Island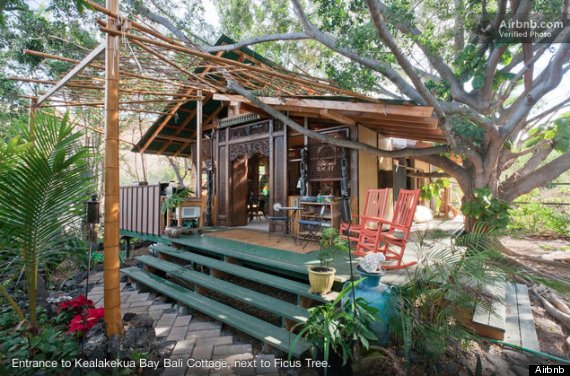 The Bali Cottage was built with old Bali teak panels and features not only an outdoor shower but the much rarer outdoor kitchen. The yard has a pond and tiki torches, and is moments away from Kealakekua Bay, which is home to dolphins, manta rays, and sea turtles. The bay is most famous due to Captain James Cook, who was the first European to land on the Hawaiian Islands, and who was later killed by Hawaiian villagers at Kealakekua Bay in 1779.
4. Unique Yacht on a Mountain Haleiwa, Oahu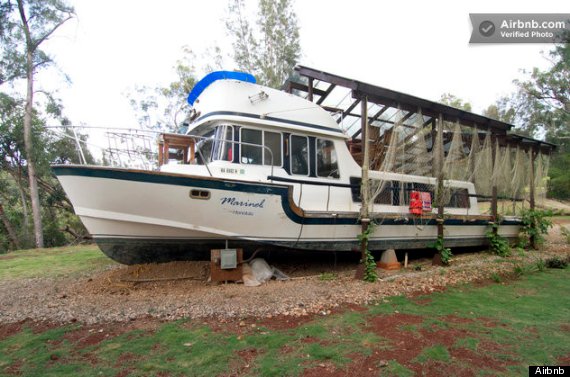 The Brainstorm was a faithful vessel whose glory days conquering the seas have passed. The current owners took pity on the retired boat and in a stroke of what we can only consider utter genius, hauled it to the top of a mountain on the north shore of Oahu. Tucked away in the woods, the boat's backyard is a maze of gorgeous trails that go deep into valleys and high above the ocean. But don't be mistaken, you're still on a yacht, shielded by a glass roof, surrounded by a giant mosquito net and stocked with a flat screen TV and wifi.
5. The Matted Root Kilauea, Kauai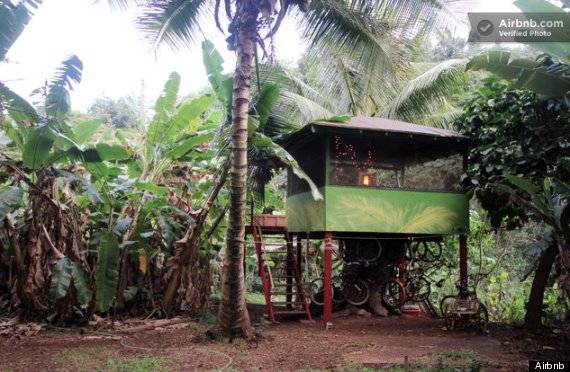 This treehouse overlooks an expansive, lush green property replete with papaya, avocado and coconut trees. Our favorite detail of this Kauai treehouse is the outdoor bathroom system. Instead of a lock, there is a rock outside the door: turn it to one side to say "OK" or the other to say "Wait." Take a ride on the giant tire swing in your yard before grabbing a bike and heading to Moloaa Bay, which you really can't miss considering it was one of the original shooting locations for Gilligan's Island. Maybe just a three hour tour?
6. North Shore Eco Hideaway Waialua, Oahu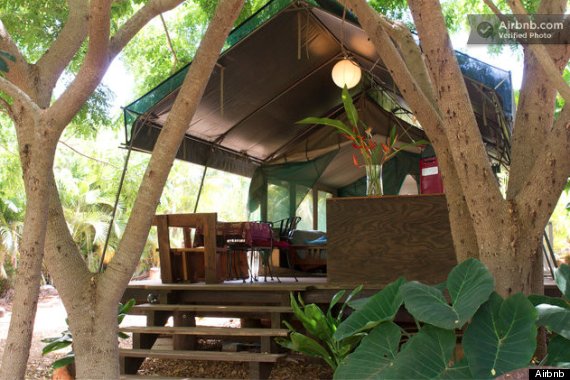 This abode at the base of Mt. Ka'ala, Oahu's highest peak, is entirely off the grid thanks to solar panels and a private water well. Nestled in a gorgeous river valley without a neighbor in sight, the eco lodge is composed of a giant safari tent and a 200 square-foot lanai. Walk a mile to the neighboring organic farm, buy your produce directly from the farmer and cut it up in your outdoor kitchen. It doesn't get more farm to table than that.
7. The Tree House Haiku, Maui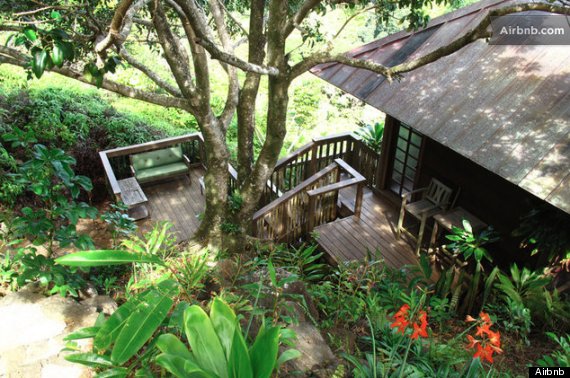 If you ship it, they will come. This tree hut was built in Bali, shipped to Maui and set atop a 17-acre private valley with ocean views. You may have to walk to both the kitchen and bathroom, but the artist's property is covered in steel sculptures you can peruse along your way.
8. Octagon Studio Makawao, Maui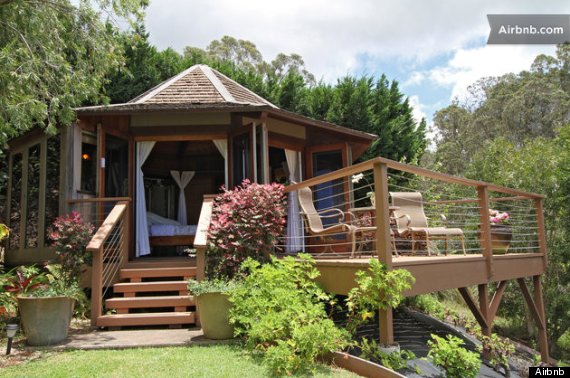 We saved the smelliest for last. The Octagon Studio is located at the Aromatherapy Foundation of Maui's "botanical educational estate and farm." What does that mean? You can roam the gardens, pick your favorite plants and use "atomizers" to create your own scents. You can even get onsite aromatherapy massages. In fact, there's no avoiding immersing yourself in the fragrances of the Aromatherapy Foundation -- any overnight residents are required to participate in a study on essential oils for five minutes a day. Oh, and your digs happen to be a gorgeous studio with ocean views and an in-ground jacuzzi. Not too stinky.
BEFORE YOU GO
PHOTO GALLERY
20 Of The Tiniest Homes In The World