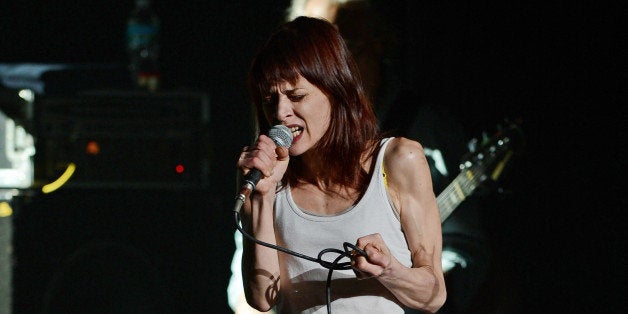 if it wouldn't be too much trouble, if you could tweet to the twits who call themselves journalists(example Chris Martins of sit-and-Spin Magazine) that I FINISHED MY SET!!! I did my job, and they should do theirs too–They all miss the fact that there is a difference between the back-of-the-room-chatter that is simply annoying,–and the operatic drunken blather, or the heckling that is really just INTERRUPTING that makes it impossible for us to do our jobs. I hope your readers are already hip to the fact that they are consistently lied to… no apologies. -Fiona.
Apple's anger is a bit confusing, if only because most sites (including HuffPost) that reported the story seemed to rave about the fantastic nature of her supposed exit. According to WWD, which originally reported the news (not SPIN), Apple repeatedly told the disinistered crowd to "shut the f--k up," called them "rude" and went so far as to climb her piano to get their attention. Once she finished her set, she yelled, "Predictable! Predictable fashion, what the f--k?" and exited the stage.
Then again, that's just what the twits who tweet and call themselves journalists wrote.
BEFORE YOU GO
PHOTO GALLERY
Fiona Apple