A Florida family with decades of experience in searching for treasure recently hit it big, discovering a treasure trove of Spanish coins and chains worth more than $300,000.
The impressive haul was recovered Sept. 1 by Rick Schmitt's Booty Salvage treasure-hunting company about 150 yards off the coast of Fort Pierce, Fla., according to the Orlando Sentinel.
Schmitt's family, together with friend Dale Zeak, pulled up between 60 and 70 feet of 18th-century gold chains, several gold coins from Peru and a ring initially valued between $300,000 and $350,000, according to local station WPTV.
(Story continues below.)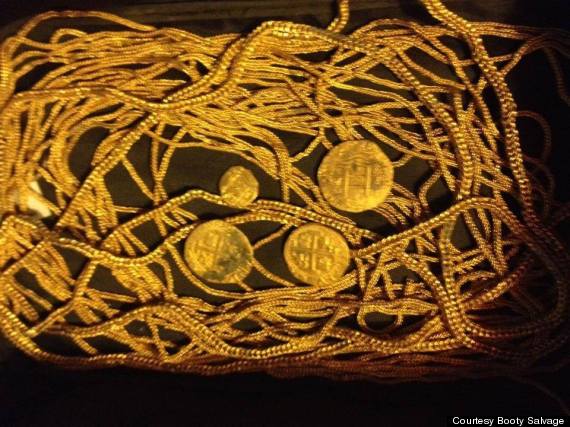 "It was a lot of emotion," treasure hunter Eric Schmitt told WPTV. "At first was excitement followed by a lot of, almost crying. It's amazing."
Brent Brisben is the co-founder of 1715 Fleet – Queens Jewels LLC, the company that owns the rights to the area where Booty Salvage found the treasure. "To be the first person to touch an artifact in 300 years, is indescribable," Brisben told the Sentinel. "They were there 150 years before the Civil War. It's truly remarkable to be able to bring that back."
The treasure is believed to have been lost after a Spanish fleet was shipwrecked in a storm on July 30, 1715, according to the Sentinel. Hundreds of people were killed in the storm that gave the area the nickname "Treasure Coast."
Since then, gold seekers have come from all over to seek their fortunes on Treasure Coast, according to ABC News. Historians estimate the sea bed may hold treasure totaling in the hundreds of millions of dollars.
Schmitt told WPTV that the Booty Salvage find was about more than money.
"It's about the history," he said. "Who wore this. The respect for the person who was in the New World and had this made."
In a similar find in mid-July, a treasure hunter off Florida's Wabasso Beach uncovered 48 gold coins worth an estimated $250,000. Those coins are also believed to have come from the wreck of the Spanish fleet in 1715.
BEFORE YOU GO
PHOTO GALLERY
Family Finds Hidden Treasure