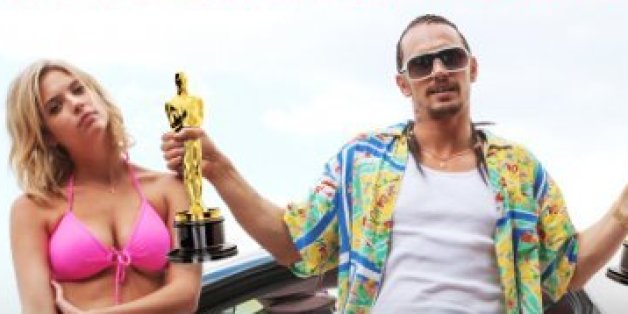 With the Telluride Film Festival having wrapped up for the year, and the Toronto International Film Festival set to start this week, awards season is already starting to bloom. Which is why distribution company A24 was wise to release a For Your Consideration ad recognizing James Franco's much-lauded performance in March's "Spring Breakers" to The Hollywood Reporter on Monday night.
Franco, who played Alien in Harmony Korine's "fever dream" feature, was mentioned by many as a possible Best Supporting Actor nominee when "Spring Breakers" bowed in March. That chatter, however, has dulled in recent months, following a summer of blockbusters and the anticipation of a fall movie slate that could rival any awards season in recent memory. (More on the early goings can be found here.)
"Franco negotiates a spirited character amid all that blacklit gaudiness. And I think he deserves awards attention for what he's accomplished," HitFix In Contention editor Kris Tapley wrote in a March column. "Charismatic portrayals that could have been mere ciphers have tickled the season's fancy in the past, from Ned Beatty in 'Network' to Kevin Kline in 'A Fish Called Wanda' to Robert Downey Jr. in 'Tropic Thunder' and Heath Ledger in 'The Dark Knight.' Why not Franco?"
Why not, indeed? "James Franco has created a character so indelible it deserves recognition. We are excited to be able to support it with a campaign and know the impact of Alien will last far past this awards season," a spokesperson for A24 told THR about the For Your Consideration advertisement, which was rechristened with "Consider This Shit" in an homage to Franco's Alien, who in "Spring Breakers" is fond of telling people to look at his "shit."
While A24 has unveiled the official Oscar campaign for Franco, the distributor wasn't the first to come up with one. That honor fell to Hollywood.com, which created a For Your Consideration poster for Franco in March. (It seems that Franco's "Spring Breakers" role has Oscar campaigns in every color.)
Click over to THR to see the full "Spring Breakers" For Your Consideration campaign.
[via THR]
PHOTO GALLERY
Fall Movie Preview 2013