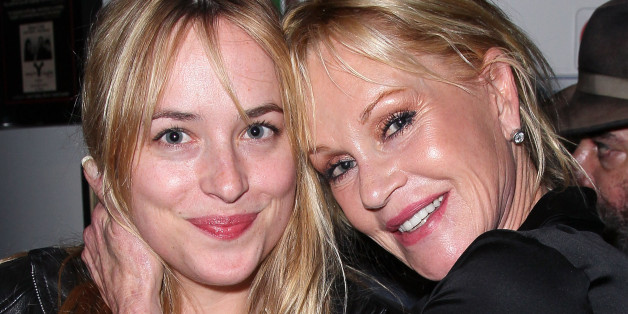 Melanie Griffith is thrilled daughter Dakota Johnson has been selected to play Anastasia Steele in the much-anticipated film adaptation of E L James' erotic novel, Fifty Shades of Grey.
James announced Monday via Twitter that Johnson will play Steele opposite leading man Charlie Hunnam, who will play Christian Grey, in the BDSM-centric flick set to hit theaters next year. This is certainly the biggest role to date for the 23-year-old actress, who is the daughter of Griffith and Don Johnson. And her mother is proud.
My beautiful child Dakota has been chosen to play Anna Steele in 50 Shades!!! Look out world! Here she comes!!! #proudmama

— Melanie Griffith (@MelanieGriffith) September 2, 2013
Griffith had her fair share of risque roles as a young starlet. When she was just a teenager, she appeared nude in 1975's "Night Moves." In 1984, she played a porn star in Brian De Palma's "Body Double."
Other young starlets in the running for the raunchy "Fifty Shades" gig included Emma Watson, Shailene Woodley, Alicia Vikander and Analeigh Tipton. However, Johnson won out in the end.
Her resume includes appearances in "The Social Network," "21 Jump Street," "The Five-Year Engagement" and "The Office." She also starred in the now-cancelled Fox sitcom "Ben and Kate." Last year, Johnson discussed Griffith's constant Twitter support for the Fox show.
"I know. I know. She's amazing on Twitter," she said of her mom's tweets. "I'm not on Twitter -- yet. I envy her ability to say things to the world. I can't do that. It's so bizarre and crazy that the entire world can be privy to this information. Why would anything I say be interesting to anyone else?"
While Griffith is happy for her daughter, others joked about her and Don Johnson's response to the news.
I bet Melanie Griffith and Don Johnson are finally proud of their daughter now that she's the lead in a movie where she'll be whipped.

— Meghan O'Keefe (@megsokay) September 3, 2013
PHOTO GALLERY
Celebrity News & Photos