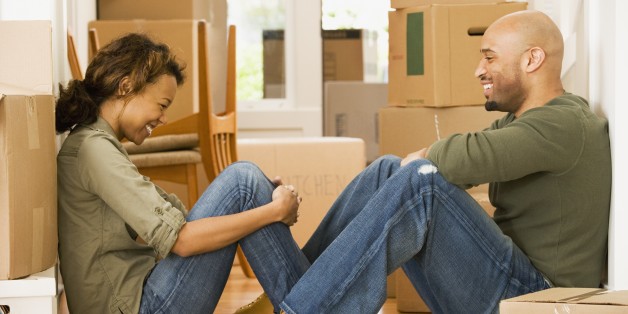 By Amelia Mularz for YourTango.com
When the words "sacrifice" and "love" pop up in the same sentence, it's hard not to think back to a certain Kate Winslet and Leo DiCaprio flick ... yes, "Titanic." Who can forget that image of Jack and Rose clinging to each other in the icy waters near the sinking ship? Jack ultimately gave his life so that Rose could stay afloat on a flimsy board and eventually be rescued. ("Jack!" Sniff-sniff.)
While reality isn't quite as dramatic as the flimsy-board scenario from "Titanic," real-life companions do often find themselves sacrificing for a loved one. High-profile examples include Ben Affleck, who explained last year that he passed on directing "Homeland" at his wife's request. Then there's Jada Pinkett-Smith, who has been open about forgoing her music career for her family. And more recently, it seems that the most public of public figures, Kim Kardashian, has even learned to sacrifice some of her exposure for her much more private beau and their new baby. (That is assuming baby North West doesn't appear on her own reality show next week, of course.)
In the name of love and sacrifice, we've rounded up three accounts from real women about what they gave up for amour. No, they didn't risk hypothermia or an Emmy nomination, but their sacrifices are still pretty major.
Making The Move
"I gave up New York City for my boyfriend. To outsiders, that may not seem like a lot, but anyone who's ever lived in the Big Apple knows about the great love affair you can have with this city. I grew up in the Midwest and always dreamed of Manhattan. Finally, I made it here when I was 23 and I've spent the last eight years working hard to launch my career, get my own apartment, and be able to stand on my own two feet in a city that can be very overwhelming.
Coincidentally, the moment I started to feel truly independent and capable, I met someone. He has a son from a previous relationship and the two of them live outside the city in Westchester. My boyfriend and I started talking about moving in together about six months ago and it quickly became clear that I'd have to join him in the suburbs. Financially, we can't afford a two-bedroom apartment in Manhattan, nor would we want to uproot his son from his current school.
The lease is signed and in a few weeks I'll start packing up my apartment. I'll miss my city life (my local coffee shop, walking to work, access to world-class dining and Broadway shows and the ballet and ... OK, I'll stop), but I know my life with my new family will be so much more fulfilling. It's like they say, it's not where you are, but who you're with that really matters." —Cassandra, New York, NY
A Self-Help Intervention
"It may sound strange, but I sacrificed being selfish for my relationship. I've had some health issues in my life, namely that I am bipolar, and in the past it's always been something I deal with on my own. I've been reluctant to take medication before, and I can think of a thousand things I'd rather do than sit in a doctor's office. But when you're with someone you have to consider how your health affects him, too.
About a year and a half into my relationship with my now-husband, I suffered through a really bad bout of depression. At one point I realized our relationship was in serious jeopardy -- I wouldn't have wanted to be with me either! I reached out for help, I spent some time in the hospital, and I started taking meds again. Soon I was feeling better and our relationship was back on track.
Now, I try to stay healthy and take better care of myself. Yes, I owe it to me, but I owe it to my husband and to our life together, too. It took me years to realize that." —Kimberly, Lancaster, PA
Giving Up "Me" For "We"
"Hands down the biggest thing I've sacrificed is alone time. My boyfriend, Jeremy, and I moved in together about a year ago. Overall, it's been a great experience and I love spending time with him, but it's become blatantly clear that I need some me-time to recharge, while he's happy being together ... all the time.
It's nothing against Jeremy -- I couldn't be more in love with a person. I think I'm just wired differently. When we were dating, I'd always keep a couple nights to myself to read or watch a movie. Obviously, I can't do that as much anymore (it's not like I'm going to force him out on the street each Tuesday), so I'm adjusting. While I may not get entire evenings, I do get an hour here and there and I'm willing to make that work. I'm also learning to be much more generous with my time, and, surprisingly, I've found that some of the things I liked to do alone, like baking or watching trashy reality TV, are actually more fun with Jeremy around." —Angela, Santa Monica, CA
More Stories From YourTango:
Celebrity Couples: A-List Engagement Rings!
Good Man, Bad Sex: What Would You Do?
10 Greatest Love Stories Of All Time
Do Men Want Children More Than Women?

Love Poems For Him: Amazing Words For Your Amazing Man
Keep in touch! Check out HuffPost Weddings on Facebook, Twitter and Pinterest.