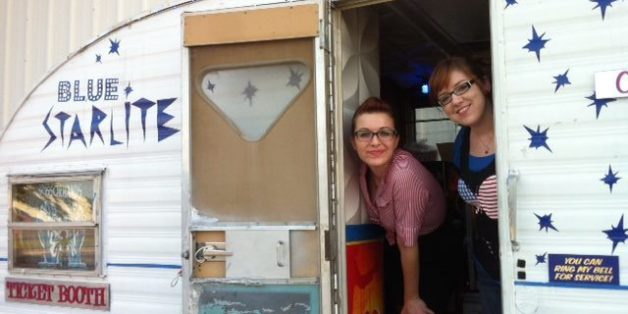 Miamians will soon be able to enjoy a drive-in movie theater, thanks to one native Texan who's importing his nostalgic cinema concept from Austin to Wynwood.
Writer Josh Frank got the drive-in itch a few years ago after he surprised his girlfriend on their anniversary with a makeshift drive-in in an alleyway. He soon launched Austin's Blue Starlite Mini Urban Drive-In, which remains a successful business with a loyal following of cinephiles.
Having recently relocated to the Magic City from the Weird City, Frank is about to launch the Miami version of Blue Starlite in, where else, but Wynwood.
"Everyone I met kept telling me that I should look into Wynwood, that it's the hip, artsy area of Miami and that they were sure it would become my favorite place," Frank told HuffPost Miami. "Sure enough, I pulled in and I basically felt like I was back in East Austin, but East Austin 10 years from now."
"The neighborhood is still building its community," Frank said. "Everyone actually wants to know about everyone else in the neighborhood, to know what's going on, to work together...that is so Austin."
With Blue Starlight, Frank has re-invented the classic drive-in experience for the modern age. His Miami drive-in will offer a boutique experience by housing 20 cars per show as well as have space for pedestrians and cyclists. Guests can also nab a reservation at one of the 10 tables that will feature drive-in window speakers.
"You get this very personal, more 1950s experience like when someone had to actually pump your gas. They took care of it for you while you just sat there; they would clean the little spots on your windshield," Frank said. "That type of 1950s mentality is gone and that's one of the things I wanted to revive."
Like its Austin counterpart, the drive-in will also boast all retro equipment.
Vintage trailers will be used for the concession stands and the drive-in speakers and FM radio transmissions are antiques Frank found on eBay. A projection booth repurposed from a 1950s Chevy will project classical movies and 1980s pop-culture favorites from "Grease" to "Raiders of the Lost Ark."
Frank plans to park his Miami Blue Starlite mini urban drive-in next door to Wynwood's O Cinema with a grand opening screening of "Moon Over Miami" October 9 as well preview nights starting September 18.
Tickets will cost $8 to $55, depending on location and concession packages. Spots are expected to fill up fast.
Check out the slideshow of Austin's Blue Starlite for an idea of what to expect in Wynwood:
BEFORE YOU GO
PHOTO GALLERY
Blue Starlite Mini Urban Drive-In