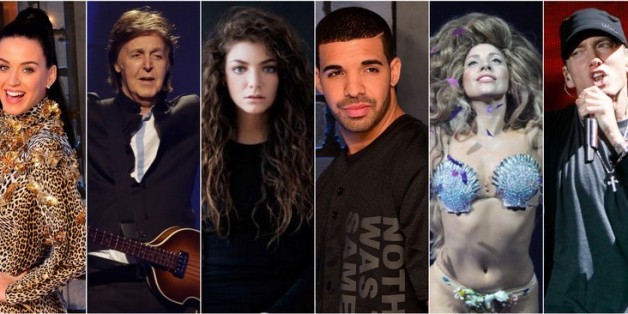 With the likes of Kanye West and Jay Z surprising fans with massive albums released shortly after they were announced, and everyone from The Backstreet Boys to Jimmy Eat World to Hanson to the Pet Shop Boys dropping new material, it was a pretty wild summer in music. When all was said and done, Robin Thicke dominated the season with "Blurred Lines," a song that has topped Billboard's Hot 100 for three straight months. A quick glance at the massive artists on deck for fall album releases, however, suggests that all of that may soon be forgotten.
Here's a sampling of the new music set for this fall: Lady Gaga, Katy Perry, Eminem, Drake, Britney Spears, Pearl Jam, Justin Timberlake, Miley Cyrus, Sting, Elton John, Cher, Celine Dion, Paul McCartney, Chris Brown, Jack Johnson, Keith Urban, Kelly Clarkson, the Kings of Leon and the Arctic Monkeys. Those super-heavyweights will be joined by relative newcomers like Lorde, The Weeknd and Icona Pop and genre favorites like MIA, Arcade Fire and Future.
We've collated all of this fall's major releases in the gallery below for your enjoyment. As is always the case in the music industry, there's much more to the story than simply the names and dates, so be sure to catch the captions, where we've included a description of each project is expected to sound like, as well as a breakdown of how each album came together. Delays, in-fighting, comebacks and more -- it's all there.
BEFORE YOU GO
PHOTO GALLERY
FALL MUSIC PREVIEW 2013