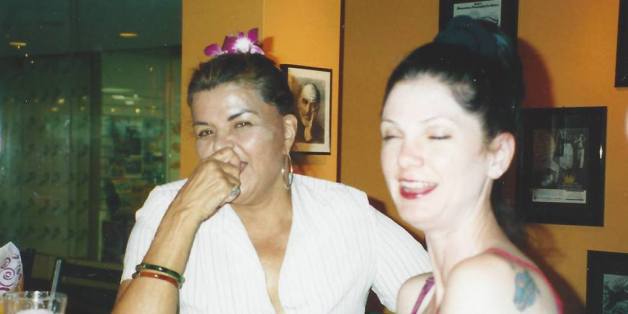 When your marriage ends, does your relationship with your in-laws have to end, too? For many of us, the only thing harder than losing a spouse is the realization that you may also be losing the mother-in-law who taught you how to make a mean matzo ball soup or the sister-in-law you've come to love just as much as your own sisters.
Your relationship with your former in-laws will inevitably change, but the friendship doesn't have to end -- and our readers are proof of that.
Scroll down for six inspiring real-life stories from women who are still friends with their former in-laws.
"I live far from my own family who is scattered about but live only minutes from my former in-laws. I am not divorcing them, I divorced their son. They are wonderful grandparents to my daughters and see them as often as possible. I am very close to my sister in-law (actually closer than she is to her own brother, but I think that just happens with women). I think it may not be a "normal" thing to stay close to in-laws but what is the point in removing people from your lives that you have known over 20 years? Are we as close as we once were? Probably not. But when your ex-mother-in-law calls to ask about your new relationship and wishes you luck and future happiness, that's what it is all about. Everyone needs to be happy in life, even if that means moving on in new relationships. I believe my in-laws want to see both their son and me happy again in the long run. They know that if the parents are happy, the kids will be happy." -Gail Gilmartin, Arizona
"My ex's mom and I started out total enemies then became as close as mother and daughter after the marriage. She didn't speak my language and I didn't speak hers, but we understood one another. I worked for the airlines and I used to take her to Hawaii for her birthdays and get her to visit from her country. The saddest thing about my divorce from her son was losing her but we remained in contact. Unfortunately, just as I had my passport updated and was getting ready to pay her a visit, she passed. I miss her terribly. My son brought me some of her ashes and I have a sort of shrine in my home of the things that she had given to me including a photo of the two us having fun during one of our trips to Hawaii. I will never forget her." -Tina Bunch Unik, Florida (pictured above)
"I can remember a point early on in my separation. I had just been crying when the doorbell rang and it was my former in-laws dropping something off. They asked me what was wrong and I just broke down. They took me into their arms and let me cry and for the first time in the 20 years I have known her, my former mother-in-law cursed -- she told me that the circumstances of the divorce were 'shitty.'

The truth is, when you have children and divorce, the game is so much different and your ego and hurt feelings have to be set aside for what is best for them. Their grandparents love them and the kids benefit immeasurably from having them in their lives. They also live close by, so the kids get to go with them a few days a week for lunchtime. They are very thankful that I allow them to spend so much time with the kids, but as I keep telling them, I am thankful my kids have such great grandparents in their lives." -Joy Henderson, Toronto, Canada
"My sister-in-law, Jennifer, and I were always close but not as close as we are now. When my brother decided to up and leave his family, I made a very conscience decision to remain close to Jennifer and especially to my nieces. I remember thinking that his divorcing her didn't mean that I was divorcing her. Jennifer was my sister and family and there was no way that I was going to leave her side during the most difficult time of her life. Our bond now is as strong as ever, she is godmother to my son, the big sister I always wanted and my best friend. We've spent vacations at the beach with our kids and there's no telling how many hours we've spent on the phone discussing everything from life's big unanswered questions to the new hot fall colors. I know, without a doubt, our friendship and bond is unbreakable. She is as much my family as any blood relative I have, if not, more so." -Mercedes B. Norman, Mississippi
"I was very close to my mother and father-in-law, my brother-in-law and my ex's aunt. They each loved me and I loved them. Our families got along great. We were together five years, but our marriage unfortunately just didn't work. All of a sudden I found my closeness with his family tested, as he did with mine. We eventually got past that. He's now remarried but his mom and I are now still very close. She still considers me her daughter-in-law and we talk when we can. The way I see it, when you marry, you become a part of a new family. His mom was like a second mom to me -- why should that end just because he and I could no longer get along?" -Angela Howard, Georgia
"During my marriage, I was kind, supportive and inclusive with my ex's sometimes difficult parents and siblings. It's different today. My ex in-laws are slowly starting to seek me out. An ex-sister-in-law has had some tough health issues and asked if I could help. I have driven her to doctors appointments and nurtured her after surgeries. All the siblings' children have kept in touch with me and still visit and call me 'auntie.' My ex-mother-in-law greets me warmly now and with tears in her eyes. We get together at graduations, birthdays and other events. Why do I do it? I'm happy and my current husband is wonderfully generous of spirit. More than anything, though, I do it for my adult children. I could never hurt them by having a bitter, closed heart." -Debbie Rodgers, Rhode Island
Keep in touch! Check out HuffPost Divorce on Facebook and Twitter.
BEFORE YOU GO
PHOTO GALLERY
Quotes About Love