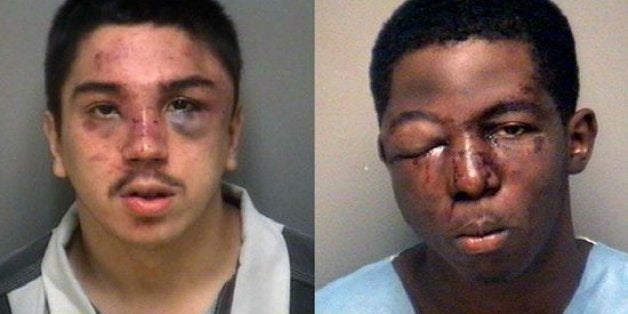 Two armed men looking to rob two unsuspecting victims were met with two black eyes.
Police say Johnny Calderon Jr., 19, and Gerald Allen, 18, allegedly held two men at gunpoint in Charlottesville, Va. last Tuesday before the victims turned the tables on the men and badly beat them, NBC 29 reported.
The two victims are reported to be doing just fine, but Calderon and Allen were badly injured. Allen's right eye was swollen shut, and both men's faces were badly cut and bruised. The victims detained both suspects until police arrived on the scene.
Calderon is facing two charges for attempted robbery, a charge for pointing a firearm and another charge for using a firearm in the commission of a felony. Allen is facing a pair of attempted robbery charges, according to Fox 43 TV.
Initial reports from police said the victims were University of Virginia students, but Calderon's defense attorney, Lloyd Snook, said that report was false, according to Gawker.
Police say both suspects had to be taken to a hospital before going to jail.
BEFORE YOU GO
PHOTO GALLERY
Dumb Criminals: Mugshot Gallery