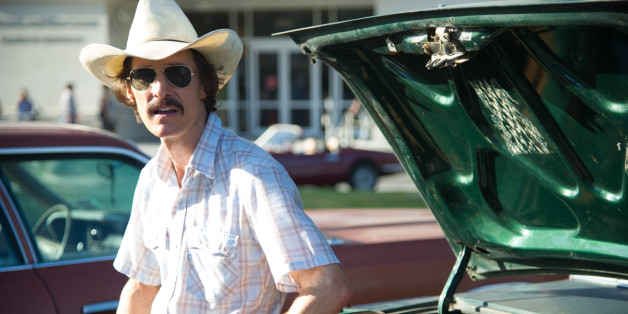 From Sept. 5, when Bill Condon's "The Fifth Estate" premieres, to Sept. 14, when Daniel Schechter's Elmore Leonard adaptation "Life of Crime" debuts, all eyes will be on Canada and the Toronto International Film Festival.
This year, the prestigious 10-day event -- one of the early-year awards season kick-off parties, along with film festivals in Telluride, Colo., Venice, Italy and New York -- will feature screenings of upcoming films like "Gravity," "12 Years A Slave," "August: Osage County," "Prisoners" and countless other upcoming releases. HuffPost Entertainment senior entertainment writer, Mike Ryan (that's me) and HuffPost executive arts and entertainment editor, Michael Hogan, will be on the ground in Toronto over the next two weeks to cover all bases.
What surprises will we encounter? (Will a cast member from "Marvel's The Avengers" flip one of us "this bird"?) More important, what movies are generating the most buzz right now? To answer that question, we recruited critics and journalists from the internet's top film and culture sites to pass along their most anticipated TIFF films for 2013. (We added ours as well.)
Check back to HuffPost Entertainment throughout the next 10 days for festival updates and interviews -- and go ahead and follow these fine folk, too, for the utmost TIFF coverage.
From what I'm hearing out of Venice and Telluride, it would appear that all the big festival movies are great this year -- "Gravity," "12 Years A Slave," "Prisoners," etc. -- but if I had to narrow it down, I'd choose the latest films by three of my favorite directors: Kelly Reichardt, whose "Meek's Cutoff" was maybe my favorite movie since I've been reviewing them professionally, is back with "Night Moves," a film about the actions of radical environmentalists; the wonderfully intuitive Claire Denis (Beau Travail) returns with the nocturnal thriller "Bastards," which drew intriguing notices at Cannes; and Taiwan's Tsai Ming-liang ("What Time Is It There?"), who specializes in deadpan melan-comedy, premieres "Stray Dogs," which he claims is the best work he's ever done. Should be an amazing festival this year.
Like a lot of people, I'm really excited to see "12 Years a Slave" and "Gravity." But I'm also quite curious to hear how people respond to some of the movies I loved at Cannes. Specifically, I wonder what reception "Blue Is the Warmest Color," which I think is one of the year's best films, will receive now that it has won the Palme d'Or (and also been the target of some backlash).
I'm so, so curious about "You Are Here," which reps the feature directorial debut of "Mad Men" mastermind Matthew Weiner. It's a road trip comedy about two dudes (Owen Wilson and Zach Galifianakis) who head back to their hometown to collect a big inheritance, and if that logline makes it sound like just about any big-studio comedy ... well, I'm reminded of how little Weiner's "Mad Men" episode synopses tend to reveal, and then how rich the actual episodes turn out to be. I have no idea what to expect from this film -- no trailer, no poster, no nothing -- which is exactly how I like it. Half the fun of a film festival, after all, is when a movie can surprise you.
It wasn't one of my must-sees at first, but the more I learn about "Metallica: Through the Never," the more I can't wait to see it. These days, I'm a bigger fan of director Nimrod Antal ("Armored," "Vacancy") than the titular metalheads, but the combination of live concert footage with a parallel narrative involving Dane DeHaan's roadie navigating a "post-apocalyptic streetscape" -- and filmed in IMAX 3D! -- sounds too utterly insane to miss.
Lauren Tabach-Bank, T: The New York Times Style Magazine
I am excited to see "The Fifth Estate," especially to find out how it compares to the recent WikiLeaks documentary, "We Steal Secrets." "Dallas Buyers Club" looks strong -- and seeing Jared Leto in drag should be entertaining, although not surprising. I've already had the fortune to see "12 Years a Slave," "Mandela," and "Blue is the Warmest Color." If I have time to see one of those films again (which I won't), I will be watching ladies in lusty love at an ungodly morning hour.
I've been looking forward to "Prisoners" since before they even started shooting just because I have so much confidence in the director, Denis Villeneuve, having been such a fan of his previous movie, "Incendies." Since I'm only there a limited time, I won't be able to see many movies but I am looking forward to "Gravity," "12 Years a Slave," and I'm actually really curious to see what Atom Egoyan does with "Devil's Knot," having followed the West Memphis 3 case for so long.
I am most looking forward to "Gravity" because I'm really in the mood for a movie that's going to blow my mind, both physically and emotionally. I love films that demand you see them on the largest screen possible; the type of edge-of-your-seat material you'll remember 10 years from now when someone asks for your most memorable moviegoing experiences. Plus, I like not breathing for two hours. Other than that: "Prisoners," 12 Years a Slave," and "Child of God," because after a summer of fun, splashy blockbusters, I'm so ready to get down and dirty with some freakishly dark and challenging material.
The movie I'm most excited to see is "Gravity," especially given how well it was received in Venice. I love Sandy Bullock and George Clooney, of course, but I also love the whole premise of her trapped in space. I want to see how Alfonso Cuaron handles that. The other film I'm looking forward to is Jason Bateman's directorial debut, "Bad Words." I'm a terrible speller myself, so the title alone makes me laugh. And Bateman is such a journeyman -- kid actor, television star, movie star, and now director. I'm curious to see how he handles himself behind the camera.
Looking forward to seeing "12 Years A Slave," "Mandela: Long Walk to Freedom," John Ridley's "All Is By My Side," "Gravity," and "Dallas Buyers Club."
Alex Billington, FirstShowing.net
I'm most excited to see a few films at TIFF that I missed at other festivals. Mainly: "Blue Ruin", "Borgman," "Bethlehem and Tracks." However, I'm also looking forward to the premieres of Richard Ayoade's "The Double," Ron Howard's "Rush," Jean-Marc Vallée's "Dallas Buyers Club" and the Midnight Film's "Why Don't You Play in Hell?" and "Afflicted." Plus, I just really want to see "Gravity" as many times as I possible, so I may fit in another screening in Toronto.
Kate Erbland, Film School Rejects
TIFF has historically proven to be quite the debut stage for some of the year's biggest prestige films, so I'm looking forward to catching screenings of all the sure-to-be-big awards contenders, films like "Labor Day," "Gravity," "12 Years a Slave," and "August: Osage County," and literally tens of others. But I'm also excited to make time to see the latest productions from independent filmmakers who have always delivered for me even without major theatrical releases -- especially Atom Egoyan's "Devil's Knot" and Kelly Reichardt's "Night Moves."
Jordan Hoffman, New York Daily News
I am very much looking forward to seeing Godfrey Reggio's non-narrative experimental art film "Visitors." The special TIFF screening has Philip Glass conducting an live orchestra and Steven Soderbergh as master of ceremonies. I have no idea what the movie is about, but seeing Reggio's "Koyaanisqatsi" was one of those life-changing things. Reggio's last film, "Naqoyqatsi," is almost unwatchable, and his other film, "Powaqqatsi" is merely okay. Nevertheless, I have extremely high expectations for this. Lest this all make me sound like an enormous snob, I'm also excited about Jason Bateman's comedy about spelling bees ("Bad Words").
Like everyone else in the universe, I'm dying to see "12 Years A Slave." And not just because I can't un-forget my TIFF 2011 experience of seeing Michael Fassbender's junk in "Shame" in the early morning, and then interviewing Steve McQueen under a stairwell. Also, Hayao Miyazaki's apparent last film, "The Wind Rises," and Scarlett Johansson in "Under The Skin" in the role she was born to play: a sexy-beast alien seductress.
Besides the obvious -- "Gravity," "Mandela," "12 Years a Slave" -- I am really looking forward to "For No Good Reason," a documentary on artist Ralph Steadman. Best known for his adventures with the late Hunter S. Thompson, I have been a fan of Steadman's ever since I laid eyes on the terrifying images he drew for the good doctor's legendary Kentucky Derby article in Scanlon's Monthly. Bonus: the film promises stories of Steadman's gun fights with William S. Burroughs.
Michael Hogan, The Huffington Post
"Blue Is the Warmest Color." I guess I could wait until this comes to the New York Film Festival (where it will also screen), but realistically there's no way I'm squeezing a 180-minute epic about two French lesbians into a regular work week. No, this is why the gods invented film festivals: it's the ultimate excuse to spend three hours in the middle of a weekday watching a dirty art movie. (And have you read that Daily Beast interview with stars Léa Seydoux and Adèle Exarchopoulos? I need to see this thing before the film is banned and everyone involved goes to prison!)
Mike Ryan, The Huffington Post
For me, it's between "Gravity," "12 Years a Slave" and "Dallas Buyers Club." From everything I've heard, "Gravity" is unlike anything I've ever seen before; "12 Years a Slave" seems to be winning the early rounds of Oscar shoo-in buzz; and, with "Dallas Buyers Club," Matthew McConaughey's "McConaissance" keeps on trucking.
Mike Ryan is senior writer for Huffington Post Entertainment. You can contact him directly on Twitter.
BEFORE YOU GO
PHOTO GALLERY
Fall Movie Preview 2013