Way to ruin a girl's birthday, guys.
Security officers at Universal Studios in Florida kicked an entire family out of the park Saturday night because the father was wearing a T-shirt with the slogan "Police: Street Crime Unit." The garment was a gift from the man's brother, who works as a police officer in New York State.
Christian Jarosz of Jupiter, Fla., says his family's attempt to go to a Blue Man Group show for his daughter's 16th birthday failed when Universal Studios security officers told him he couldn't wear the police shirt in the park.
"I've worn the shirt to Disney and other theme parks. I didn't even think about it when I put it on," Jarosz told local NBC affiliate WPTV.
The family walked to a nearby Billabong store to buy a new shirt so they could proceed with their plans, but when they got to the store, security officers told them, "Don't buy [that shirt]. You guys are out of here," according to WPTV. The officers threatened them with arrest if they didn't leave, so they complied and missed the $500 show they had tickets for.
(Story continues below.)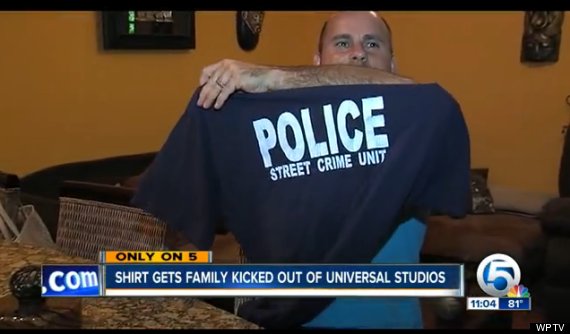 The shirt that got Christian Jarosz's family tossed out of Universal Studios on Saturday night.
Universal Studios told HuffPost that law enforcement personnel are the only people at Universal Studios who are allowed to wear shirts or other clothing "that might identify them as police officers."
"This is for everyone's safety and to avoid confusion by our guests," said Universal Studios spokeswoman Alyson Lundell in an email Wednesday afternoon. When asked why the family was still forced to leave after attempting to comply with the order, Lundell refused to comment.
BEFORE YOU GO
PHOTO GALLERY
9 Horrible Slogans That Don't Feel Quite Right