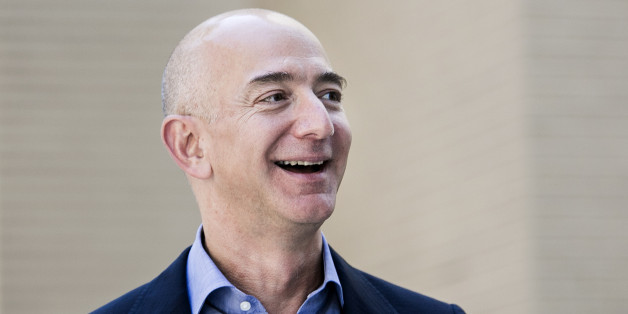 Jeff Bezos continued his two-day tour of the Washington Post, meeting staffers and answering questions in an all-staff town hall session on Wednesday.
Bezos, the new owner of the Post and the founder of Amazon, visited the newsroom for the first time since buying the paper. The newspaper reported that he stressed that he intends to invest in the newspaper, and introduced the idea of creating a "daily ritual bundle" for subscribers.
"People will buy a package," Bezos told staffers, according to the Post. "They will not pay for a story."
At the town hall session Wednesday afternoon, he said that the newspaper might consider bringing back some of the sections that have been cut in recent years for digital only. Bezos also took other questions from staffers at the meeting, which was live tweeted by Erik Wemple and other Post journalists.
Bob Woodward, who was in the front row, asked Bezos how and why he decided to buy the paper. Bezos said that he considered whether the Post had a future and whether he had anything to contribute. He also said that he could provide a "financial runway," and that the paper needed to figure out how to "use gifts that the Internet gives us."
When asked about the editorial page, he stated that many of its established positions are in line with his own beliefs and that he asked editorial page director Fred Hiatt to stay on.
"I will never out-Don Don," Bezos also said when asked about the Graham family legacy, according to the Post's Amy Brittain. "I'll have to do this as Jeff."
Bezos prefaced his visit with an interview with the Post published Monday, in which he said that he intends to "experiment" with the newspaper. The Huffington Post's Michael Calderone reported on Bezos' busy agenda during his two-day tour. Bezos met with Post executives, including publisher Katharine Weymouth, Hiatt and executive editor Marty Baron, on Tuesday, and other staffers on Wednesday.
BEFORE YOU GO
PHOTO GALLERY
25 Biggest U.S. Newspapers In 2012