A Whole Foods Market is coming to Chicago's Englewood neighborhood, bringing with it roughly 100 jobs and the hope of erasing the area's reputation as a crime-ridden food desert.
When the 18,000-square-foot store is completed in 2016, Mayor Rahm Emanuel's office said it will anchor a development at 63rd and Halsted that will also have retail space and a park, ABC Chicago reports. Additionally, Emanuel said the store will be part of the Washburne Culinary Institute at nearby Kennedy-King College.
"Let's be honest, a lot of people in parts of the city feel like they never get these top-quality choices," Mayor Rahm Emanuel said to CBS Chicago. "I want to make sure, if you operate in the city of Chicago, you operate in all our neighborhoods, in all parts of our city, and you give everybody a shot at great quality."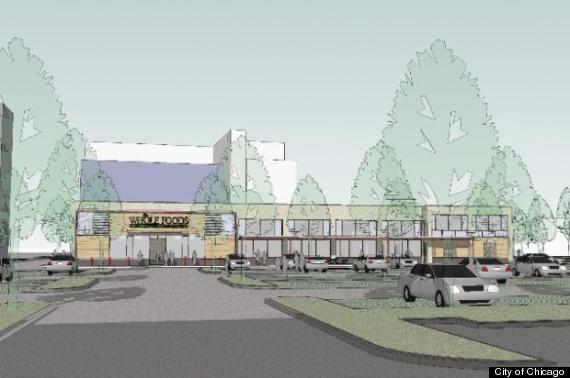 Whole Foods Market plans to open a new store in 2016 at 63rd and Halsted streets, across from Kennedy-King College. (City of Chicago)
The premium grocer, often dubbed "Whole Paycheck" for its premium prices and reputation as a posh shopping destination, has been trying to shed its bourgie image and go after the middle market.
The upscale grocery store's entry into one of Chicago's most economically devastated neighborhoods has raised a few eyebrows -- though the strategy isn't a new one for Whole Foods, which opened its first Detroit store in the city's Midtown neighborhood earlier this summer.
As with Detroit's Midtown location, Chicago's Englewood Whole Foods will have lower prices than the other 18 Chicago-area locations, according to WBEZ.
"It's been our purpose to bring healthier foods to the world," said Whole Foods co-CEO Walter Robb according to the Sun-Times. "We realize it's probably a stretch in your readers' minds. But so what? Stretch is good."
Robb has previously said he finds the term food desert "insulting" to the community, but also a reality. At the opening of the Detroit store in June, he laid bare issues he says contribute to issue:
"We've tried to put the community first in this effort. I know that we're learning as much as we're giving. Not only are we going after the affordability and the accessibility ... we're going after these hard issues. Because we're going after elitism, we're going after racism. Detroit's 90 percent African-American."
Though the Detroit location has reportedly been profitable, several area business owners were unhappy Whole Foods received $5.8 million of tax credits and local and state grants.
Emanuel reportedly asked Whole Foods to come to Englewood, and the city has pledged an unspecified amount of TIF money from the Chicago Neighborhoods Now program.
Emanuel has made food desert reduction in Chicago a chief campaign goal. In late August his office said it's made strides in reducing food deserts, but a Tribune analysis later showed the mayor's office far overstated the actual progress made since taking office.
BEFORE YOU GO
PHOTO GALLERY
Local & Unusual Tastes At Detroit's Whole Foods