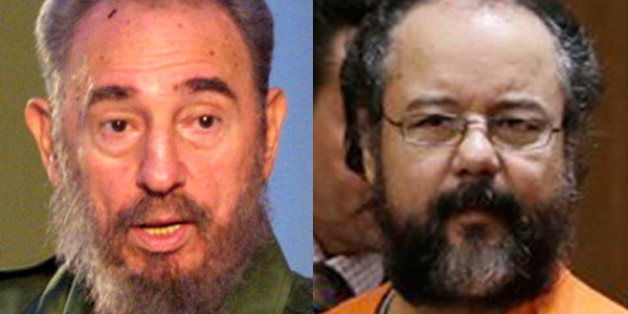 Ariel Castro hanged himself in jail on Tuesday. After the shocking news broke, Twitter users quickly took an interest in cigars and the hashtag "#FreeCuba."
Fact: Ariel Castro is not former Cuban President Fidel Castro, like Twitter would have you believe. Theorize all you want about whether Fidel Castro is still alive, but note that he is not the man who kidnapped three women in Cleveland and held them captive for years.
Keeping that in mind, meet some of the people who did think Fidel Castro hanged himself with a sheet in a jail cell in Orient, Ohio at about 9:20 p.m. on Tuesday. A quick Twitter search will introduce you to people on all sides of the discussion: Those who believe the communist leader is dead, those who are outraged that anyone would confuse the two, those who have never heard of Ariel Castro in the first place, and the sarcastic hipsters comparing Ariel Castro to the Mermaid Communist Leader of Cuba.
1. The Guy Who's Just Wrong.
Everyone is talking about Ariel Castro being dead, but no one is talking about what this means for Cuba

— JohnRayWilson (@JohnRayWilson) September 4, 2013
2. The New Cigar Aficionado.
Ariel Castro's dead? Can we finally have the good cigars now?

— Mike Bianchi (@Mike_Bianchi) September 4, 2013
3. The Worldly Apologist.
When I saw Ariel Castro was trending I thought it was the Cuban President. I'm an international relations student, I swear.

— Trent Hopkins (@trentho) September 5, 2013
4. The Newsmaker.
Cuba's President Ariel Castro dies #news

— FRSR HRVY (@FRSR_HRVY) September 4, 2013
5. The News Ignorer.
Can't believe Fidel Castro died today. Smh. Hung himself with a sheet. RIP. #Cuba

— توماس IIIXXIVMCMXCIV (@iRepAries) September 5, 2013
6. The Sarcastic Guy.
Ariel Castro is dead!! Finally Cuba can become a democracy!!

— Ell sansom (@ell_sansom) September 4, 2013
7. The Guy Who Made A Really Good Seinfeld Joke.
Kramer gets confused and buys what turns out to be cigars owned by Ariel Castro, not Fidel Castro. George meets a girl on Christian Mingle.

— Brady Bauman (@BradyStuff) September 4, 2013
BEFORE YOU GO
PHOTO GALLERY
Twitter Pics From Space