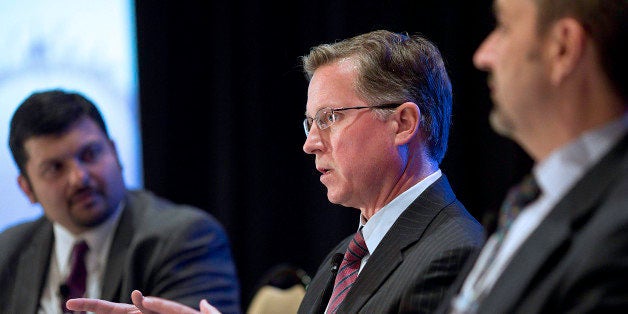 A Republican candidate for Texas attorney general says the Lone Star State's energy production practices have helped position Texas to be an "independent nation."
Texas Railroad Commission Chairman Barry Smitherman, a candidate in the 2014 state attorney general's race, told WND.com earlier this week that he believes Texas's energy and economic practices will protect the state should the overall American economy collapse. He said Texas would be able to survive since it has the necessary resources and does not need to depend on other states for help. Dallasnews.com reported on Smitherman's comments Thursday afternoon.
"We are uniquely situated because we have energy resources, fossil and otherwise, and our own independent electrical grid. Generally speaking, we have made great progress in becoming an independent nation, an 'island nation' if you will, and I think we want to continue down that path so that if the rest of the country falls apart, Texas can operate as a stand-alone entity with energy, food, water and roads as if we were a closed-loop system."

Smitherman did not call for Texas to secede from the United States, however.
The Texas Railroad Commission regulates the oil and gas industry in the state. Smitherman was first appointed to the commission by Gov. Rick Perry (R) in 2011 and won a statewide election for the seat in 2012. Prior to becoming a railroad commissioner, Smitherman was chairman of the Texas Public Utilities Commission, a position he was appointed to by Perry.
This is the not the first time Smitherman has attracted headlines. In a recent speech to the Texas Alliance for Life, Smitherman attacked China's one-child policy and said that abortion could cause a Biblical-style plague. He also said Americans should have more children in order to help the economy, while encouraging young men to abstain from sex until marriage. (He said people should marry young so that they can work on having children.)
Earlier this year, Smitherman retweeted a tweet that contained a picture of a noose and the names of 16 Republican U.S. senators who had voted to open a debate gun control.
State Rep. Dan Branch and state Sen. Ken Paxton are also seeking the GOP nomination for state attorney general.
BEFORE YOU GO
PHOTO GALLERY
How Many Fingers Is Rick Perry Holding Up?