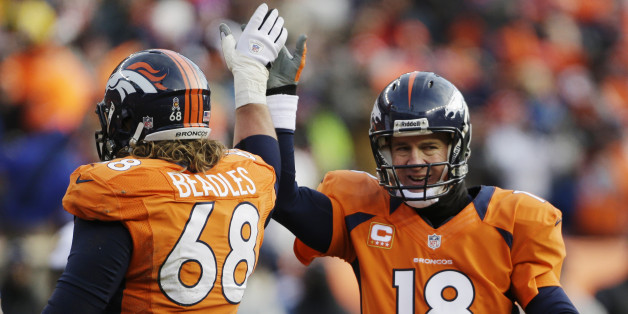 Take deep breaths.. the NFL is back.
The defending Super Bowl champion Baltimore Ravens open the 2013 campaign on the road (thanks to those skidding Baltimore Orioles) against Peyton Manning and the Denver Broncos in a rematch of a thrilling double-overtime AFC Division Round playoff game from last season.
"We still kind of have a scar from losing that playoff game and I think players need to kind of be reminded of that daily," Manning said during Broncos' training camp, per the Associated Press.
The Ravens return to Denver having won the Lombardi Trophy but lost Ray Lewis and Ed Reed to retirement and free agency, respectively. One of the additions to the Ravens' defense will be familiar to fans at Mile High: Stadium: defensive end Elvis Dumervil, who recorded 11 sacks for Denver last season.
Although the Broncos lost a defensive star in somewhat embarrassing fashion, they pulled off an impressive acquisition on the other side of the ball, adding wide receiver Wes Welker to Manning's arsenal. The NFL's Comeback Player of the Year in 2012, Manning will face off against reigning Super Bowl MVP Joe Flacco, who signed a lucrative new contract thanks in part after cashing in on Denver safety Rahim Moore in that playoff game.
With kickoff nearly upon us, it's time to set your fantasy lineups, make your suicide pool picks andGet your popcorn ready. Football is back.
Scroll down for live updates!
09/06/2013 12:52 AM EDT
GAME OVER
Broncos win 49-27. Peyton ties an NFL record with 7 touchdown passes in one game.
09/06/2013 12:51 AM EDT
Tim Tebow had a total of seven TD passes in his last nine games for Denver.

— Tim MacMahon (@espn_macmahon) 3 years ago
09/06/2013 12:48 AM EDT
In the first game the #Ravens ever play without Ray Lewis as part of the organization, they set a franchise record for points allowed.

— Luke Jones (@BaltimoreLuke) 4 years ago
09/06/2013 12:48 AM EDT
Wondered about the #Broncos pass rush without Von Miller. Well, Shaun Phillips answered the bell with 2.5 sacks. Huge.

— Ian Rapoport (@RapSheet) 4 years ago
09/06/2013 12:43 AM EDT
7td!!!! No matter if u love him or hate him manning is the G.O.A.T!

— Derrick Mason (@deemason85) 2 years ago
09/06/2013 12:42 AM EDT
The 49 points are the most the Ravens have ever allowed.

— Jeff Zrebiec (@jeffzrebiecsun) 2 years ago
09/06/2013 12:40 AM EDT
Manning is the sixth player in NFL history to throw for seven touchdowns in a single game, and the first since the merger.

— SI_DougFarrar (@SI_DougFarrar) 4 years ago
09/06/2013 12:40 AM EDT
Peyton Manning is the first person to throw seven touchdown passes in a game since 1969. #Broncos

— Eye on Football (@EyeOnNFL) 3 years ago
09/06/2013 12:39 AM EDT
MAKE IT 7
Broncos not only catch the Ravens offsides, but Peyton found Demaryius Thomas with a screen and he goes 78 yards for the touchdown. That's Peyton's 7th TD pass of the game.
09/06/2013 12:37 AM EDT
2nd and 8
Peyton runs a play-action and looks for Decker over the middle but he dropped it. Clock stops. 3rd and 8 coming up.