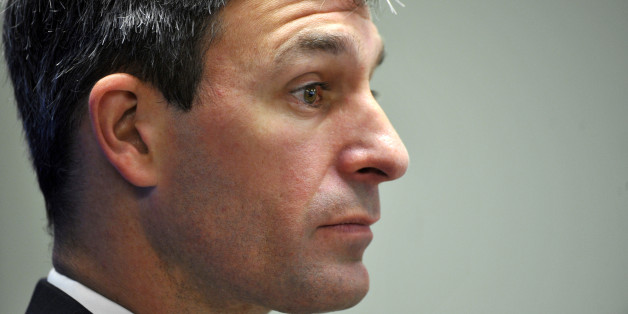 Capitalizing on Virginia Attorney General Ken Cuccinelli's (R) already tenuous relationship with women voters, the progressive super PAC American Bridge released a new ad on Thursday tying the gubernatorial candidate to the controversial fathers' rights movement.
The ad features video of Stephen Baskerville, former president of the American Coalition of Fathers and Children, speaking out against child support and women being granted custody of their children after divorce. "Child support effectively acts as a kind of subsidy on divorce," Baskerville says in the footage. "It enables and even encourages mothers to simply walk away, take the children with them and basically plunder the father for everything he has."
The fathers' rights movement also contends that men are frequently the victims of false domestic violence accusations, and its activists have lobbied against no-fault divorce, which allows a woman to divorce her spouse without having to prove adultery or physical abuse. Cuccinelli offered two bills as a state senator in line with the movement's objectives: one that would have prevented a parent from obtaining a no-fault divorce if the other parent objects, and another that would have encouraged judges to penalize a woman who asked for a no-fault divorce in custody and visitation battles. Baskerville wrote a 2005 op-ed praising Cuccinelli for "countering the 'no-fault' divorce epidemic."
No-fault divorce has otherwise been considered an important milestone for women's rights -- it significantly decreased the rates of suicide and domestic violence against women in states that adopted it in the 1970s. Cuccinelli's Democratic opponent, Terry McAuliffe, released an ad earlier this week hitting Cuccinelli on his opposition to no-fault divorce.
A recent Washington Post article further explored Cuccinelli's ties to the fathers' rights movement and its leaders. As a lawyer, Cuccinelli counted as one of his clients Ron M. Grignol Jr., the former leader of the group Fathers for Virginia, which works for "fathers and their children." And, according to the Post article, fathers' rights groups have campaigned for Cuccinelli.
Cuccinelli's campaign did not immediately respond to The Huffington Post's request for comment. But his campaign spokeswoman, Anna Nix, told The Washington Post this week that Cuccinelli "will not apologize" for his record on fathers' rights issues.
"Ken Cuccinelli believes that children are best served having both their mother and father in their lives and he will not apologize for his efforts to encourage strong Virginia families," Nix said.
BEFORE YOU GO
PHOTO GALLERY
Female Governors: Past And Present