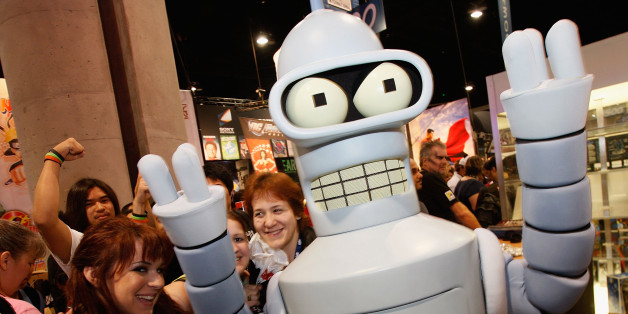 Sadly, Futurama's last episode aired Wednesday night. No, really, this time it's for real. It's over. Seriously.
You can't blame viewers for being skeptical, as there have been many previous "final episodes." The difference this time seems to be that the show's creators finally agree, particularly Executive Producer David X. Cohen, who told the NY Post, "It feels like it's really the end to me this time. I think we're done."
So, there you have it. But Futurama is not really gone forever. It still exists in countless episodes, comics and movies. And GIFs, let's not forget the internet's new favorite thing. So, rather than have ourselves a big pity party, let's celebrate the show with the very best Futurama GIFs.
Something very comforting about this.
1,013 years ago... from 1,000 years in the future...
We'll miss a lot of things about this show.
This guy.
We'll shut up and take his money forever.
Lines so stupid they were brilliant.
Future takes on classic tales.
The Professor.
His Chamber of Understanding.
Bender is great.
But not sure if Bender or Flexo...
No, definitely Bender.
And Leela, of course.
We'll miss everyone, from both Universes.
This shouldn't be the saddest moment for fans.
Because this always will be...
What do you do with your time now?
What does Zoidberg do with his time now?
Amy will go on being rich.
Hermes will go on with the bureaucracy.
Remember, Da Vinci riding a cog is the future.
NOW, ALL GLORY TO THE HYPNOTOAD!
BEFORE YOU GO
PHOTO GALLERY
Os melhores GIFs dos Simpsons