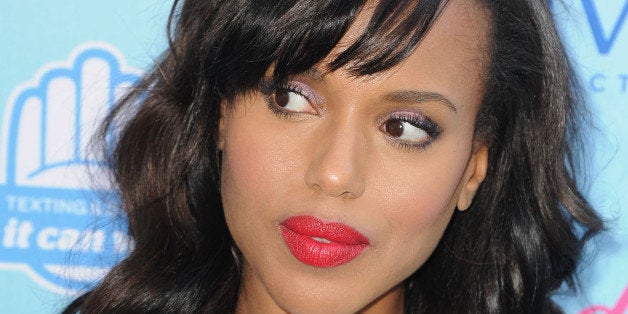 New Jersey Democratic gubernatorial nominee Barbara Buono is bringing in help from Hollywood in an effort to boost her flagging campaign.
Kerry Washington, the star of the ABC political drama "Scandal," will head to New Jersey Sunday to headline a Buono rally at Montclair State University, the Star-Ledger reported. Washington is the cousin of Milly Silva, a union leader and Buono's lieutenant governor running mate. Buono and Silva are challenging the Republican ticket of Gov. Chris Christie and Lt. Gov. Kim Guadagno, who have maintained a consistent 20-to-30 point lead in polls.
Washington is a political activist who campaigned for President Barack Obama and spoke at the 2012 Democratic National Convention. She has tweeted her support for Buono and Silva at least three times, writing on Aug. 13: "SUPPORT @BuonoForNJGov + (my cousin!) @MillySilva in quest 2 make history as 1st all-women tkt 2 win NJ Gov's office."
"Kerry Washington has spoken elegantly and passionately about education and other issues," Buono spokesman David Turner said, adding that Washington is generating "a tremendous amount of excitement" for the campaign.
The Washington rally comes after Christie was endorsed by a celebrity of his own. Buddy Valastro, the star of the TLC show "Cake Boss," threw his support behind Christie last month and is chairing a Small Business for Christie coalition.
The Buono campaign has in the past downplayed the impact of celebrity endorsements, arguing that the candidates should focus on helping people in the state instead. At the same time Valastro was making his endorsement, Buono was touring a tent city for the homeless in Lakewood.
"While Governor Christie is spending time with celebrities, we are spending time with New Jerseyans who are down on their luck," Turner told The Huffington Post at the time.
Buono's campaign has long been critical of Christie's own national celebrity and his multiple appearances on late night talk shows. In speech on the night of the June Democratic primary, Buono criticized Christie's decision to show Britain's Prince Harry around the Jersey Shore.
"I need you to tell a few friends that being on magazine covers and meeting Prince Harry don't mean anything to us," Buono said in June. "Because folks here in New Jersey don't worry all that much about the royal family in England. They worry about their own families."
BEFORE YOU GO
PHOTO GALLERY
Obama With Celebrities