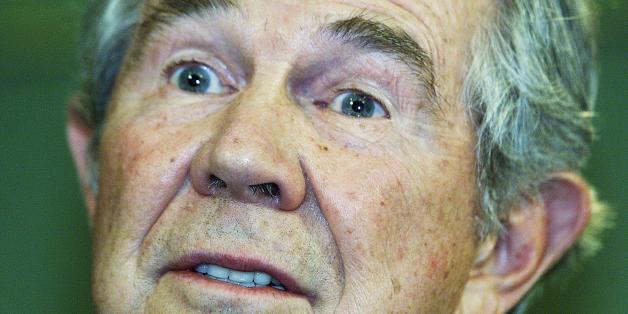 A documentary scheduled to debut Friday at the Toronto International Film Festival shines a new spotlight on old allegations that televangelist Pat Robertson used money, intended for refugees in Africa, for his own diamond-mining venture.
"Mission Congo," directed by Lara Zizic and David Turner, was largely inspired by the reporting of journalist Bill Sizemore, who has covered Robertson extensively over the years and uncovered issues with the legitimacy of his nonprofit organization, Operation Blessing International, in the 1990s.
Following the Rwandan genocide, Robertson encouraged viewers of the Christian Broadcasting Network's "The 700 Club" to donate money to Operation Blessing. He said the organization would be helping the many refugees who'd made their way into Zaire (now the Democratic Republic of the Congo).
But pilots who worked for the organization have claimed that instead of transporting aid, cargo planes were often used to haul equipment for Robertson-backed diamond mining that was going on hundreds of miles away.
In a 2008 article for the Virginia Quarterly Review, Sizemore recalled that one of the pilots had kept notes on some of his trips. During a flight where Robertson was a passenger, one of those notes read, "Prayed for diamonds."
The documentary's directors reached out to the pilots and told them their story needed to be told on film. According to a press release for the movie, Zizic and Turner are hoping to draw more attention to what they say was an under-reported scandal.
"Sometimes a story hits you so profoundly that you simply have to act," the directors said in the release. "We were researching a fiction script when we came across an article mentioning Robertson's dual activities in Congo. We felt that these activities, and implied level of deception, were unfathomable on so many levels that we had to find out more. How could something like this happen? Why was there not more coverage in the media? How did he get away with it? If it happened then, is it still happening now?"
Virginia's Office of Consumer Affairs did investigate the claims against Robertson following Sizemore's initial reporting and found that he "willfully induced contributions from the public through the use of misleading statements and other implications." The state attorney's office declined to prosecute.
As the Guardian notes, Robertson has used the office's failure to prosecute as a way to bolster his innocence. He declined to be interviewed for the film.
UPDATE: Operation Blessing International has released this press release strongly refuting the claims made by the documentary. You can read it here.
UPDATE 12/13: The Guardian has released an apology to Operation Blessing and has retracted some of the allegations in its article "Mission Congo: how Pat Robertson raised millions on the back of a non-existent aid project." The full text is available here.
BEFORE YOU GO
PHOTO GALLERY
Pat Robertsons Greatest Hits