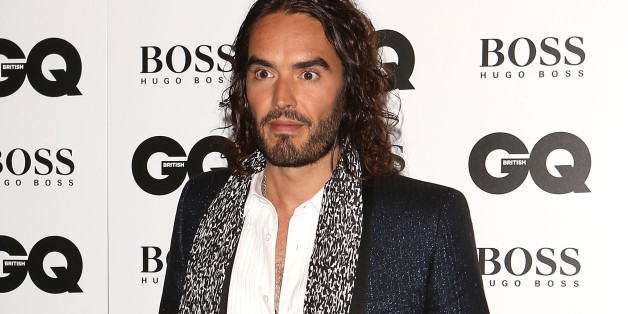 Russell Brand recently unleashed a rant aimed at Hugo Boss over the clothing brand's ties to the Nazi Regime.
The comedian took to the stage Tuesday, Sept. 3 at the British GQ Men of the Year awards at The Royal Opera House in London to accept the Oracle Award. Instead of a short "thank you," Brand decided to use the podium to take a jab at Hugo Boss, the event's presenter, the Daily Mail noted.
"Any of you who know a little bit about history and fashion will know that Hugo Boss made the uniforms for the Nazis," Brand said. "The Nazis did have flaws, but, you know, they did look f**king fantastic, let's face it, while they were killing people on the basis of their religion and sexuality."
He then joked about the sales during that era.
"Like, 'We're selling a lot of these... It's flying off the shelves. We had a lot of clients in the 30s and 40s, I can't remember all of them.' Did you make a lot of elasticated crotches, Hugo?" Brand added, while imitating Hitler and doing the Nazi salute. "Does it ring any bells?"
Later on in the night, Brand was allegedly kicked out of an after-party because of the Nazi comments, according to the Sun. The company purportedly paid upwards of $390,000 to sponsor the awards show.
Still, the 38-year-old Brit defended his comments.
GQ editor: "What you did was very offensive to Hugo Boss."
Me:" What Hugo Boss did was very offensive to the Jews."
#GQAwards
#nazitailor

— Russell Brand (@rustyrockets) September 4, 2013
Hugo Boss acknowledged the Nazi link back in 1997, the New York Times reported at the time. In the '30s, the clothing company was better known for making uniforms rather than business suits and polos. The company became aware of the connection to Hitler's regime when Boss' name appeared on a list of dormant bank accounts released by Switzerland bankers that year.
''Of course my father belonged to the Nazi Party,'' Siegfried Boss said, according to the New York Times. ''But who didn't belong back then? The whole industry worked for the Nazi Army.''
Watch Russell Brand's speech in the video below.