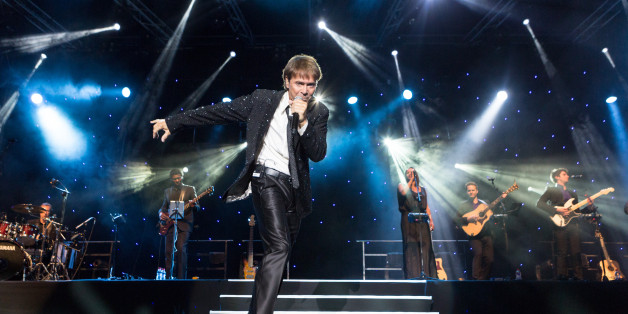 Sir Cliff Richard is a true living legend. The 72-year-old singer is currently prepping his 100th album for release, the latest chapter in a career that includes 22 millions singles sales in Britain -- more than any other solo, male British act. (Only Elvis has him beat.)
"The Fabulous Rock 'n' Roll Songbook" will hit stores on Nov. 11 as the singer's 48th studio album. Richard has also released 35 compilations, 11 live albums and six soundtracks, according to the Official Charts Company (as reported by THR).
The new album will see Richard reworking classics like Elvis' "Teddy Bear" and Little Richard's "Rip It Up" and was recorded in Nashville, the Guardian reports.
For comparison's sake, Elton John has released 30 studio albums, four live LPs, 17 compilation albums and at least 19 soundtracks. Richard is said to have sold about 250 million singles worldwide, against John's 300 million-plus tally. Cher's to-date totals include 25 studio albums, five compilation albums, three soundtrack albums and one live album.
"I had so much fun making this album," Richard told the Guardian. "Singing and performing rock'n'roll is just so invigorating. It's always exciting and inspiring to be in a recording studio and I think there is much more to come from me over the next few years. I'd like also like to think that there will be a volume 2 of The Fabulous Rock 'n' Roll Songbook. I'm definitely not ready to retire yet."
For more on Richard, head over to THR.
BEFORE YOU GO
PHOTO GALLERY
2013 MTV Video Music Awards Red Carpet Arrivals