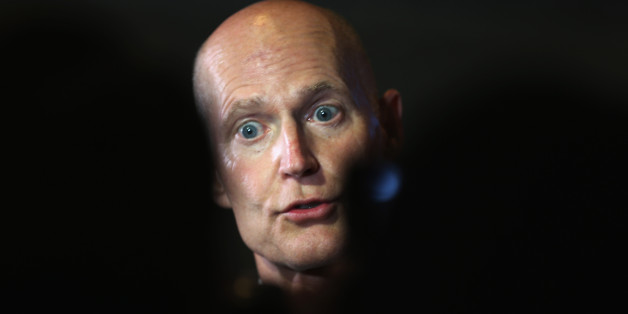 State leaders in Florida "should hang their heads in shame," according to a scathing missive from the New York Times' editorial board.
That's because Florida has the second-highest number of residents without health insurance, according to new census data, yet the Republican-controlled government remains opposed to expanding Medicaid coverage to the poor under the Affordable Care Act.
Only Texas beats the uninsured population of the Sunshine State, where 24.8 percent of residents under 65 were uninsured in 2011, the most recent year figures were available from the U.S. Census Bureau, the Associated Press reports.
Of those 3.8 million uninsured Floridians, more than 500,000 are younger than 19, according to the Miami Herald.
Despite the alarming rates, Florida has moved to thwart the expansion of Medicaid, a key component of the ACA. The state refused to enlarge the program using federal funds and also declined to set up a state-run exchange. While Governor Rick Scott (R) led an unsuccessful push to overturn the ACA in court, Florida's House republicans turned their backs on the Senate's bipartisan expansion plan, choosing to use $300 million in state funds to purchase coverage for 130,000 Floridians instead of federal grants that would cover an estimated 1.1 million residents.
By insisting on an alternative to the ACA, Florida turned away an estimated total of $50 billion in federal funding spread over the next decade to a number of crucial programs -- including a federally funded, voluntary home visitation program proven to prevent child abuse, infant drug dependency, and unemployment.
State Rep. Matt Hudson (R-Naples), then chair of the state's Health Care Appropriations Subcommittee, told the Times in 2011 that the state was not required to accept federal grants.
"I do not believe that act is the right thing for the country or the right thing for Florida," he said, "and I am not going to start implementing things that I don't believe in."
Florida voters rejected a symbolic amendment against the ACA last fall -- and Scott eventually endorsed expansion -- but the legislature didn't stop there. Scott and others approved a law last month requiring a disclosure form that will tell policyholders how the Affordable Care Act will impact their premiums. An "incredible waste of money," Florida Consumer Action Network's Bill Newton called the move, while others criticized the state for knowingly using inaccurate numbers to describe the cost of expansion.
Scott even raised privacy concerns over data that will collected by "navigators" hired to help low-income Floridians negotiate the new national insurance exchanges.
"In states like Florida that seem determined to sabotage reform," wrote the Times editorial board, "the uninsured may have a very hard time getting the coverage they need and deserve."
BEFORE YOU GO
PHOTO GALLERY
Rick Scott Controversies