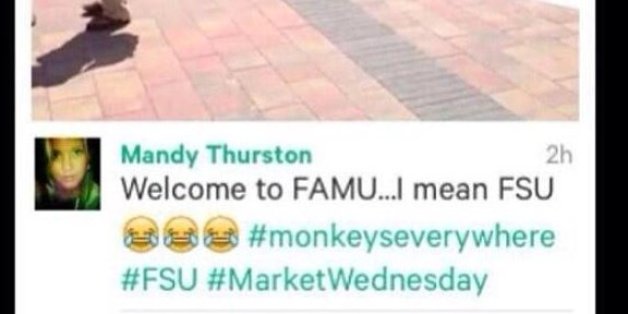 A racist post sent from a Florida State University student's Vine and Twitter social media accounts set off a firestorm at the Tallahassee campus this week.
Mandy Thurston's Vine and Twitter accounts on Wednesday posted the message, "Welcome to FAMU...I mean FSU. #monkeyseverywhere," according to screenshots circulated online (FAMU refers to Florida A&M University, a historically black university). The six-second Vine showed footage of students at the Oglesby Union courtyard on FSU's campus during Market Wednesday, a weekly event where student organizations and vendors put up tables.
The Vine post has since been deleted, as has Thurston's Twitter account.
Thurston told the Tallahassee Democrat Friday that her accounts had been hacked, and that she's filed a police report about it. Maj. Jim Russell, assistant chief of FSU PD, confirmed to the newspaper that a report was filed this week, but did not provide any details.
Prior to the Democrat's report of the alleged hacking, campus police and the FSU administration had announced to the student body that an investigation was underway.
Vice President for Student Affairs Mary B. Coburn and Student Government President Rosie Contreras sent a campuswide email Thursday in response to the post:
Late yesterday evening (9/4/2013) an inappropriate social media message regarding students at Florida State University and Florida A & M University was brought to the attention of the University. Florida State has zero tolerance for "racist speech," no matter which medium is used to communicate the message. Please be assured that the University is investigating this situation and will take appropriate action within University policy.
Harold Scott, president of the FSU's Black Student Union, told the Democrat the group wants to start an anti-racism campaign next week at Market Wednesday.
Scott said, "I think it's better for us to shift our focus from the student to racism itself and how we can work as an FSU committee to continue to expand on the diversity that FSU stands on so firmly."
(h/t Business Insider)
BEFORE YOU GO
PHOTO GALLERY
April Fools Fails And Other Student Newspaper Mess-Ups