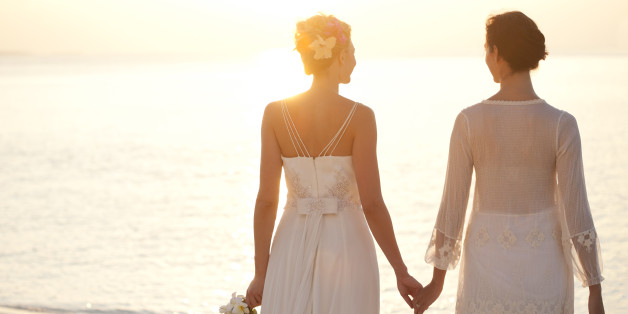 The following article is provided by Civil Beat.
By Nathan Eagle and Chad Blair
Governor Neil Abercrombie can call a special session on gay marriage and expect to pass it, according to a detailed Civil Beat analysis of conversations with legislators and a look at secondary sources. But it will be a close call.
Civil Beat called all 51 House representatives this week and spoke to a variety of other people in the political sphere. Based on interviews with a number of lawmakers, some of whom were granted anonymity so they could comment on sensitive deliberations, the tally in favor of same-sex marriage legislation was 27 in favor, 15 opposed.
Twenty-six votes are required for passage, and some of the nine other legislators who said they have "reservations" are ultimately likely to back it.
Some lawmakers might evolve in one direction or the other, but if the governor calls for a special session, it appears that the votes will be there and Hawaii will legalize marriage equality.
A number of legislators said they expect the final vote to end up higher -- possibly in the mid-30s, a safe margin -- when several undecided members decide to back a winner.
Attention has focused on the House because there is little question in the Senate, where there is a strong 20-5 majority and a desire to pass a bill sooner rather than later. (The "no" votes are Senate President Donna Mercado Kim, Mike Gabbard, Ron Kouchi, Donovan Dela Cruz and Sam Slom, the chamber's lone Republican.)
The governor has suggested that he won't call a special session without solid support for legislation.
Clarity to Come in Caucus?
Since the House doesn't have the two-thirds vote necessary to call a special session, unlike the Senate, Gov. Neil Abercrombie would have to do so. The broader the support in the House, the more likely it is that he will call lawmakers into session this fall, rather than wait until the regular session in January.
The governor supports same-sex marriage as an equality issue and seems inclined to take action soon, but there are risks for him. If he calls for a session and it fails, he'll take a lot of political heat for wasting time and resources. There could also be repercussions in the 2014 election and legislation could become harder to pass on a second try during the next session.
The administration released a draft of a bill last week, one that includes an exemption for religious leaders and organizations that don't wish to perform ceremonies for gay couples. That will likely be the jumping-off point for discussions between Abercrombie, Attorney General David Louie and House Democrats who plan to meet Friday morning at the Capitol.
The governor is set to talk with House Republicans after he meets with the majority caucus. Out of the seven minority members, only Rep. Cynthia Thielen supports opening marriage up to all. Thielen said Thursday that she supports marriage equality.
"I would hope [the governor] would let the community know one way or another in the near future because people are very concerned on both sides of the issue," she said.
Minority Leader Aaron Ling Johanson told Civil Beat that he and the other five Republicans remain opposed to legalizing gay marriage.
The governor may call a special session as early as next week, sources said, but it's more likely he will wait until later this fall. If he waits too long though, lawmakers said it will end up being better to just take up the issue during the regular session.
The administration is conducting its own count of House votes and relying on the legislative skills of Blake Oshiro, Abercrombie's deputy chief of staff and the former House majority leader who was instrumental in passing the civil unions bill in 2011. But they haven't released their numbers.
Wild Cards
There are several dynamics at play in the House vote.
One is the fact that a number of members will be traveling this fall and might be absent during a special session. Travel is even affecting preliminary discussions. Some members, including at least one who is on the fence, Rep. John Mizuno, will miss the Friday caucus because of previously scheduled events off-island.
Another issue is that Rep. Calvin Say, the former House speaker, is said to be trying to exert influence. Several members loyal to Say, like Rep. Isaac Choy, are opposed to same-sex marriage legislation.
Rep. Marcus Oshiro, the former Finance chairman under Say, said Thursday that he didn't like the bill introduced in the Senate back in January, which was never heard, but it mirrors the latest draft. Oshiro also opposes a special session.
"This issue ... has such far-reaching effects that we wouldn't be best serving our constituents, both advocates and opponents, by hastily coming into a special session," Oshiro said.
He acknowledged that a same-sex marriage bill could become a distraction during the regular session and used as a bartering chip to pass or defeat other legislation, which is why some lawmakers want to hear it now instead of later.
"Any measure of import may get taken hostage or traded off, but that's part of the legislative process," Oshiro said. "I'd be naive to say that, 'No, that wouldn't arise,' but that's an issue with the minimum wage or even the issue of GMOs."
Other supporters of former Speaker Say, such as Rep. Jimmy Tokioka, are opposed to a special session but are undecided about passing a bill.
Tokioka's colleagues count him as a "no" vote, noting he twice voted against civil unions, but he isn't ruling out the possibility of voting in favor of the legislation in an interview this week. He told Civil Beat that his constituents have serious concerns about the religious exemptions, but he hasn't seen a final draft of the bill yet.
Other House members still on the fence include Reps. Cindy Evans, Clift Tsuji and Linda Ichiyama, according to several sources.
House Speaker Joe Souki, who voted against civil unions two years ago, is said to support gay marriage.
And some members, such as Rep. Jo Jordan, fall somewhere in the middle. She is against a special session to deal with the issue but supports same-sex marriage.
House Majority Leader Scott Saiki said Abercrombie can help move the matter forward.
"I would encourage the governor to meet with members on an individual basis to determine whether they support the special session and the legislation," he said.
Same Book, Different Views
There is a lot of pressure on lawmakers coming from conservative religious groups such as the New Hope churches and the local Catholic church, who strongly oppose gay marriage, while other more progressive churches are lobbying for its passage. Next year is an election year, and where legislators stand on gay marriage is sure to influence many voters' decisions.
Honolulu Bishop Larry Silva wrote an Aug. 22 letter that explains to Catholics why it's OK to discriminate when it comes to marriage.
"The language of the proponents is meant to convince us that this is a civil rights issue and that anyone who does not agree is bigoted," Silva wrote. "Do not be led astray with such language, and do not allow yourself to be bullied by it."
Episcopal Diocese of Hawaii Bishop Robert Fitzpatrick offers another perspective. He wrote a letter last week that urges the Legislature to make marriage equality a reality in Hawaii as soon as possible.
"It is because marriage is a public institution sanctioned by the state and afforded unique legal protection that the extension of this right to same-sex couples is an issue of justice," Fitzpatrick wrote.
Hovering over everything is the U.S. Supreme Court's decision in June to reject key parts of the federal Defense of Marriage Act.
Even legislators who oppose gay marriage for religious reasons recognize that the landmark ruling is already influencing governmental action. They include the Internal Revenues Service's recent announcement that it will treat married gay couples the same as straight couples when it comes to federal taxation. There is also the Obama administration's plan to extend military veterans' benefits to same-sex spouses.
Rep. Chris Lee said the vote to pass the bill is inevitable.
"We've seen public support grow and grow," Lee said. "It'll be a tremendous benefit to our economy and at end of the day, it's the right thing to do."
BEFORE YOU GO
PHOTO GALLERY
Marriage Equality!