NEW YORK -- Remember the battleground states where Democrats' and Republicans' hopes for the White House rose and fell during recent presidential elections? Welcome to the New York City micro-equivalent, where the turf is smaller and the get-out-the-vote methods are old-fashioned, but the intensity for each vote runs just as high.
Minority neighborhoods in the five boroughs are perhaps the most hotly contested among the three leading Democratic candidates -- Public Advocate Bill de Blasio, City Council Speaker Christine Quinn and ex-Comptroller Bill Thompson.
A visit to Harlem, Washington Heights and Inwood, all in upper Manhattan, reveals a look at the last-ditch push by the campaigns and their powerful labor union backers to motivate supporters to get to the polls on Sept. 10.
"It's important to remember that ethnic politics drives New York politics," said political consultant Evan Stavisky, who is not representing any of the mayoral candidates. "So the discussion of battleground neighborhoods is inseparable from ethnic politics."
Harlem, the historical heart of the city's African-American community, is one of the key fronts for Thompson and de Blasio, who are each hoping for strong support from black voters.
Quinn's numbers with black voters are much weaker, according to polls. But just a little north of Harlem are Washington Heights and Inwood -- two heavily Latino communities -- where her numbers appear stronger. Quinn and her supporters in organized labor have poured in resources to compete with Thompson, de Blasio and their allies to scoop up as much of the Hispanic vote as possible.
On Thursday, all eight of Thompson's public appearances on the day were in Harlem, Washington Heights and Inwood, but he denied that the area is more valuable than other parts of the city.
"I live in this neighborhood. Would I like my neighbors to vote for me? Absolutely," he told The Huffington Post. "[But] I continue to campaign across the city and not exclude neighborhoods."
Thompson and de Blasio practically bumped into each in Harlem that afternoon.
Thompson, who is black, strolled 116th Street, posing for pictures mainly with African immigrants, including an imam from the Ivory Coast and a drum-pounding supporter. Just a few blocks north, on 125th Street, de Blasio was surrounded by voters and members of the media outside of a Starbucks.
Signs abound that the neighborhoods are not unified in their choice for who should succeed New York Mayor Michael Bloomberg, who's been in office since 2001. Unions on Thursday left campaign literature tucked into apartment doors, many of which already had flyers sticking out from opposing candidates.
Councilman Ydanis Rodriguez, a Democrat representing Washington Heights and Inwood and who has endorsed Thompson, told HuffPost that even his own home is divided in the mayor's race.
"I'm committed to Bill Thompson. My wife is with Bill de Blasio," Rodriguez said Thursday at an event for Thompson featuring salsa legend Willie Colón. "In family and in the community, the right thing to do is respect the difference of opinion. I'm doing the best I can to get Bill Thompson elected."
Despite campaign commercials and the influx of political literature in their mailboxes, even informed voters who are familiar with the candidates' policy positions have not made up their minds.
"The two people I have in mind are de Blasio and Thompson," said Lona Leslie, 43, an administrator at the NYU Medical Center who lives in Harlem and was waiting for a chance to meet de Blasio.
The attention that Harlem receives from candidates before the election doesn't seem sincere to her. "The candidates focus on the community a lot -- even when they're not here, they mention Harlem. But I have mixed feelings. Sometimes it feels like they're just using our community."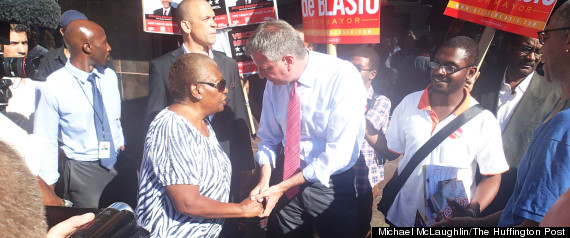 De Blasio took off before Thompson ambled up to 125th Street for his own tour of the corridor.
On Friday, it was Quinn's turn. After spending most of Thursday in the Bronx -- another hotspot in the ground war for Latino votes -- the city council speaker scheduled numerous appearances on Friday in Washington Heights.
"Latinos in New York are the fastest-growing population. They're entrepreneurs. They are interested in good jobs and health care," Quinn spokesman Michael Morey told HuffPost. "We've been fortunate to have strong Latino support."
Attracting Latino support will be crucial to propelling her into a possible runoff, her campaign said. (If no one wins 40 percent of the vote in Tuesday's primary, another vote will be held between the top two finishers on Oct. 1.)
A poll last week showed de Blasio with 43 percent of Democratic voters, followed by Thompson at 20 percent and Quinn with 18. The margin of error was 3.6 percent.
That poll showed de Blasio trouncing Thompson 47 to 25 among black voters, but the sample was too small to get an accurate read on Latino voters.
Fights similar to the one in Harlem for votes from African-Americans and Caribbean Americans are playing out in central Brooklyn and southeast Queens while appeals to Latino voters can be seen and heard in much of the Bronx, and parts of Queens and Brooklyn.
Get-out-the-vote operations are in full swing for the major labor unions as the campaign enters the final days and by law are conducted independently of the politicians.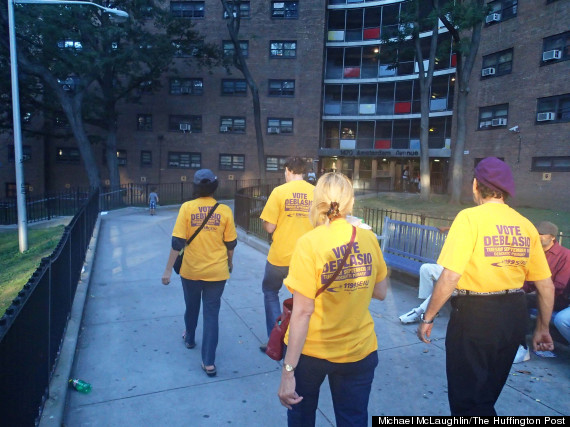 Expected turnout varies wildly. Some campaigns and union officials have put the number as low as 500,000 votes to as many as 800,000 (out of 2.7 million registered Democrats). In that climate, a well-oiled operation by the various labor unions could have a significant impact.
Officials with 32BJ, the union for custodians and building staff that endorsed Quinn, consider Washington Heights and Inwood among their top priorities.
"These are battleground neighborhoods and in terms of turnout we expect it to be incredibly high," said Hector Figueroa, president of 32BJ. "When we considered Quinn for the endorsement, we felt comfortable, because she already polled very high with Latinos."
32BJ has as many as 6,000 members in Washington Heights and Inwood, out of 75,000 across the city. Members have been contacted many times with reminders to vote for Quinn and candidates for other offices the union endorsed. It recently branched out by sending union members to knock on doors and call other Latinos likely to vote in the primary.
Canvassing in upper Manhattan by organized labor is meticulous, compared to the short visits of the candidates themselves whisking from event to event.
The city's largest union, SEIU 1199 -- which represents health-care workers -- is especially active in Harlem and Washington Heights, too. Its officials report 100,000 members citywide, with almost 10,000 of them residing in Harlem and Washington Heights.
Unlike 32BJ, SEIU 1199's political work is restricted solely to getting members and their families to vote for de Blasio and other candidates it supports down the ticket.
A squad of four volunteers spent Thursday afternoon knocking on more than 100 members' doors in public housing high-rises and tenement apartments where they urged people to pull the lever for de Blasio. The outreach began months ago, but it's now culminating with final reminders for members to show their collective strength in the primary.
"I tell people that the president of the nation is not doing anything in your neighborhood," said Raimundo Vales, a retired surgical technician who was one of four 1199 members canvassing Harlem on Thursday. "They need to be educated that this is for the politician in their neighborhood."