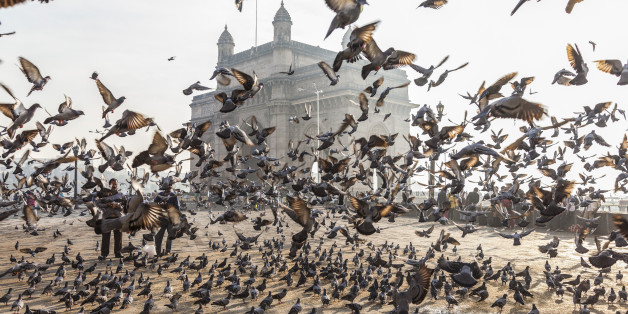 One British citizen reportedly has begun a solo pest-control initiative.
A local news site claims that an elderly woman fashioned herself into something of a vigilante and began prowling the streets of Cambridge in search of pigeons to strangle.
What drove this Cambridge woman to allegedly break the necks of urban birds? It was government inefficacy, according to Robin Aveling, a local business owner who says she caught the woman post-crime.
"She told me she has asked the council to cull the pigeons but they won't do it. I suppose she decided to take the matter into her own hands," Aveling recalled to the Cambridge News. "When I saw her with a dead pigeon she just said, 'I strangled it.' You just learn to say OK to something like that."
City-dwelling feral pigeons reportedly fly with health risks like salmonella and lung disease. Their wings are a popular hangout for lice, mites and more. On a purely aesthetic level, they're also despised for the "fouling of buildings and monuments," according to Cambridge Environmental Services.
Whether she acted out of annoyance or a concern for local sanitation, the alleged strangler may have violated two pieces of animal protection legislation in the United Kingdom. The Wildlife and Countryside Act of 1981 and the Animal Welfare Act of 2006 make it illegal for citizens to kill or cause suffering to wild birds, including pigeons.
The Cambridge City Council could not confirm the existence of a pigeon strangler.
"We are not aware of wider issues with pigeons in the city but, if there was a problem, we would encourage an approach that includes using deterrents to perching such as spikes or wire systems, installation of artificial nesting sites and public information," said Jas Lally, head of refuse and environment, in a statement released by the Council.
Some local governments in Britain have already taken action against their large pigeon populations. Last November, the town of Newcastle instituted a $6,000 population control plan, according to local news site This is Staffordshire.
Government-instituted pigeon population control faces backlash from animal rights groups. The U.K.-based Pigeon Control Advisory Service, or PiCAS, argues that lethal bird population control is ineffective. According to PICAS, pigeon culling increases pigeon populations by giving young pigeons a better chance at survival. The group estimates a 15 to 30 percent population increase post-culling.
No word yet on the efficacy of Cambridge's alleged one-woman culling effort.