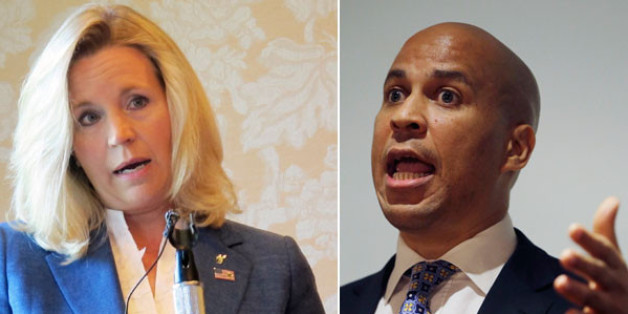 WASHINGTON -- If you're a candidate for the United States Senate or a sitting senator up for reelection, chances are you're not enamored by President Barack Obama's push to engage militarily in the conflict in Syria.
At least, that's the clear message coming from a review of public comments and policy statements from politicians seeking to be elected to the upper chamber. The Huffington Post looked at 50 candidates in competitive races to get a sense of where they stood on Syria, the logic being that those running for office were most likely to be sensitive to public opinion.
The results reveal that most of the candidates don't have much of an appetite for military involvement in Syria. Of the 50 candidates -- which included incumbents, members of the House of Representatives seeking higher office, top challengers and long-shots -- 44 either returned a request for comment or have already announced their position.
Of those 44 candidates, 24 fully oppose the president's plan for limited engagement, seven are skeptical of the idea and seven are undecided. Just six support the proposed air strikes.
The numbers underscore the tough sell facing Obama. With elected officials and candidates running for office convinced that the public is sour on intervention, he may have to change popular opinion before he's able to get an Authorization for Use of Military Force through Congress.
Rep. Tom Cotton (R-Ark.), who is running for Senate against incumbent Mark Pryor (D-Ark.), was the most high-profile challenger willing to support the resolution. He announced his position very publicly -- in a Washington Post op-ed.
But he is in the minority. Many challengers loudly oppose intervention, remain skeptical, or simply aren't revealing their position.
The Syria resolution also puts Democrats trying to get into the upper chamber in a tough spot, torn between supporting their party's leader and siding with the wide swath of the public that opposes the strikes. Kentucky Secretary of State Alison Lundergan Grimes, who is challenging Senate Minority Leader Mitch McConnell, was undecided. A spokesman for Newark Mayor Cory Booker said he was "skeptical" of intervention. Georgia Senate hopeful Michelle Nunn said she supports a "limited, defined, and strategic military action."
The Senate candidates' positions are below, broken down by state.
ALASKA
Sen. Mark Begich (D) -- UNDECIDED
Lt. Gov. Mead Treadwell (R) -- OPPOSED
Like many Alaskans and many Americans, I am very concerned over the use of chemical weapons in Syria and the deaths of innocent civilians. I myself lost a college friend to Syrian government shelling last year.

Any action that puts our brave men and women in harms way must be done with a clear objective and I am convinced that the President has not made the case that action in Syria would not cause an escalation of violence beyond Syria's borders. I visited Israel and Jordan this year and realize how fast this can get of out control.

I am very eager to hear and learn more from the President over the coming days.

I ask my fellow Alaskans to join me in praying for peace.
ARKANSAS
Sen. Mark Pryor (D) -- OPPOSED
The decision to use military force is one of the gravest responsibilities Members of Congress face, and it is one that I take very seriously. I have heard presentations and testimonies from the Administration on their case for military action, have read and studied the text of the authorization for the use of military force that will come before the Senate next week, and have listened to the concerns of thousands of Arkansans as I have traveled the state.

I have said, before any military action in Syria is taken, the Administration must prove a compelling national security interest, clearly define a mission that has a definitive end-state, and then build a true coalition of allies that would actively participate in any action we take. Based on the information presented to me and the evidence I have gathered, I do not believe these criteria have been met, and I cannot support military action against Syria at this time.
Rep. Tom Cotton (R) -- IN FAVOR
COLORADO
Sen. Mark Udall (D) -- UNDECIDED
State Sen. Randy Baumgardner (R) -- OPPOSED
"I think we should stay out of Syria," Baumgardner told The Huffington Post.
State Sen. Owen Hill (R) -- SKEPTICAL
District Attorney Ken Buck (R) -- NO RESPONSE
GEORGIA
Michelle Nunn (D) -- IN FAVOR
"It is my belief that we must stand together to ensure our nation's credibility, to deter President Bashar Al-Assad and other rulers from believing they can use chemical weapons with impunity, and to safeguard our own national security from the dangers of the proliferation of weapons of mass destruction. President Assad's actions are a clear violation of international law," Nunn said in a statement to The Huffington Post. "If we do nothing after our early declarations, not only will President Assad be emboldened to use chemical weapons on a larger scale, but Iran will be emboldened to proceed with its development of nuclear weapons and friend and foe around the world will devalue the word of the United States. I am aware that many Georgians are rightfully leery about getting involved in another military conflict, especially after recent experiences in Iraq and Afghanistan. I share those concerns. We should not engage in another extended action at this time, or commit troops on the ground. But ultimately I believe that we must come together and I would join with our two Georgia Senators, Saxby Chambliss and Johnny Isakson, in supporting a limited, defined, and strategic military action to be outlined and carried out by our military leadership."
Rep. Paul Broun (R) -- OPPOSED
Rep. Jack Kingston (R) -- SKEPTICAL
A spokesman for Kingston said he is not "inclined to support it."
Rep. Phil Gingrey (R) -- OPPOSED
"The use of chemical weapons is a reprehensible atrocity and should be universally condemned," Gingrey said in a statement on Friday afternoon. "However, after receiving a classified intelligence briefing, meeting with top foreign policy advisers, and considering the hundreds of appeals I've received from concerned constituents, I've concluded that U.S. action in Syria would be imprudent. With so many unanswered questions, we simply cannot risk getting mired down in the Syrian civil war – especially when our security interests aren't being directly threatened."
Former Georgia Secretary of State Karen Handel (R) -- OPPOSED
HAWAII
Sen. Brian Schatz (D) -- OPPOSED
Rep. Colleen Hanabusa (D) -- OPPOSED
@AdmiralStoney @WaimeaWitch @shempzine "I oppose U.S. military intervention in #Syria and will vote NO."

— Colleen Hanabusa (@ColleenHanabusa) September 5, 2013
IOWA
Rep. Bruce Braley (D) -- SKEPTICAL
"[The congressman] has concerns with the authorization bill, including the scope of American involvement and the aftermath of that involvement as it relates to the larger strategic situation in the Middle East," said a Braley spokesman.
Sam Clovis (R) -- OPPOSED
David Young (R) -- OPPOSED
Paul Lunde (R) -- OPPOSED
U.S. Attorney Matt Whitaker (R) -- SKEPTICAL
KENTUCKY
Kentucky Secretary of State Alison Lundergan Grimes (D) -- UNDECIDED
"I have not received the classified briefings," Grimes said in a statement provided by her campaign, "but I have been clear all along on the fact that the regime's actions are reprehensible and must be addressed. We need to listen to our military leaders and make sure there is an exit plan with any action involving our armed forces to avoid sending them into an open-ended conflict. I am continuing to monitor the situation closely, and strongly support Kentuckians having a say through our elected officials in Congress."
Sen. Mitch McConnell (R) -- UNDECIDED
"He hasn't announced anything new," said McConnell spokesman Don Stewart. "He is considering the information and getting briefings on the administration's plans."
Matt Bevin (R) -- OPPOSED
LOUISIANA
Sen. Mary Landrieu (D) -- UNDECIDED
"Using military force in Syria is a serious matter, and the President is correct to seek Congressional approval," said Landrieu in a statement. "I will carefully examine the facts this week as Congress debates what the appropriate action is."
Rep. Bill Cassidy (R) -- UNDECIDED
"He is still undecided at this point," Bill Cummins, a Cassidy spokesman, told The Huffington Post. "He returned to Washington over the weekend and thinks there are a lot of unanswered questions."
Retired Air Force Officer Rob Maness (R) -- OPPOSED
The attack on Syria has already failed http://t.co/KaoJQ9IjhS via @sharethis #Syria #lasen

— Rob Maness (@RobManess) September 4, 2013
MICHIGAN
Rep. Gary Peters (D) -- UNDECIDED
Former Michigan Secretary of State Terry Lynn Land (R) -- OPPOSED
MINNESOTA
Sen. Al Franken (D) -- IN FAVOR
"There is no question that there was a massive chemical attack there," said Franken. "Doctors without Borders was there to confirm there were toxins. This is an outrage. It is hideous. There has to be a response."
State Rep. Jim Abeler (R) -- OPPOSED
"It is tragic that so many have died from both chemical and traditional weapons in Syria. There is no guarantee that American military action, limited or otherwise, will save any Syrian lives," Abeler said in a statement. "However, it is near certain that such military action will serve to escalate the situation there and affect the Middle East in general. President Assad will certainly react in a hostile way, most likely resulting in more deaths. We will then feel forced to react again, even more intensely. How this spiral of escalating intensity will end, no one can predict.

"We need to learn from the lessons of Vietnam and other "non-wars" we have fought. These wars never stay as small as expected, because war itself is not predictable. If the real goal is to stop the use of chemical weapons, we need to focus on that."
St. Louis County Commissioner Chris Dahlberg (R) -- IN FAVOR
"I definitely don't want to see any boots on the ground unless you can demonstrate it is for a national security interest," said Dahlberg. "On the other hand this is an issue to me that is bordering on the question of genocide. As a military man, I know that war is ugly… to have an onslaught attack on innocent civilians, I feel like there is a point where the U.S. can play a role to be involved…. We are the greatest nation in the world… and in that I think there is a leadership role in cases that we see as mass genocide."
State Sen. Julianne Ortman (R) -- NO RESPONSE
Mike McFadden (R) -- NO RESPONSE
MONTANA
State Rep. Champ Edmunds (R) -- OPPOSED
Arming a "vetted opposition" in #Syria ? Wouldn't assistance to terrorists be considered aiding and abetting the enemy of our country?

— Rep. Champ Edmunds (@champedmunds) September 4, 2013
"We don't have an identifiable objective," Edmunds told The Huffington Post. "When we go there, what are we just going to punish Syria? What is the national interest for us? Is their oil there or something like that we are going after? I don't think there is something like that. What is the threat to national security? i think it is tragic that a hundred thousand people have been killed there... But if we don't have a threat to our national security as a nation i don't see why we are going in there."
NEW JERSEY
Newark Mayor Cory Booker (D) -- SKEPTICAL
"The mayor is skeptical about a proposed military strike in Syria, and if elected to the Senate, he will always approach the question of military intervention as a last resort," said campaign spokesman Kevin Griffis. "As a candidate for office, Mayor Booker does not have access to the same intelligence information as a member of Congress. To gain his vote, the administration would have to clearly delineate what the strategic objectives are, as well as the path to achieve them, and explain how it is in America's strategic interest to intervene."
Former Bogota Mayor Steve Lonegan (R) -- OPPOSED
NORTH CAROLINA
Sen. Kay Hagan (D) -- IN FAVOR
"Without putting American troops on the ground, the atrocities in Syria require a strong response that will prevent them from happening again and ensure that Syria's chemical weapons stockpile does not fall into the hands of terrorists and further destabilize the Middle East," Hagan said in a statement.
State House Speaker Thom Tilis (R) -- NO RESPONSE
SOUTH CAROLINA
Sen. Lindsey Graham (R) -- IN FAVOR
State Sen. Lee Bright (R) -- OPPOSED
.@libertyspot I am 100% against intervention in #Syria There are no good sides in that conflict.

— Lee Bright (@leebright) September 3, 2013
Nancy Mace (R) -- OPPOSED
SOUTH DAKOTA
Rick Weiland (D) -- NO RESPONSE
State Rep. Stace Nelson (R) -- OPPOSED
State Rep. Larry Rhoden (R) -- NO RESPONSE
Former Gov. Mike Rounds (R) -- OPPOSED
"Based on the information being made available to us at this time, I would not support a resolution authorizing the United States military to intervene as requested by the administration," said Communications Director Mitch Krebs. "The administration has a duty to lay out a plan of action, that would include the goals and exit strategy for the United States, both short term and long term. Neither has been accomplished."
TENNESSEE
Sen. Lamar Alexander (R) -- OPPOSED
State Rep. Joe Carr (R) –- OPPOSED
WEST VIRGINIA
Rep. Shelley Moore Capito (R) -- SKEPTICAL
WYOMING
Sen. Mike Enzi (R) -- SKEPTICAL
"While I am not on the Foreign Relations, Armed Services, or Intelligence committees, I will be reviewing their findings and the testimony and evaluating the case President Obama lays out before the American people," Enzi said in a statement. "I am also reviewing the proposals for authorizing the President to act on Syria, though so far, I haven't seen any reason to enter a war and risk American lives when there is no clearly defined national security interest and allies have not been cultivated."
Liz Cheney (R) -- OPPOSED
This article was updated after publication with statements from Michelle Nunn of Georgia and Mike Rounds of South Dakota. It was also updated to reflect that Rep. Phil Gingrey of Georgia, Sen. Mark Pryor of Arkansas, Sen. Lamar Alexander of Tennessee and Alaska Lt. Gov Mead Treadwell have all come out against the resolution.
BEFORE YOU GO
PHOTO GALLERY
Here's What Politicians Have Said About Syria