Secretary of State John Kerry made the case to Congress this week for military intervention in Syria, following a devastating chemical weapons attack allegedly carried out by Syrian government forces last month.
While there is some degree of uncertainty as to what the proposed U.S. action would seek to achieve, one thing is crystal clear: The Obama administration doesn't believe a military strike on Syria would constitute an act of war.
"We don't believe we are going to go to war in the classic sense of taking American troops and America to war," Kerry said.

Kerry's insistence on that matter and the ongoing debate over whether President Barack Obama actually needs congressional approval for military intervention in Syria -- the White House insists he doesn't -- raise key questions: How exactly do we define "war," and is the official definition, under which Congress declares war and commits troops, really what matters most?
Below, 11 photos from prior U.S. military engagements. Can you tell which ones are from actual "wars," which ones are from "not-wars," and which ones are from whatever lies between?
(Some of the photos below are graphic.)
1. 2. 3. 4. 5. 6.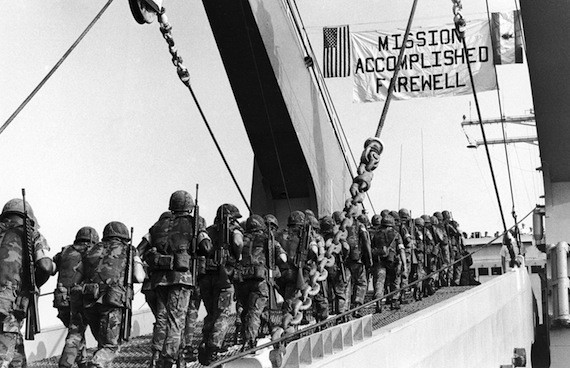 7.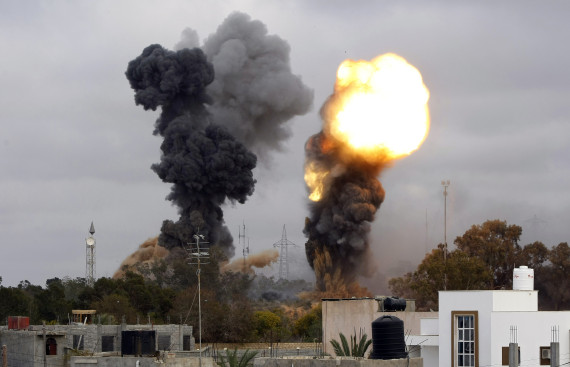 8.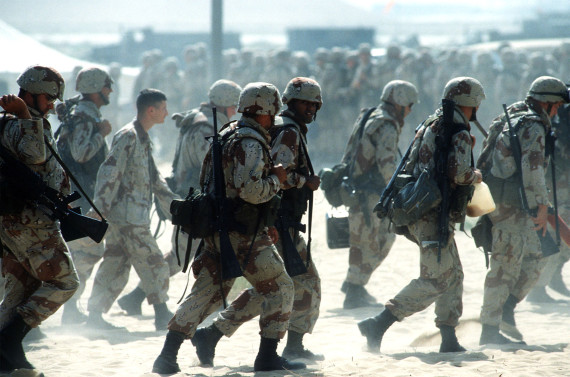 9.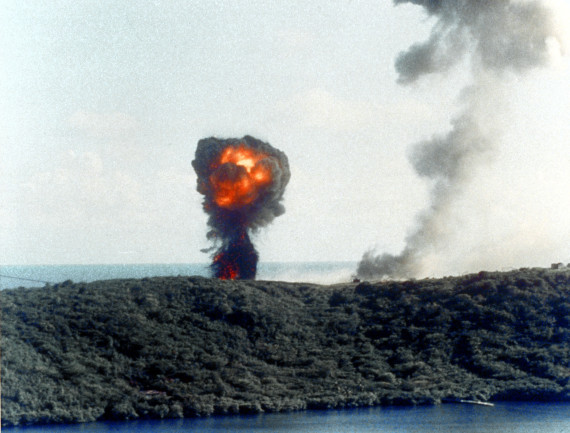 10.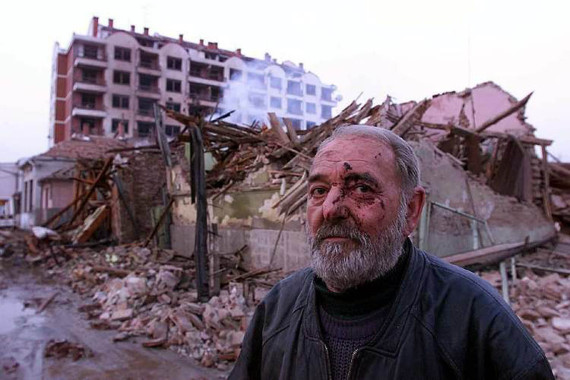 11.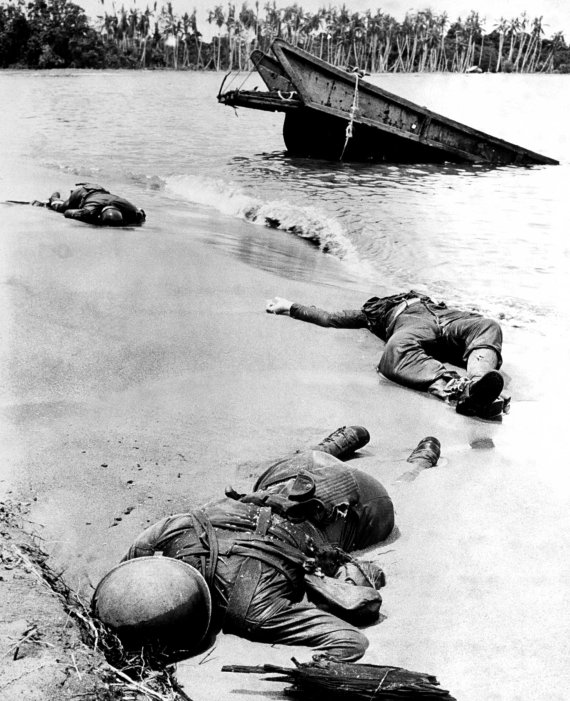 1. Vietnam U.S. soldiers of the 3rd Brigade, 4th Infantry Division, look on a mass grave of enemy combatants after a day-long battle against the Viet Cong 272nd Regiment, about 60 miles northwest of Saigon, in March 1967. U.S. military command reported 423 Communist forces dead, with American losses at 30 dead, 109 wounded and three missing. (AP Photo/Henri Huet)
How many were killed?
The Vietnam War led to the deaths of more than one million people, including American, South Vietnamese and Viet Cong troops and countless civilians.
But was it "war"?
In the most technical of terms, no. Congress never officially declared war under the Constitution's war powers clause. Instead, lawmakers opted to sign the Gulf of Tonkin Resolution in 1964, which gave President Lyndon Johnson the power to authorize "conventional'' military force in the Southeast Asian nation. With national opposition to the armed conflict mounting in the early 1970s, lawmakers repealed that resolution in 1971.
Two years later, Congress passed the War Powers Resolution in an attempt to scale back the president's ability to commit the nation to military action without the legislature's consent. The law requires the president to give Congress notice within 48 hours of any military engagement and forbids armed forces from remaining in foreign territory more than 60 days without congressional approval, albeit with a further 30-day withdrawal period. While the measure is still in place, it has been violated in the decades since, and people across the political spectrum have argued that it is unconstitutional or inapplicable in various circumstances.
2. Operation Deliberate Force (Bosnia) Smoke rises from an ammunition depot in the Bosnian Serb stronghold of Pale, some 10 miles east of Sarajevo on Aug. 30, 1995, after NATO air strikes. NATO jets went after Serb ammunition and radar sites as well as command and communication centers throughout Bosnia to eliminate threats to U.N. safe zones. (AP Photo/Oleg Stjepanovic)
How many were killed?
The NATO bombing campaign resulted in the deaths of around 30 civilians and an unknown number of Serbian soldiers. Two French pilots also died when their plane was shot down.
But was it "war"?
No, but it was congressionally approved. In 1995, lawmakers voted in support of a resolution authorizing President Bill Clinton to send 20,000 U.S. troops to Bosnia as part of a NATO peacekeeping force, although both chambers of Congress also passed resolutions expressing their opposition to the mission. The two-week bombing campaign was NATO's first air campaign and its largest military action at the time.
3. Panama Invasion A group of civilians who were killed during the invasion by U.S. forces lie on the floor of the morgue in Santo Tomas hospital in Panama on Dec. 12, 1989. (AP Photo/Juantxu Rodriguez)
How many were killed?
The invasion of Panama ultimately led to the deaths of hundreds of soldiers, including 23 Americans. Somewhere between 250 and 3,000 Panamanian civilians were also killed as a result of the engagement, depending on whose figures you believe.
But was it "war"?
No, and it was also ordered without a congressional vote. While many lawmakers expressed support for the mission, President George H.W. Bush also received criticism for authorizing the invasion in a move that many argued was outside his constitutional powers.
4. Iran Hostage Rescue Attempt A charred body lies within the scorched wreckage of an American C-130 Cargo aircraft in the Iranian desert of Dasht-E-Kavir, approximately 500 kilometers from Tehran, on April 27, 1980. (AP Photo)
How many were killed?
Eight U.S. servicemen were killed and several more were injured in the rescue effort.
But was it "war"?
No, and the secret mission was authorized without congressional knowledge. A series of unpredictable and catastrophic mechanical troubles led to its ultimate failure. The disaster would prove a huge embarrassment for President Jimmy Carter, as the 50 American hostages would be held in Iran for months longer.
5. Tripoli Raid The scene in Tripoli, Libya, on April 15, 1986, after an American attack the previous night. In the chaos and confusion people were searching through ruins, streets were littered with burned-out cars and flooded by burst water pipes. The attack was carried out by the U.S. Air Force and Navy from aircraft carriers and by F-111 jets from bases in Great Britain. (AP Photo/Merliac, Redman)
How many were killed?
The Tripoli strikes killed 45 Libyan soldiers and officials, and at least 15 civilians.
But was it "war"?
No. In 1986, President Ronald Reagan ordered a series of air strikes on ''terrorist centers'' and military bases in Libya without seeking a congressional vote to authorize the action. While congressional leaders expressed support for the campaign, not all backed the mission.
6. Lebanon Intervention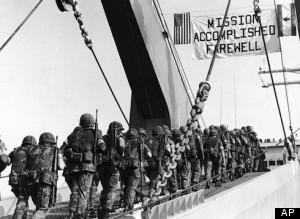 Members of the U.S. Marine Corps walking up the gangplank of the USS Manitowic, in Beirut port, on Sept. 10, 1982, on the first stage of their journey back home. A sign saying "Mission Accomplished," placed in the center of the American and Lebanese flags. A total of 800 men and their equipment were involved in the departure operation. (AP Photo/Tamirian)
How many were killed?
As a result of the U.S. mission, nearly 300 Americans died, soldiers and civilians both, plus an unknown number of Lebanese.
But was it "war"?
The mission was hotly debated, but it was not a "war."
President Reagan first ordered the deployment of U.S. troops to Lebanon in 1982, as part of an international peacekeeping force designed to stem the bloodshed from a violent civil war. While Congress reluctantly approved of the president's decision at the time, lawmakers never officially voted to authorize it.
Congress' concerns about being involved in the decision-making process were amplified on April 18, 1983, when a suicide bomber killed 63 people by detonating 2,000 pounds of explosives at the U.S. Embassy in Beirut. Lawmakers debated whether to extend the War Powers Resolution to Lebanon in response. They eventually reached a compromise in September, voting for a measure to authorize the continued deployment of U.S. troops for an additional 18 months under the War Powers Resolution.
A month later, however, another massive blast ripped through the Marine barracks in Beirut, killing 241 American soldiers -- the largest loss of life in a military operation since Vietnam. In February 1984, Reagan ordered U.S. troops to withdraw to ships offshore. Subsequent shelling by U.S. warships may have struck civilian targets. Military officials denied this, but wouldn't give a detailed assessment of the damage.
7. Libya Intervention 2011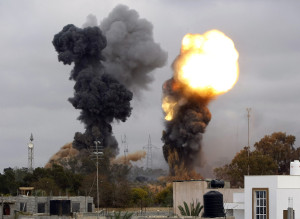 Seven explosions rocked the Libyan capital Tripoli, some in the vicinity of the tightly guarded residence of then-leader Muammar Gaddafi and military targets, on March 29, 2011. NATO-led coalition aircraft had been seen in the skies over the capital earlier in the afternoon. (Mahmud Turkia/AFP/Getty Images)
How many were killed?
While the NATO operation led to minimal coalition losses, NATO officials eventually admitted that a misguided air strike "may have caused a number of civilian casualties." Human Rights Watch claimed there were eight NATO strikes that resulted in 72 civilian deaths, including 24 children.
But was it "war"?
No. A few days after the U.N. Security Council approved a no-fly zone and authorized "all necessary measures" to protect citizens, President Obama directed U.S. forces to participate in a military campaign in Libya. He did not seek congressional approval, a decision that invited criticism from those who thought he was acting beyond the executive branch's powers.
While eight NATO allies took part in combat, the U.S. played a key role in the mission.
Obama did initially adhere to the War Powers Resolution, however, by reporting to Congress within 48 hours of beginning military action. In a letter sent to congressional leaders, the president wrote that the intervention was "in the national security and foreign policy interests of the United States." The situation grew more complicated when the mission extended beyond the 60-day window.
8. First Gulf War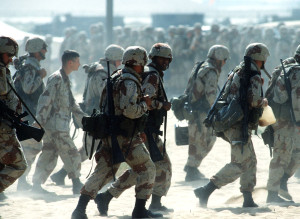 Newly arrived Marines are led through an encampment near an airfield during Operation Desert Shield. (Department of Defense photo)
How many were killed?
Nearly 500 coalition troops were killed in the First Gulf War, along with as many as 35,000 Iraqis. Civilian casualties in Iraq and Kuwait were estimated at over 4,000. In one well-documented incident, a 2,000-pound laser-guided "smart" bomb, dropped from a U.S. Air Force plane, hit a bunker in which, unknown to U.S. commanders, Iraqi civilians had taken shelter. The detonation killed 408 people.
But was it "war"?
Again, not technically, though this is about as official as it's been in the modern era.
In 1990, President George H.W. Bush deployed more than 500,000 troops to the Persian Gulf in response to Iraq's invasion of Kuwait. He did so without prior congressional authorization. In early 1991, however, the president asked Congress to vote on a resolution for additional military action, though he maintained that he didn't need permission. Lawmakers approved the measure by the narrowest margin in any vote for the authorization of U.S. military force since the War of 1812.
9. Grenada Invasion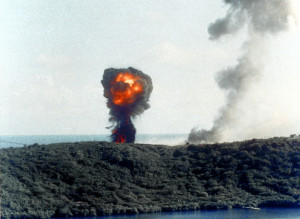 A smoke-shrouded fireball rises over the horizon as U.S. forces score a direct hit in the Operation Urgent Fury invasion of Grenada. (Photo by Long/Department Of Defense/Time Life Pictures/Getty Images)
How many were killed?
Fewer than 100 troops were killed in Operation Urgent Fury, including U.S., Grenadian and Cuban service members. At least 24 civilians were also killed, among them those who died as a result of an accidental bombing of a Grenadian mental hospital.
But was it "war"?
No, and Reagan again didn't ask for congressional approval before deploying troops to the island nation in 1983, claiming that the use of force was justified because the lives of U.S. medical students were in danger. Reagan would later argue that the operation was "no invasion; it was a rescue mission." While many members of Congress expressed their support for the move, other lawmakers challenged Reagan's decision as a violation of the war powers clause.
10. Operation Allied Force (Kosovo)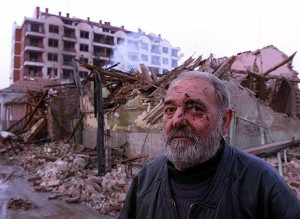 An injured Serb man in front of his destroyed house in the town of Aleksinac, some 124 miles south of Belgrade, Yugoslavia, on April 6, 1999. Allied planes targeted transportation links and communication sites across Yugoslavia, and local officials said a NATO attack on the coal mining town of Aleksinac killed five civilians and injured at least 30 others. (Photo by Yugoslav Army/RL)
How many were killed?
NATO estimated that somewhere between 5,000 and 10,000 Serb soldiers were killed during the bombing campaign. Two Americans also died in a non-combat Apache helicopter crash. While some estimates place civilian casualties in the thousands, Human Rights Watch was able to verify about 500 civilian deaths as a result of the NATO bombings.
But was it "war"?
No, though there was a congressional vote on declaring war. It failed with 2 votes for, 427 against.
In 1999, President Clinton authorized U.S. forces to participate in a NATO bombing campaign in Kosovo. His move came after the Senate passed a nonbinding authorization of force, but before the House took a vote on the resolution. Nearly a month after the mission commenced, House lawmakers passed a measure to prevent any Defense Department funds from being used on a ground campaign. The House also voted against authorizing Clinton to continue air strikes and against a more formal declaration of war.
Republicans would later challenge Clinton's actions in court after air strikes continued in Kosovo past the 60-day window granted by the War Powers Resolution.
11. World War II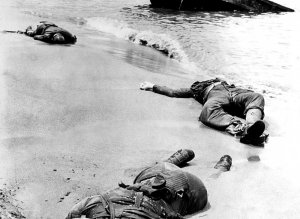 The bodies of three dead American soldiers lie in the sand on the shoreline near half-sunken landing craft on Buna Beach, New Guinea, in 1943. (Photo by George Strock/Time & Life Pictures/Getty Images)
How many were killed?
World War II led to an estimated 50 million to 85 million fatalities, the deadliest conflict in human history. By some counts, nearly 50 million civilians were killed.
But was it "war"?
Yes, and this was the last war the U.S. officially declared.
While there was some controversy over actions taken by President Franklin Roosevelt to unofficially inject the nation into the war before the bombing at Pearl Harbor, Congress erased any doubt after the attack, voting overwhelmingly to declare war on Japan. Days later, the U.S. declared war on Germany as well.
BEFORE YOU GO
PHOTO GALLERY
Here's What Politicians Have Said About Syria