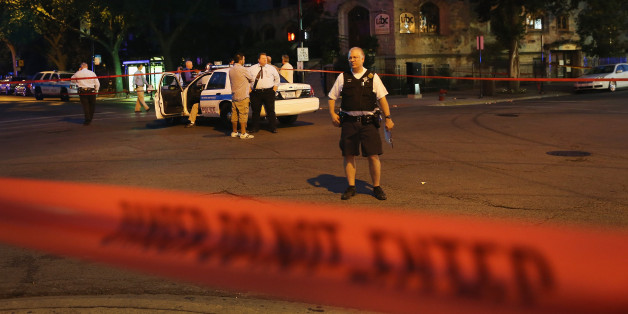 Updated story
More than a dozen people have been wounded in shootings citywide in Chicago Friday evening into early Sunday, including at least two fatal shootings and two men hurt in the busy Wicker Park neighborhood.
In the most recent violence, a 34-year-old man was shot multiple times while sitting in a vehicle about 4:45 a.m. Sunday in the 3900 block of West Wilcox Street in the city's East Garfield Park neighborhood, according to the Chicago Tribune. He was last listed in serious condition.
About an hour earlier, in the 5500 block of South Mozart Street in the Gage Park neighborhood, a 24-year-old man was hit in the buttocks and lower back, DNAinfo Chicago reports. He was in critical condition in the shooting, which police say appeared to be gang-related.
Another three people were wounded in a drive-by shooting in the Roseland neighborhood around 2:50 a.m., according to NBC Chicago. The three victims were sitting on a porch on West 114th Street when a vehicle drove up to the porch and someone opened fire. A 25-year-old man was hospitalized in critical condition in the shooting and two women -- aged 19 and 27 -- were also wounded and taken in stable condition to an area hospital.
Earlier in the weekend, two men were fatally shot in separate incidents early Saturday including a man fatally shot by an off-duty police officer about 6:45 a.m. in the 1800 block of West Monroe Street and a man in his 20s who was found fatally shot in the head in the 5100 block of North Ellsworth Drive about 7:05 a.m., NBC reported.
Earlier Saturday morning, a man was shot in the mouth near Garfield Boulevard and Western Avenue in the city's Back of the Yards neighborhood at about 4:02 a.m. The Chicago Tribune reports the man is in critical condition at Mount Sinai Hospital as of Saturday morning.
Friday evening, police say two groups of people were arguing in the park in the 1400 block of North Damen Avenue before two men in their 20s were shot about 11:45 p.m., according to the Chicago Sun-Times.
Both men were taken in "stable" condition to Advocate Illinois Medical Center after being shot in the leg and abdomen respectively. Police sources told DNAinfo Chicago the shooting was gang-related.
The Wicker Park shooting has left area residents on edge and calling for more security in the park, according to DNAinfo.
"I don't know any other place where there's drinking all day in a park. As a community person I said, 'I have to stop that'," resident Mike Prayett told DNAinfo. "It's spreading to our neighborhood. They've got to close the park at 11 o'clock, if they want to control it."
Last week, Chicago police announced both homicides and shootings were down in August compared to the same month the previous year. Compared to 2012 numbers, homicides were down six and shootings were down 47.
BEFORE YOU GO
PHOTO GALLERY
Crime In Chicago