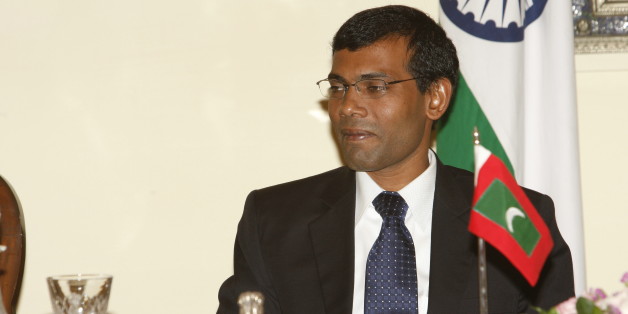 By J.J. Robinson
MALE, Sept 7 (Reuters) - Partial presidential election results in the Maldives showed Mohamed Nasheed leading on Saturday, nearly 20 months after his removal from power ignited months of sometimes violent unrest.
But he was likely to fall short of a majority, officials in his party said, suggesting a run-off vote was on the cards.
Nasheed, the Maldives' first democratically-elected president, was forced from office in February 2012 in what his supporters say was a coup. The turmoil tarnished the Indian Ocean archipelago's image as a tropical holiday paradise.
Critical challenges ahead for the next president include a rise in Islamist ideology, human rights abuses and lack of investor confidence after President Mohamed Waheed Hassan Manik's government cancelled the country's biggest foreign investment project with India's GMR Infrastructure.
Nasheed was leading at 1800 GMT on Saturday with 45 percent with 453 ballot boxes counted out of a total of 470, followed by his main rival Abdulla Yameen with 25 percent, state-run Television Maldives said.
Television Maldives tweeted that it could "predict a run-off round of elections based on current election results".
Mohamed Aslam, a senior member of Nasheed's Maldivian Democratic Party (MDP) and a former minister of housing and environment, said his party was "preparing for a second round".
"We didn't get what we wanted from Male," he said. The capital is one of Nasheed's strongholds.
"Voting today is significant because we are going to establish a legitimate government," Nasheed said early in the day outside the polling centre where he cast his ballot.
THREE OTHER CONTENDERS
He was running against three rivals, including Waheed, who succeeded him as president.
Yameen is a half-brother of Maumoon Abdul Gayoom, who ruled for 30 years and was considered a dictator by opponents and rights groups. "I hope to get through in the first round itself," Yameen told reporters before he cast his vote.
Also on the ballot was Gasim Ibrahim, a resort tycoon, media business owner and an ex-finance minister under Gayoom. Gasim and Wahid had 24 and 5 percent respectively of votes counted.
Officials at the Election Commission said turnout could be around 80 percent, compared with 85 percent in the 2008 vote.
"I've been waiting 19 months for this day. So I got here as early as I could. It's my way of standing up against the coup," said voter Ismail Shiyaz, 39, a supporter of Nasheed.
Others, like Rooya Hussain, were less certain.
"I don't think any of these candidates are suitable," she said. "However, I cast a valid vote for one of them. Let's see if this brings any change for the better."
Election commissioner Fuad Thowfeek said there had been "no serious issues" apart from delays caused by long queues at some polling stations and campaigning during the polling.
Before the polling ended, Transparency Maldives, which deployed 400 observers for poll monitoring, said the conduct of the election was satisfactory.
Nasheed said earlier he had support in the ranks of the military and police and expressed confidence he would secure 50 percent of the vote to win in the first round.
He was forced to resign in 2012 after mutinying police and military forces armed opposition demonstrators and gave him an ultimatum.
His removal sparked unruly protests by his supporters and a heavy-handed police crackdown, pushing the country into crisis. A Commonwealth-backed commission of inquiry later concluded that his removal did not constitute a coup.
The Maldives, a sultanate for almost nine centuries before becoming a British protectorate, held its first fully democratic
vote in 2008 with Nasheed defeating Gayoom, an autocrat who was then Asia's longest-serving leader. (Additional reporting and writing by Shihar Aneez in Colombo; Editing by Mark Heinrich)
BEFORE YOU GO
PHOTO GALLERY
Maldives Protest