It's a rough time to be a gator in Florida.
Not only did the Miami Hurricanes shut down the No. 12-ranked Florida Gators on Saturday, perhaps the alpha alligator of the Sunshine State was captured by hunters.
Two Florida men recently bagged a massive 737.5-pound, 13-foot gator while hunting on the Econlockhatchee River in Seminole County, Fla., according to the Orange County Sheriff's office, where one of the hunters works.
It reportedly took two encounters and hours of struggling to get the gator.
"I watch as the head of the alligator reaches the top of the pole only to look back into the boat to see more of him in the boat than out of the boat. I am beginning to realize just how big this capture really is," Deputy Jason Forgey said on Facebook. "As I stared at the scale in disbelief, it began to sink in that this was the gator of a lifetime."
(Story continues after photo.)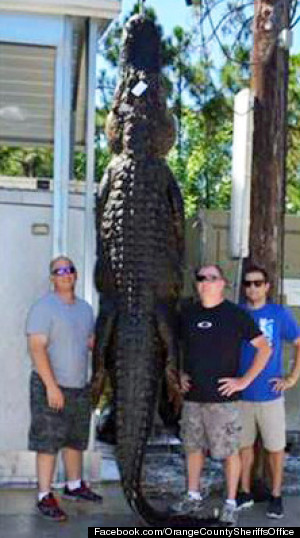 Forgey, who was recently in headlines as a police witness in the Casey Anthony trial, notes that his catch was 10 pounds heavier than the record-breaking gator caught in Mississippi last week.
Forgey claims the largest gator ever caught in Florida only weighed 654 pounds -- a staggering 83 pounds lighter than this beast of a gator.
Yet the Florida Fish and Wildlife Commission reports that the heaviest gator was one caught in 1989 that weighed an amazing 1,043 pounds -- also captured in the Orlando area.
Forgey told WESH news that his gator may be the same one that recently bit a 17-year-old swimmer as the attack occurred about 100 yards from where the animal was captured.
BEFORE YOU GO
PHOTO GALLERY
Awesome Gators & Crocs