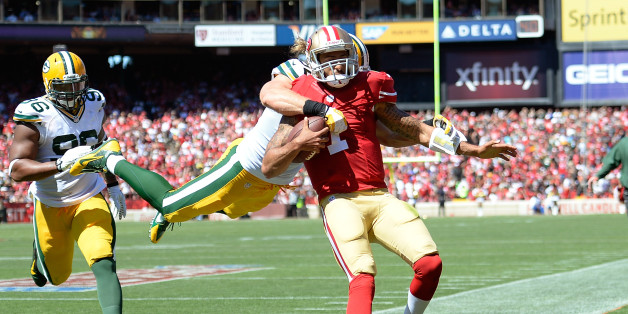 By Aaron Wilson, National Football Post
Winners usually get last comment.
With the 49ers defeating Green Bay 34-28 Sunday, Kaepernick got to offer his final two cents.
A few Packers players went into Sunday's season-opener saying the plan was to hit Kaepernick to get him off of his game. The Packers were able to do that, getting some good shots in before and after the whistle.
One hit resulted in a scuffle between both teams, when linebacker Clay Matthews tackled Kaepernick after he was out of bounds.
Even so, Kaepernick had a masterful performance, throwing for 412 yards and three touchdowns without any interceptions. Kapernick added 22 rushing yards on seven carries.
Given that Green Bay wanted to hit Kapernick, and said so before the game, the quarterback offered some words postgame.
"I'm not worried about what people are saying," Kaepernick said, via the 49ers' official website. "If intimidation is your game plan, I hope you have a better one."
Follow me on Twitter: @RavensInsider
Aaron Wilson covers the Ravens for The Baltimore Sun
BEFORE YOU GO
PHOTO GALLERY
PHOTOS: NFL Week 1