 Sorry, James Franco: Your days as a 14-year-old Palo Alto miscreant are coming back to haunt you. But at least we know you were sorry about it.
Michael Phillips Moskowitz, the CEO of the men's shopping site Bureau of Trade, says that during a recent move at his parents' Palo Alto home, he unearthed a binder containing an apology letter from a young Franco, expressing his most heartfelt regret for egging the Moskowitz family's house:
Story continues after photo...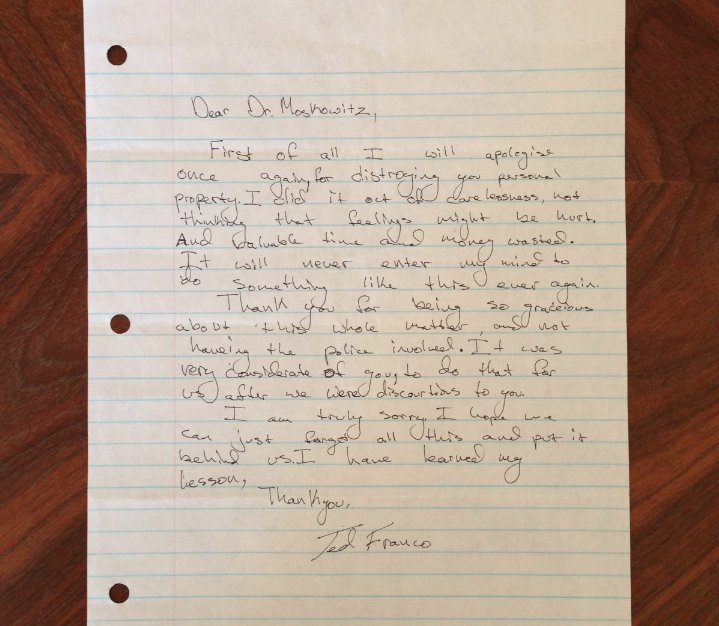 "I hope we can just forget all this and put it behind us," Franco, who went by Ted at the time, allegedly wrote to the Moskowitz family. "I have learned my lesson."
Moskowitz shared the letter in a recent Bureau of Trade newsletter. "Well, James, the egg doesn't come out easily. And now, in the smallest possible way, it's on your face too," the newsletter, aptly titled "James Franco Egged My House," reads.
"[I was] mesmerized that I had plucked from obscurity this odd, potentially electric little object," Moskowitz told Fast Company of the 1992 letter.
Franco stars in the upcoming movie "Palo Alto," which is based on his collection of short stories exploring teenage life in his hometown.
Most recently, he was the subject of friendly ridicule on Comedy Central's Roast of James Franco.
Check out the letter on Bureau of Trade, and read the text below:
Dear Dr. Moskowitz,

First of all I will apologize once again for destroying your personal property. I did it out of carelessness not thinking that feelings might be hurt. And valuable time and money wasted. It will never enter my mind to do something like this ever again.

Thank you for being so gracious about this whole matter, and not having the police involved. It was very considerate of you, to do this for us after we were discourteous to you.

I am truly sorry. I hope we can just forget all this and put it behind us. I have learned my lesson.

Thank you,
Ted Franco
BEFORE YOU GO
PHOTO GALLERY
The Franco Roast Jokes You Didn't Hear