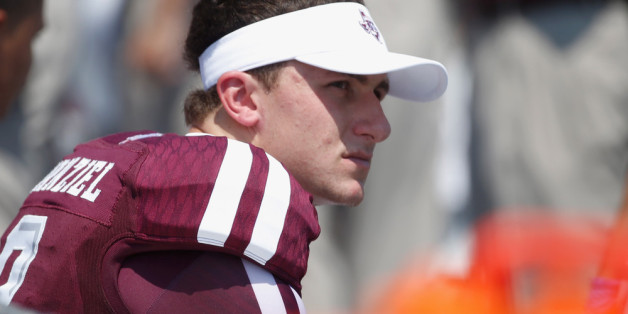 Money may not grow on trees, but it very well may materialize out of thin air for Johnny Manziel.
After the Texas A&M quarterback signed his name in the air during an Aug. 31 game against Rice, an enterprising bystander claims to have captured it in a bottle. The autographed air was briefly for sale on eBay, until the powers that be had it removed.
The Big League grabbed a screenshot of the listing prior to its untimely deletion, noting it had progressed to a price of $6.69 after 17 bids. Sure that's a lot for what's essentially an empty can, but compared to other Manziel paraphernalia, it's a relative steal!
Reads the item description: "I watched as the autographed air drifted in my direction. After fighting off several fans, I managed to take the autographed air into my mouth ... and hold it there until the game ended. Upon returning home I blew Manziel's autograph (along with a .08) into a small canister where it remains."
The listing adds Manziel's autograph tasted "like a mix of strippers and Swisher Sweets. Delicious!"
Manziel, described as the Miley Cyrus of college football, faced an earlier suspension on allegations he'd received money in exchange for autographs -- an NCAA violation.
BEFORE YOU GO