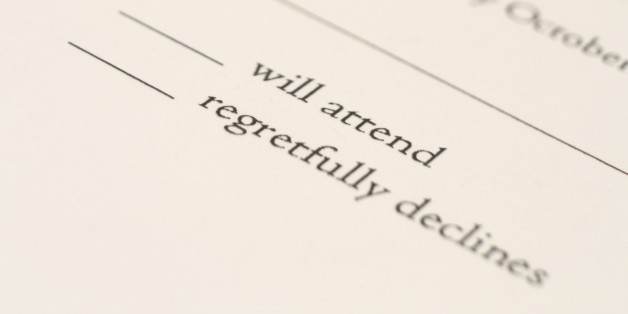 The rules of wedding etiquette are constantly changing, making it difficult for modern brides, grooms and guests to find up-to-date and correct information. But here at HuffPost Weddings, we're all about making your life easier. That's why we've launched #MannersMondays, a weekly series in which we ask our followers on Twitter and Facebook to submit their most burning etiquette-related questions. Then, with the help of our team of etiquette experts, we get you the right answers to your biggest Big Day dilemmas. You can send yours via Facebook or tweet it to us @HuffPostWedding with the hashtag #MannersMondays. Check out this week's question below!
@linzylouhoo: My RSVP date has passed and I've only received half. Is it OK to contact guests? #weddingetiquette
Xochitl Gonzalez -- etiquette expert, wedding planner and HuffPost Weddings blogger -- is here to help guide us through this uncomfortable (but common!) etiquette scenario. See what she had to say below:
Yes, it is ABSOLUTELY OK for you to reach out to people to request they send in their cards once the date has passed. And be sure that's exactly what you ask -- not that they send you an email saying "yes," but that they send back the card itself (assuming you had one). Weird as it seems, for some reason committing attendance in paper and pen holds more weight for guests. At every wedding, one or two last-minute cancellations or even no-shows are to be expected. However, I've observed that guests who never mailed their RSVP, and instead just "confirmed" attendance in response to a prompt from the bride or groom are far more likely to flake out on the wedding day. The time it takes to fill in your name, check "yes" or "no" and pop the pre-stamped card in the mail is part of what makes guests elevate the importance of the occasion and their being there. So, don't be shy -- if the date has passed, feel free to be a little bit of a nag!
Below, Peggy Post -- great-granddaughter-in-law of Emily Post -- and other wedding-etiquette gurus share 10 guidelines that couples and their guests don't necessarily have to follow anymore.
PHOTO GALLERY
Wedding Etiquette Rules You Can Break
Keep in touch! Check out HuffPost Weddings on Facebook, Twitter and Pinterest.