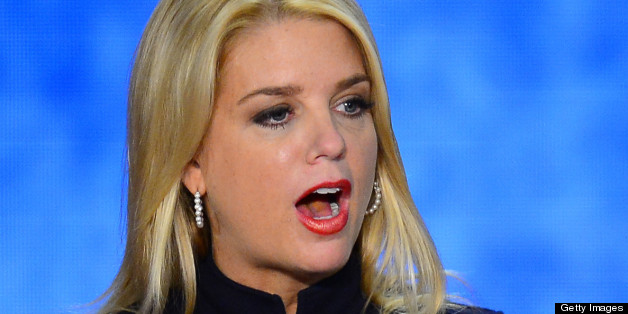 Florida Attorney General Pam Bondi was a staunch supporter of Gov. Rick Scott's Timely Justice Act, a controversial law that speeds up executions in the state by restricting "frivolous" appeals by inmates.
Yet one such execution was just postponed for another month so that Bondi can attend a Tampa fundraiser for her re-election campaign Tuesday night, reports News Service of Florida.
Death row inmate Marshall Lee Gore, convicted for the murders of two women in 1988 in Miami-Dade and Columbia counties, was scheduled to be executed on September 10 after appeals based on mental illness were struck down.
Bondi told the governor's office that she had a conflict with that date, and Scott has since said that he was unaware of the circumstances surrounding her rescheduling request.
"Her office contacted my office and asked for a postponement, and that's what we did. No, I did not know [the reason]," Scott told reporters at the Capitol according to Naked Politics. "When another Cabinet officer asks for something, we try to work with them."
When the Timely Justice Act was first signed into law, Bondi reportedly led the pushback when a petition circulated asking the Florida Supreme Court to declare the legislation unconstitutional.
Supporters of the controversial law believe a speedier death row is more just for victims' relatives.
"This is not about guilt or innocence, it's about timely justice," Republican Senator Rob Bradley told Reuters when the death row bill passed in the Florida Senate. "Frivolous appeals designed only for delay are not fair to victims and their families."
Yet Bondi's office maintains that her delay was due to how seriously the attorney general takes death row cases.
"In light of the seriousness of any execution, it was very important to Attorney General Bondi that she be available personally to carry out her office's duties in the execution process," Molly McFarland, Bondi's deputy press secretary, told the News Service of Florida.
UPDATE, 5 p.m.: Bondi issued a statement saying "we" erred in asking to reschedule Gore's execution to accommodate her fundraiser, reports the Palm Beach Post:
"As a prosecutor, there was nothing more important than seeing justice done, especially when it came to the unconscionable act of murder. I personally put two people on death row and, as Attorney General, have already participated in eight executions since I took office, a role I take very seriously.

"The planned execution of Marshall Lee Gore had already been stayed twice by the courts, and we absolutely should not have requested that the date of the execution be moved."