Last season of "Glee" ended with Rachel Berry (Lea Michele) attending a callback audition for the role of Fanny Brice in the Broadway revival of "Funny Girl," but viewers were left wondering whether the NYADA starlet actually got the gig. While the show will undoubtedly answer that lingering question when it returns for Season 5, Michele and creator Ryan Murphy may have offered us a hint by way of a photo Murphy tweeted on location in New York: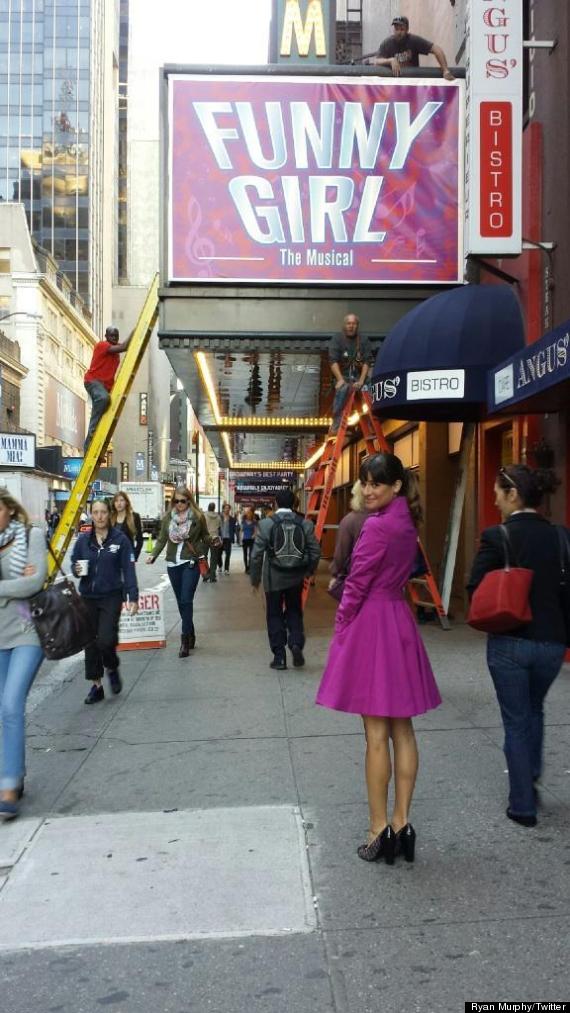 Michele is certainly looking comfortable and color-coordinated with the fictional show's marquee in the photo, and Rachel has proven her "Funny Girl" fandom numerous times over the course of the series, having nailed "Don't Rain on My Parade" with great aplomb in Season 2.
And, in a case of life imitating art, Broadway producer Bob Boyett named Michele as one of his top picks for the proposed real-life revival of "Funny Girl" back in 2010, although the project has since stalled (Lauren Ambrose was set to star). "I think Lea is wonderful, she's great, and she would certainly be on anybody's list," he said at the time, adding of her "Glee" role, "She's also got a pretty good gig going now."
In Season 5, "Glee" fans can also look forward to guest roles from Demi Lovato as a new friend of Rachel and Santana's (Naya Rivera) -- as well as a potential love interest for Santana -- and Adam Lambert, who will reportedly play a nemesis for Kurt (Chris Colfer).
Do you think Rachel will score the "Funny Girl" role?
"Glee" Season 5 premieres on Thursday, September 26 at 9 p.m. ET right after "The X Factor," which debuts on Wednesday, September 11 at 8 p.m. ET.
PHOTO GALLERY
Glee Episode Stills